On Thursday 20th April 2017, "Becoming a Data-driven Organization: Trends and Challenges" event was held in Fairmont Hotel, Senayan. This event was held by Snapcart and Michael Page, marking their first collaborative work. Attended by about 30 participants, it was a sharing and idea exchange opportunity between senior executives from FMCG companies with Snapcart and Michael Page.
Michael Page is a leading professional recruitment consultancy. Started in Indonesia in 2013, Michael Page has become the largest recruitment firm in South East Asia. Olly Riches, Michael Page's President Director in Indonesia opened the first session of the event with trends in Asia. Technology, Healthcare and Digital are the 3 key sectors with high growth in Asia. Moreover, Olly pointed out that 44% of Asian employers looking to increase their headcount this year and 74% of are expected to provide 1-10% salary increase for their existing employees.
In Indonesia, Olly listed that FinTech, Infrastructure and Big Data are some of the industries that are expected to grow, while Mining and Automotive will face challenges. Technology and Digital industries face talent shortages significantly, as strong demands are driven by growth in e-commerce, fintech and big data services.
Talent attraction and retention is the last topic in the first session. Salary increase, career progression and workplace flexibility are the most important factors in attracting and retaining talents in Indonesia. Those reasons are aligned with the top reasons why Indonesian employees looking for a new job, which are 'better work-life balance', salary and 'wish to develop new skills'. Olly closed his session with sharing top tips in retention, emphasizing that there's no 'magic solution' in keeping the best but to customize to each company.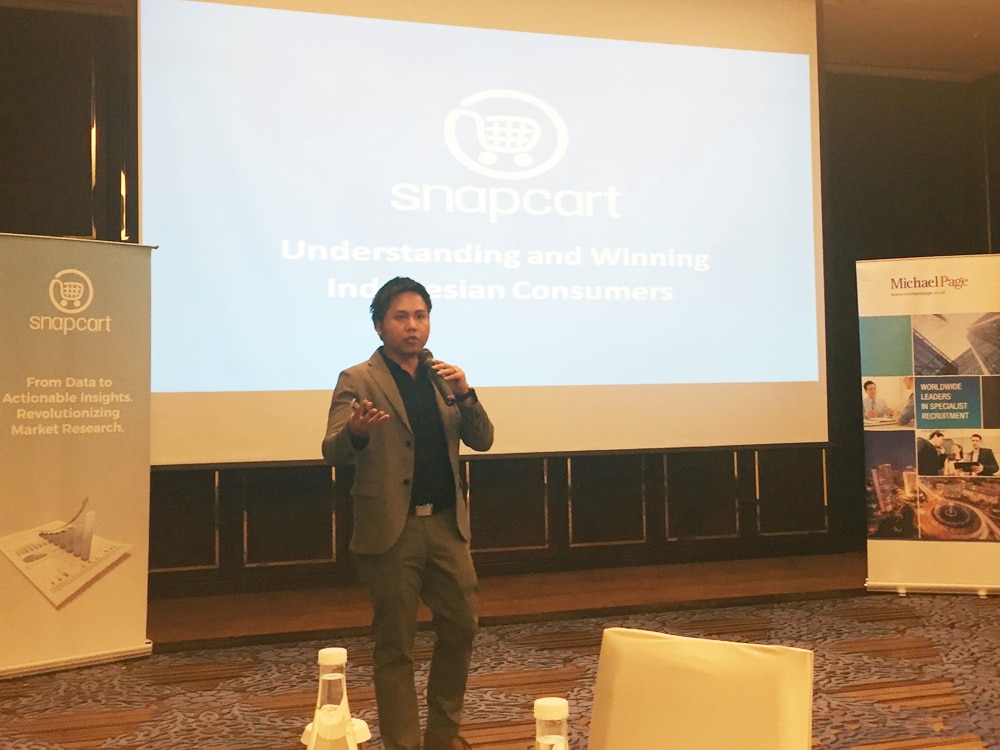 Snapcart CEO, Reynazran Royono (Rey) spoke during the second session on "Understanding and Winning Indonesian Consumers". Rey first brought the audience up to date on current retail landscape where, for the past several decades, two big 'walls' have been separating brands from shoppers. And those walls are retailers and media companies. As brands continue to have limited information on consumers, marketing has been more of 'a guessing game' than ROI driven. Rey pointed out that although e-commerce started to provide direct access for brands, it is still only 1% of total grocery retail sales. Therefore, CPG's media investment ROI is still a mystery where strategy is still mostly spray and pray. With the rise of tech giants like Amazon and Google, those walls became even more powerful and brands have to adjust faster than ever before. There's a need to shift marketing strategy from art to science and from guessing to knowing, targeting, and predicting.
Rey continued with the latest trends, mentioning that Indonesia is on track to be the leading consumer market as Indonesians middle class population is expected to double by 2020 with their household expenditure climbing 2 folds. Mobile adoption in Indonesia is also accelerating with monthly active smartphones users expecting to reach 100 million by 2018.
Rey also brought up highly successful case studies, taking examples from Amazon, Dollar Shave Club and Uber, showing how they differentiated themselves by leveraging first party consumer data. Rey then explained other case studies from Snapcart's clients on how they leveraged Snapcart's solutions, from concept test and basket analytics for product launch, to promotion tracking and offline purchase conversion for media ROI measurement.
Rey closed his session saying that competition is tough and going to be tougher. A lot of things need to be fought for. Fighting for share of wallet, competing in share of shelves, standing out in share of voice and racing with new players to name a few. New skillsets and tools to leverage various sources of data are required for brands to win sustainably in the long run.
To become a data-driven organization, one has to understand how to operate in this digital era. Knowing how to recruit and manage workforce, as well as understanding employee expectations are important to attract and retain talents. Digital is transforming how brands interact with consumers. The old 'spray and pray' marketing strategy should be left and replaced with a science-based approach. This raise a need to leverage first party consumer data, that proved to be a successful tool.