Most businesses across different sectors have been hit hard as the COVID-19 pandemic wreaks havoc on economic activities in Indonesia. This brings most businesses to focus on survival as the market they once knew turbulently changes to a form that is anxious, dismissive of non-essentials, and is socially distant.
The threat of these changes in economic activities has implored the Indonesian government to take extreme measures to protect the populace by issuing widespread quarantines, halting manufacturing, and disrupting supply chains. Even in markets that haven't taken such severe measures, demand for most brands has been disrupted due to consumer precautions. Globally, there is likely to be an impact on product and brand choices being made at the checkout due to these changes, and this impact may break longtime purchase habits irreversibly.
From a survey done by Snapcart on the impact of Covid-19 on Indonesians' shopping habits, an overwhelming majority (78%) of Indonesian consumers have seen changes in their shopping habits as the outbreak significantly impacts their daily activities.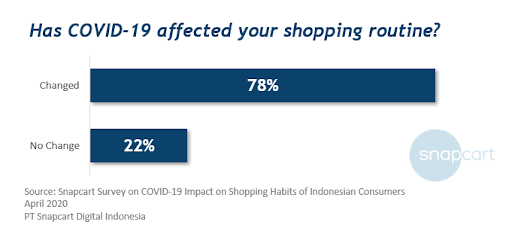 To date, supermarkets and other food suppliers have had a clear boost in sales, and are facing tremendous pressure to satisfy its consumers both online and in store. Consumers have shifted their expenditure to only the essentials. From the data collected below, we can see that due to the pandemic, consumers have switched their top priority categories to Food Supply, Medicine and Food Delivery or Takeaways. 
Empty grocery shelves, both physical and digital, have become a symbol of how COVID-19 has had far-reaching impacts on communities and supply chains around the globe. Goods that once seemed abundant – toilet paper, cleaning supplies, masks as well as daily food products– quickly became difficult to find and out of stock at some point. During the beginning of the pandemic, people's reaction towards shopping drastically increased, however currently things are starting to stabilize.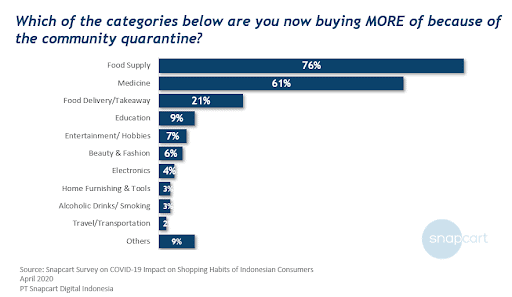 Other Industries including Travel & Transportation, Entertainment, Food Service as well as Beauty & Fashion face major challenges and loss.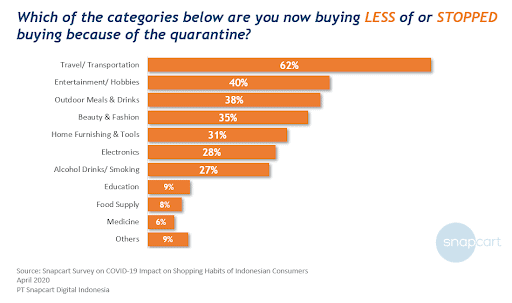 Aside from a change in priority on items to purchase, Indonesians also expect how Covid-19 is going to affect their future spending. On a Snapcart survey asking users the likelihood of them having a big purchase in the next 30 days considering Covid-19's impact on their spending, 58% of users claim they will probably not have a big purchase.

How Snapcart can help brands understand further changes in consumer behavior. 
In this dire situation, consumers are limited not only on their mobility but also on their consumption. To save time and money, many companies can turn to Online Market Insights. When we talk about Online Market research, the best platform is by using online surveys. It is used to gather information on a wide range of aspects and opinions of the public in order to gain the best outcome. At the same time, many people perceive that the basic necessity category will be the one who benefits from the situation. The question is, is this a continuous market reality or are people just adapting and extending/postponing their purchase plan for non-basic categories?
COVID-19 has impacted on people's behavior around the world, especially towards their consumption behavior. During this quarantine period people are prioritizing and making wise decisions as the usage and attitude towards most products/services have changed.
Through Snapcart online survey platform TASC (Targeted Audience-based Survey and Crowd-sourcing), allows its users to test questions and gain consumer insights directly from your target consumer at no time. By utilizing an online methodology approach, you will benefit faster turn-around-time with value-for-money investment compared to offline approach amidst COVID19 situation.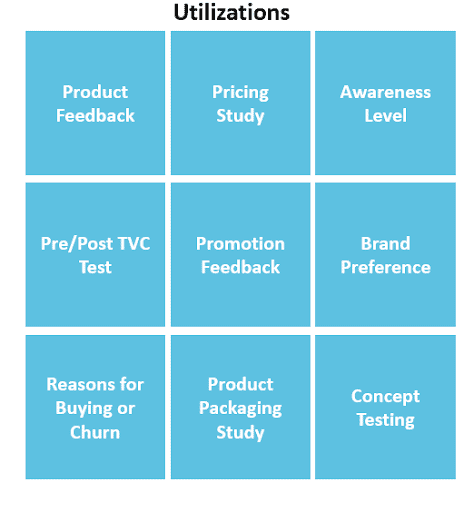 With this help of this product, users can gain High Quality Leads based on Brand/Category usage, Attract New Customers outside your customer list as well as Drive More Conversions. 
References:
https://www.thejakartapost.com/news/2020/03/23/indonesias-latest-covid-19-figures.html
https://beyondphilosophy.com/how-will-covid-19-change-customer-behavior-and-habits/