Indonesia records a new total of 4,557 number of confirmed Covid-19 cases with the death toll at 399 and recoveries at 380 on April 13, 2020.
With the continuous increase in the number of cases and deaths caused by the Covid-19 outbreak alongside its increasing damage on Indonesia's economy, President Joko "Jokowi" Widodo signed a presidential decree declaring Covid-19 a national disaster.
This announcement served as an emergency alarm for many Indonesians on the level of threat they perceive about the Covid-19 outbreak. According to Snapcart's Covid-19 Market Sentiment Tracker, the level of positivity of Indonesians regarding control of Covid-19 has dropped by 24% on the day of Jokowi's announcement.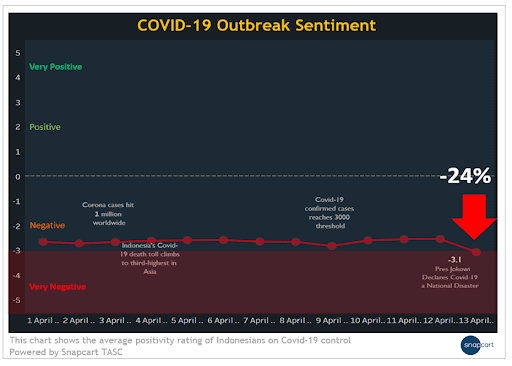 Since the beginning of the month, the average confidence level on Covid-19 control has been steadily trending along the positivity level of -2.5 ("Negative") until yesterday when it dropped to a positivity level of -3.1 ("Very Negative").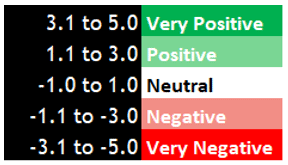 Prior to this announcement, Jakartans have already undergone stricter rules on social distancing starting April 10. On April 12, this social restriction was expanded to Jakarta's satellite cities.
These gradual increases on countermeasures against Covid-19 posted no increase nor decrease on the "Negative" level sentiment on the outbreak in the Snapcart sentiment tracker.
It will be monitored and revealed tomorrow whether this drop in confidence among Indonesian users is just a temporary anxiety in response to the national disaster declaration OR it will be maintained as an event with a longer lasting effect on Indonesians' sentiments.