Instant grocery delivery services have been available in Indonesia for quite a while already. Since 2015, players have slowly tried to pave a way for this market, but by 2020 it still only accounted for 0.3% of retail grocery sales in Indonesia1. However, in the last 2 years, and especially due to the pandemic, push for this service has increased significantly, both by older players such as Happyfresh (which is exclusively offering online grocery services) and Tokopedia (which have added instant grocery services quite recently) as well as relatively new faces such as Astro.
Projection for instant grocery adoption itself is quite positive due to no small part of the high e-commerce user number in Indonesia, which looks relatively unaffected by the pandemic. With growth from 138.1 million in 2020 to 158.6 million in 2021, and constant increase projected up until 20252, it seems like a matter of time before Indonesians warm up to the idea of shopping groceries online.
Audience Profile
This survey was conducted online in April 2022, by Telkomsel and Snapcart through tSurvey platform towards Telkomsel users (n=300). We asked questions regarding awareness and adoption of instant grocery services, as well as the behavior that surrounds them as well as some comparison with conventional means such as offline grocery shopping and price comparison.

Awareness and Adoption
The public is also undoubtedly aware of instant grocery delivery services itself. 100% of our respondents answered that they are aware of the availability of instant grocery delivery services. When asked where they heard about it, the top answer includes social media (excluding KOL/influencers) and digital ads.
On the matter of whether they've tried it, however, 28% have answered that they are yet to do so. But 80% of them are already interested to try it, with most answering that they've yet to do so due to having no urgent needs that come up for them to finally give instant grocery services a try.
Regarding urgent needs, which are in line with the problems instant grocery services are set to solve, it is not the top answer for reasons for trying the service. 71% respondents who have tried instant grocery services are actually doing so due to the attractive promotions given by the platforms.
Reasons against using instant grocery delivery services are a bit more spread out. Aside from the top answer of preferring to shop offline (50%), reasons include prices that are relatively more expensive, already having a regular shopping place, as well as lack of product selection as well as delivery time that are too long. The last point is interesting since currently a lot of platforms are offering increasingly fast delivery times, some as fast as under 15 minutes for certain areas.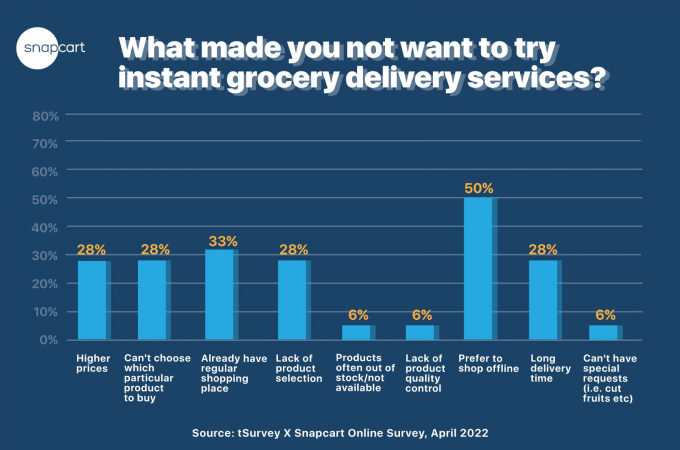 So where exactly are Indonesians trying out instant grocery delivery services? Non-dedicated platforms are actually holding the top spots, with Gomart (47%), Grabmart (42%), and Tokopedia NOW (35%) having the most adoption amongst respondents. Happyfresh, despite being older and having wider coverage area compared to Sayurbox, are only at 22% compared to Sayurbox's 29%. Interesting to note as well how this preference is in line to adoption of the platforms in general, which shows that when we ask respondents, both who have and haven't used instant grocery delivery platforms, adoption of Tokopedia is at 84%, Sayurbox at 20%, and Happyfresh is at 13% amongst other platforms. It's not the case with Blibli, however, with 33% of overall respondents having used Blibli but only 17% of those who've tried instant grocery delivery services have tried Blibli Mart.
Behavior and Use
With different reasons to use instant grocery delivery services, there are different behaviors in their use as well. Likely due to the number of platforms being focused on fruits and/or vegetables (Sayurbox, Kedaisayur, as well as various other independent providers), said category has the highest amount of interest from respondents who are yet to try instant grocery platforms (68%) as well as the highest amount of incidence for those who've tried instant grocery platforms (59%). However, there is also relatively high interest for personal hygiene goods (50%) from those who are yet to try but are interested in instant grocery services, whereas for those who've tried instant grocery services it's not as high compared to dried goods (46%) and snacks (46%)
In terms of frequency and basket size, it averages around Rp50.000 and Rp200.000, with purchases being around once every week or so. With delivery fees in mind (although some platforms offer free deliveries), amongst other considerations, it seems that small purchases through instant grocery platforms are still quite uncommon. Average purchase value under Rp50.000's incidence is only from 10% of respondents and purchases with instant grocery platforms happening on average more than once a week only from 13% of respondents.
Although adoption is steadily rising, does it mean that online can fully replace offline, at least during the pandemic? To some, it might be close to that. When we asked the average percentage of grocery purchases now being done online, 32% answered that over 50% of their grocery shopping are now done online, and only 15% say that online is less than 20% of their overall grocery purchases. Most respondents (53%) hovers between 20-50%, which means that offline grocery purchase is still quite a significant part of their purchase behavior even with the adoption of instant grocery delivery service usage.
Do promotions play a large influence in getting people to shop through instant grocery shopping platforms? While it may ring true for initial adoption, it might not always be the case for retention. At least 27% respondents are "very likely" to still continue shopping through an instant grocery delivery service even though they stopped giving out promotions, and 43% are still "quite likely" to do so. However, it might be a different case on comparison between platforms, as 98% respondents say that they will consider a different instant grocery shopping platform if they are giving out a more attractive promotion compared to their current platform.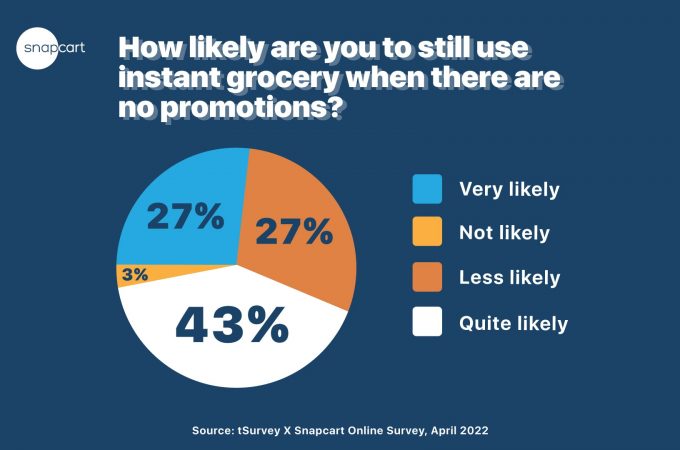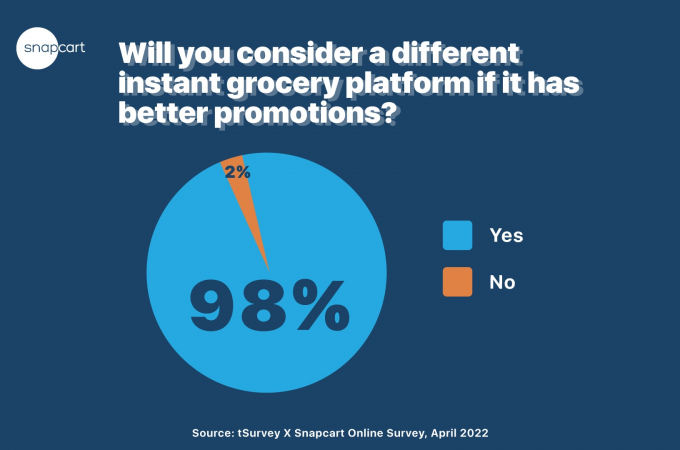 In terms of delivery duration, faster might not be always better. This is shown by how when asked how long the ideal duration of instant grocery delivery is, only 28% answered "below 30 minutes". Most respondents (44%) preferred 2 hours or less, and 21% even still preferred to have it within the same day with no definite arrival time.
Looking back into price comparison behavior, respondents are similarly as likely to compare prices, both with offline sources as well as between similar instant grocery platforms. However, we also found out that for the case of the former, when asked whether respondents will still purchase something through instant grocery services if the price is higher there compared to offline sources, 40% answered they're "quite likely to do so", and 20% answered "very likely to do so".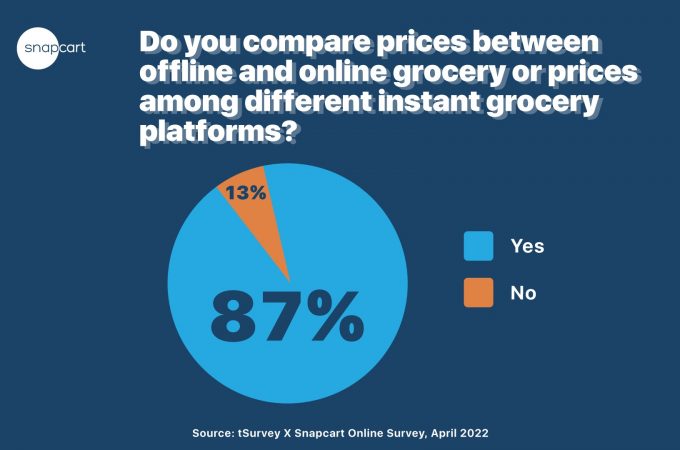 The Pandemic Influence
The ongoing pandemic played no small part in the growth of instant grocery delivery services, as within the first few months of 2020 when the pandemic began, the number of users for instant grocery platforms have increased significantly [3]. But does it mean that when the pandemic has passed, users will stop using them?
That might not be the case, as when we asked our respondents, 96% are still interested to use instant grocery delivery platforms even after the pandemic is over. Reasons for this includes convenience (89%), fast shipping (44%), as well as the oft aforementioned promotions (65%). Although actual performance might differ, sentiments so far regarding instant grocery delivery services are pretty positive, proving true the narrative of how the pandemic accelerates digital adoption, which includes instant grocery itself.