Whenever 'Ber' month hits the calendar, everyone wears their holiday celebration hats on. It's like a switch that automatically turns on during this season. It's that time of the year again where people say goodbye and thank you for another year of challenges and learning that passed by. A threshold to turn a new leaf to start another 365 days of journey.
It has been a long-standing tradition to spend the holidays at home with the family and wear matching red or green shirts. But are they spending for things other than flight ticket back home? Where do people usually celebrate this holiday? Who spends the most during this season? Snapcart's in-app survey reveals the answer.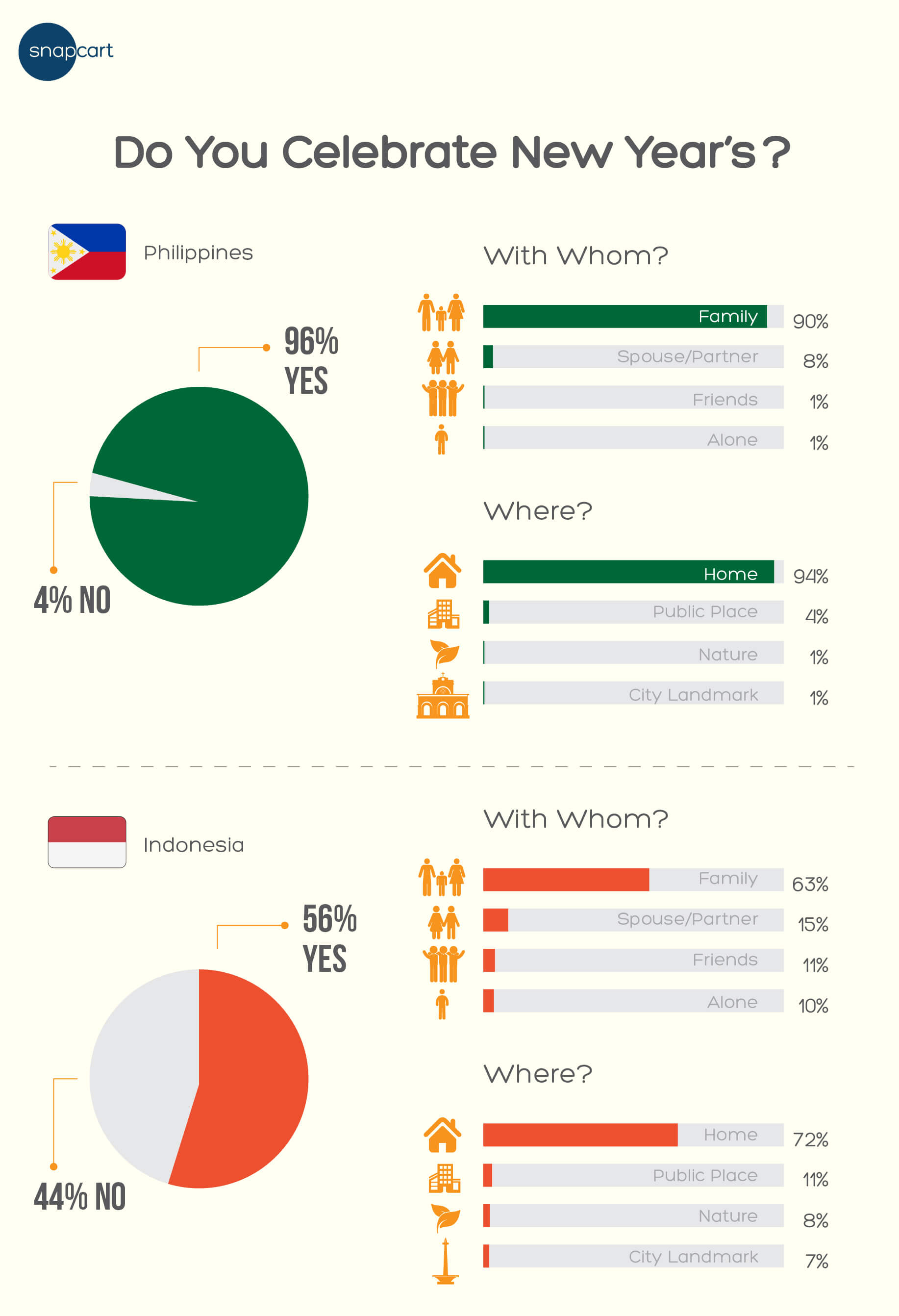 Even though it's quite different in terms of how the country's population celebrate new year's (96% of Filipinos and 56% of Indonesians) both countries agree that year end is best spent with their family as it's the season for family get together and reunion – a typical Asian custom. Although most opt to celebrate New Year's at home, there's a higher preference of welcoming the holiday out of home such as hotels, restaurants, bars, foreign countries, etc., among upscale families.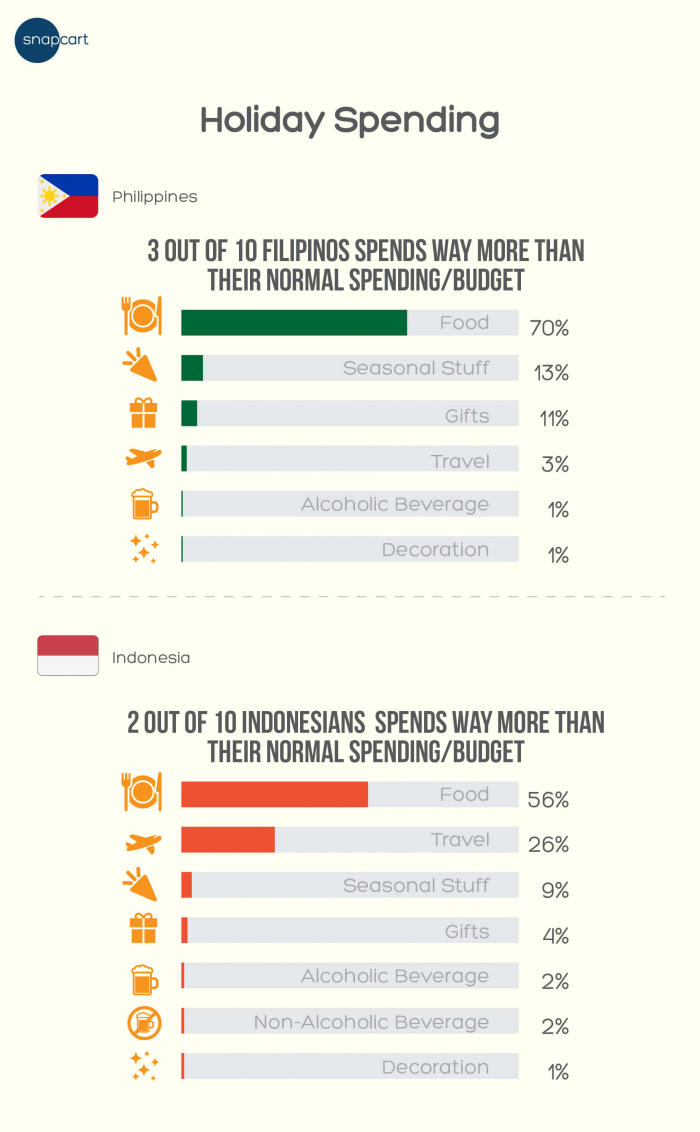 The holiday is also an excuse for people to spend so much for everything. Similar behavior is found between both countries, where around 3 out of 10 Filipinos & 2 out of 10 Indonesians are willing to spend way more than their normal spending (at least 51% more than their normal purchase). Across all life stages, Filipinos spend most on food at 70% dine-ins, takeouts, light meals, etc. Followed by seasonal stuff such as fireworks and trumpets at 13%, and gifts at 11%. Indonesians on the other hand also have food as the highest category spend at 55%, followed by travel spend at 26%, and then seasonal stuff at 9%.
But no matter where people choose to spend their holidays, or how much they spend this season, if they're spending it with their loved ones, it's worth it.
Post Test Blog
Market research is an organized effort to gather information about target markets or customers. It is a very important component of business strategy.[1] The term is commonly interchanged with marketing research; however, expert practitioners may wish to draw a distinction, in that marketing research is concerned specifically about marketing processes, while market research is concerned specifically with markets.[2]
Are Big Brands Affecting Correct Brand Ad Recall? A Look into Three Online Christmas Ads in The Philippines
Christmas season is competitive. Multiple brands from different categories are all banking on the same sentiment of giving, sharing, and togetherness. In this regard, Snapcart ran a survey on the latest online Christmas ads from different categories to know which brands stood-out the most. read more →
Living in the Mobile Internet Era: How it Affects our Daily Lives
The internet has certainly revolutionized the way we interact and communicate. We use the internet in almost everything we do – from staying in touch with our family, guiding us when we are lost, to finding us a date. To have a better understanding on how mobile internet affects our daily lives, in August 2018 Snapcart launched a survey for its users in Brazil, Indonesia, Philippines, and Singapore.  read more →
Do You Use Face Wash Regularly?
Smooth skin is not just from good genes but also from good daily habits. According to T: The New York Times Style Magazine, there are 3 main steps for skin-care routine. It starts with cleansing, continues with toning to balance the skin, and moisturizing to hydrate and soften the skin. Thus, washing your face with face wash product read more →
Sign up for more actionable insights
Stay up to date with our latest findings