Happiness Level
Back in 2017, Snapcart and I collaborated in a study to measure happiness across generation. The finding showed that the older generation (Gen X) was happier than the younger generations (Gen Z and Y). The chart below shows findings from 2017. The gap between Gen Z and Gen X who claimed to be very happy was significant given size of the sample back then.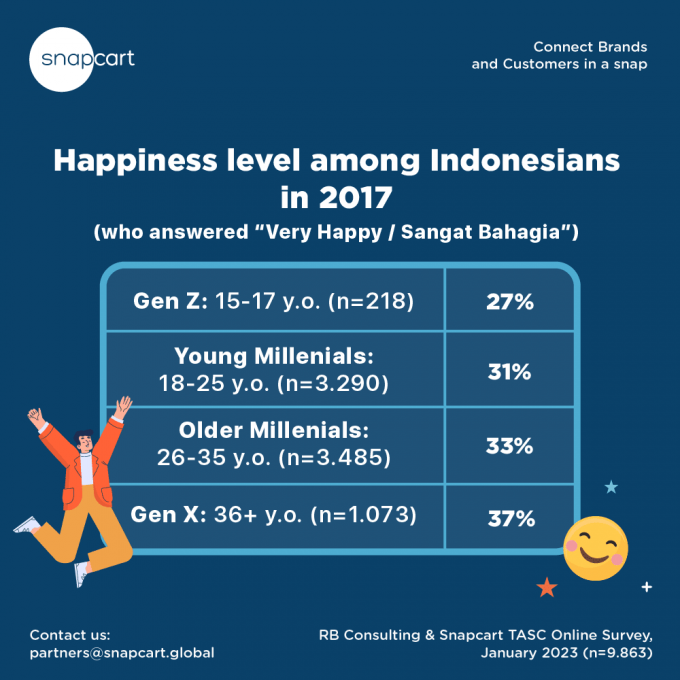 Earlier this year in 2023, we pondered what the happiness level would be after some major world events affecting everyone's life; major events such as the COVID-19 and 3 years mobility restriction, the war in the Ukraine, and news about recessions in many parts of worlds with differing views from key opinion leaders about recessions in Indonesia.
We found that happiness level among Gen Z is overall lower than the older generation. Furthermore, we look at the other end of the measurement on those who claim not happy, the data shows that more younger generations are not happy than the older generations. It is interesting that there is no gap anymore between Gen Y and X in their happiness level, although Gen X has smaller proportion of those who are not happy.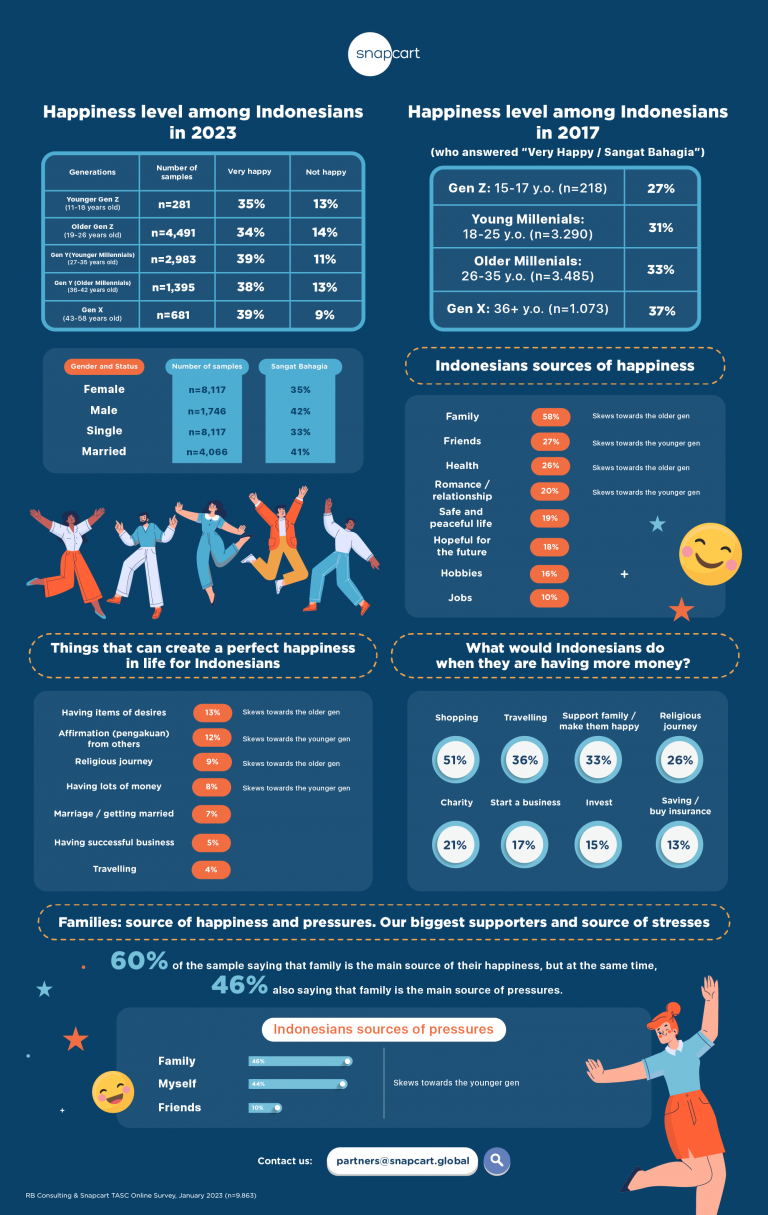 With our large data set, we are able to look at other demographic segments and found some interesting differences in happiness level. Males are happier than females, and married people are happier than single. 
Differences of happiness between the young and the old, can be due to differences in life experiences, values, and priorities.  In our literature reviews, there are two types of happiness, one is about the feelings of excitement, and the other aligned with feelings of peacefulness and calmness.
The younger generations may place more emphasis on the future such as building their career, romance and proving themselves in the world, and consequently experience the excited type of happiness. The older generations may prioritize stability and health, focusing on the present, and experience happiness aligned with calmness.
Thus, by considering consumers' temporal focus, marketers can better define product benefits and brand personality as well as more effective communication strategies to the resulting consumer segments.
Measuring happiness can provide valuable insights for marketing and society in several ways:
·       Happiness is a key component of well-being and can provide insight into an individual's overall quality of life. Measuring happiness can help researchers and practitioners better understand the factors that contribute to well-being and develop interventions to improve it. 
·       Measuring happiness can be useful for marketers and advertisers looking to understand consumer behaviour and preferences. Understanding what makes people happy can help develop more effective messaging and advertising campaigns. There are literatures that describes that among the positive emotions, happiness is essential to consumer behaviour.
Source of Happiness
Our findings are aligned with the wider theories of happiness and marketing. The source of happiness, potential source of happiness and priorities of spending differ between the younger and older generations.
For Indonesians, family are the main source of happiness, followed by friends. It shows that relationship is a very important element in our culture!  However, there are some skews in these sources of happiness.  The older generations are more on family and health as source of happiness; this finding is consistent with the 2017 finding.  While the younger generations are more about friends and romance relationship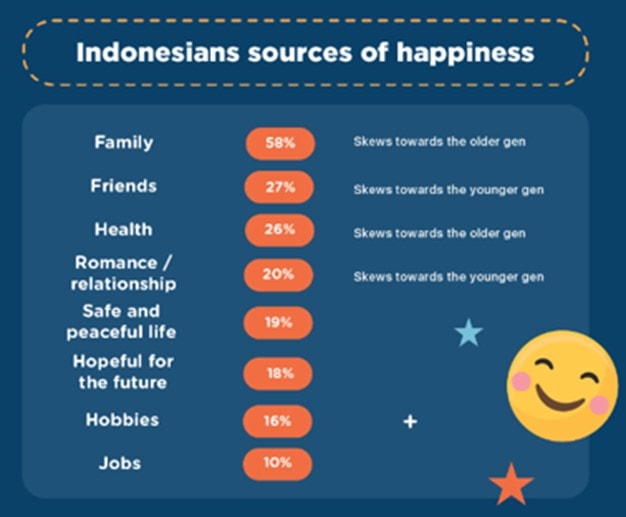 If we can have one thing that make us happy, our data shows that having items of desires, affirmation from others and doing religious journey are the top three mentions by Indonesians. It is interesting that those three are about worldly possession, external / social relationship and spiritual attainment.  
Little wonders malls and markets are always full, and also online shopping has increased because Indonesians love shopping!  1 in 2 Indonesians will spend their money if they have more on shopping. This passion for shopping is even significantly higher among the younger generations.
Next one on the list is on travelling.  And the third one is also a strong reflection of who we are in our culture. We want to be support and make our family happy.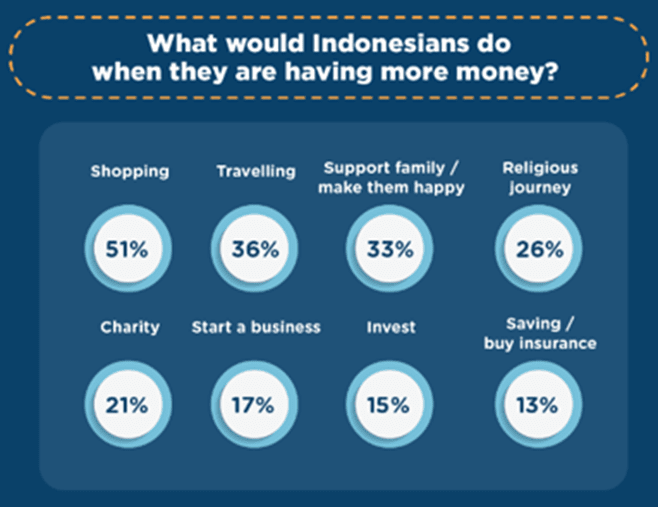 Families: source of happiness and pressures. Our biggest supporters and source of stresses.
60% of the sample saying that family is the main source of their happiness, but at the same time, 46% also saying that family is the main source of pressures. 
Family can provide emotional support during difficult times, which can increase happiness and well-being. But at the same time family have expectations that can create pressure and reduce happiness. For example, parents may expect their children to pursue certain careers or get married by certain age, which can create stress and reduce happiness. The impact can vary based on several factors including family dynamics, cultural norms, and personal values.  

For the younger ones, they seem to put their own pressures to prove themselves to the world. This is likely to be a factor that make them less happy than the older generations.
Millenials are defined as people who were born between 1981-1996 (27-42 years old). Due to the wide age range from 27-42 years old, this generation is divided into young Millenials (27-35 years old) and older Millenials (36-42 years old). Meanwhile, Gen-X is defined as people over 36 years old. This study was conducted in several provinces in Indonesia, including DKI Jakarta, Banten, DI Yogyakarta, West Java, Central Java, East Java, Kalimantan, Sulawesi, Sumatra, and other provinces.
The survey was done online by Snapcart on 13-16 January 2023 with a total of 9,863 respondents aged 11-71 years old. These respondents are from Snapcart panel, which has more than 800,000+ people online.
About Snapcart
Snapcart offers real-time insights about offline shoppers and consumers for brands. Through a mobile app that provides cashback upon scanning receipts, Snapcart collects data points on the individual shopper level, which has never been done in the market research industry. It gives brands the opportunity to get closer in order to understand their consumers holistically than ever before.
Snapcart can identify optimal promotion levels to maximize revenue, help evaluate the effectiveness of media spending, understand buying habits and more. Snapcart is known worldwide and according to Disrupt 100,  Snapcart is praised as one of the 22 most influential companies which has collaborated with more than 150 brands of fast-moving consumer goods companies in Southeast Asia. For more information, visit www.snapcart.global
Iwan Murty
Iwan Murty is a passionate marketing researcher, serial entrepreneur and experienced CEO. He is a consultant specializing in consumer and market behaviours.  
Iwan has 30 years experiences in the research industry. As a researcher, he handles both quantitative and qualitative research studies, with extensive marketing research consulting experiences across different industries and marketing issues. 
Iwan was a shareholder of Ipsos in Indonesia when he set it up in 2007 and run it profitably until 2016.  Other agencies that he set up and run include Field Force, Central Data, Research International, Infinity CxT and Essensight. He is currently the CEO of RB Consulting.  
He holds a degree in Business Marketing from Monash University Australia and a MBA degree from National University of Singapore.  He worked and lived for a while in Australia in the 90s.