As the time goes by, people's habit, behavior, even mindset are changing, and technology development has a great influence in this case, especially after social media started to exist and many public figures are keep popping up on various social media platforms.
Not without reason, these public figures like internet celebrities, actors, and singers, are called as 'influencers' by the society because their knowledge, mindset, taste, and lifestyle often affect people's habit & behavior. Interestingly, this phenomenon has created a new marketing strategy in all over the world.
According to a study by Viral Nation and NeoReach, 92% of marketing agencies revealed that influencer marketing is effective, and 86% of them are even willing to dedicate a special budget for this type of marketing [1]. In addition, a data from statista.com has discovered that the global influencer marketing market value stood at 21.1 billion U.S. dollars as of 2023, having more than tripled since 2019 [2].
As a country with millions of citizens who are actively scrolling social media for more than 3 hours daily and is located in Southeast Asia, where influencer marketing is predicted to hit $2.59 billion in 2024, Indonesia is believed to be a promising market to land for brands and marketers [3]. Hence, in September 29th – October 3rd 2023, Snapcart conducted a survey and ask Indonesian consumers about how influencer marketing affects them to shop and the names of influencers that they think the best to endorse/advertise certain kind of products.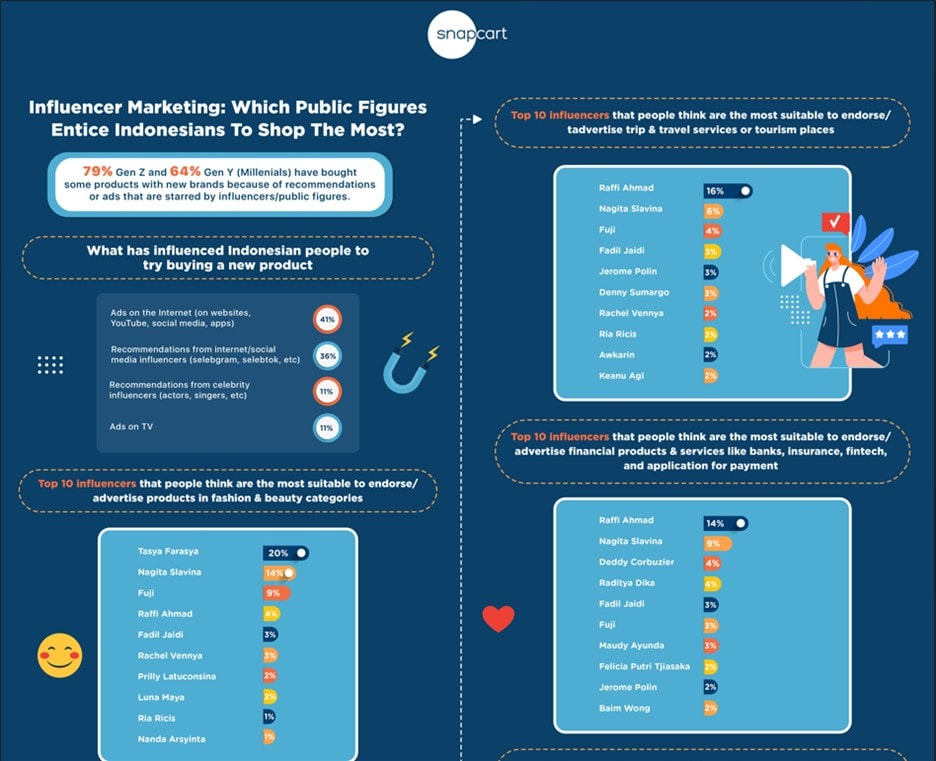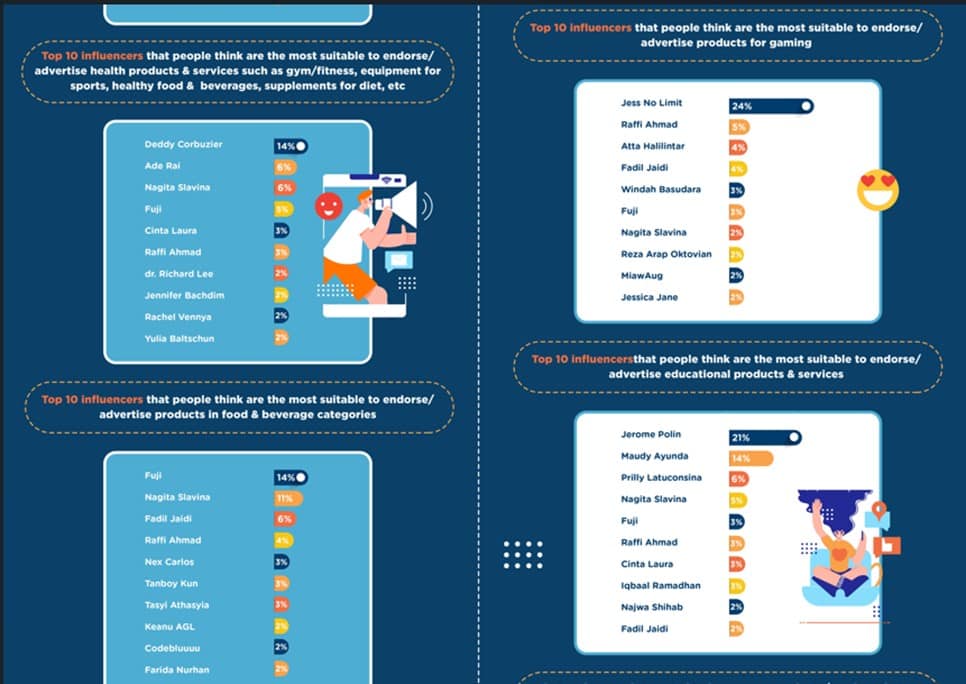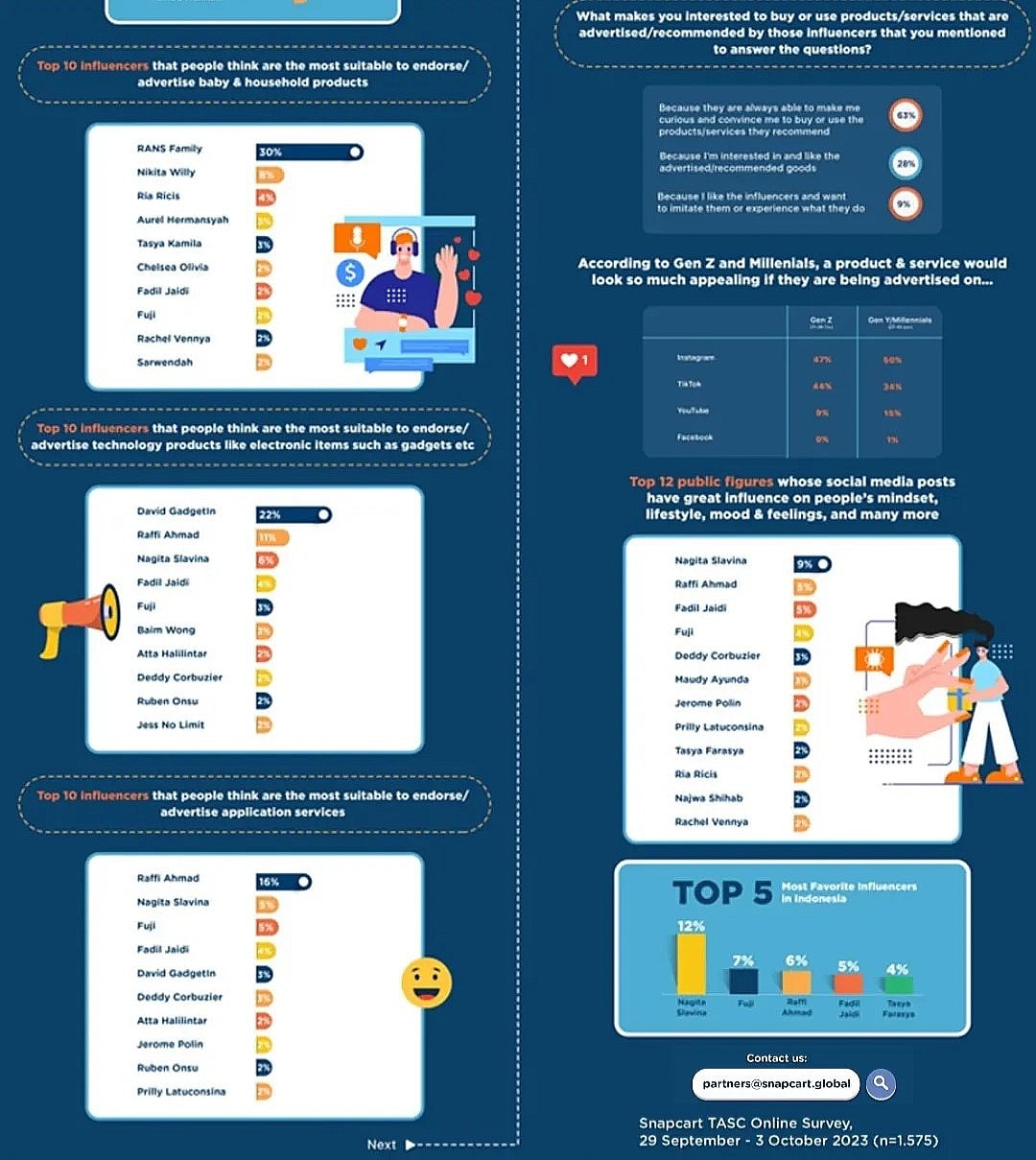 From the answers of our 1.575 sample of respondents, we figured out that majority of Millenials and Gen Z's shopping behavior in Indonesia have been influenced by some influencers, either it's from internet ads that are starred by the influencers (41%) or from the influencers' recommendation on social media (endorsement) (36%), to buy new products from some new brands. And amongst various social media platforms, Indonesians think that an advertisement would look so much appealing if it is being advertised on Instagram.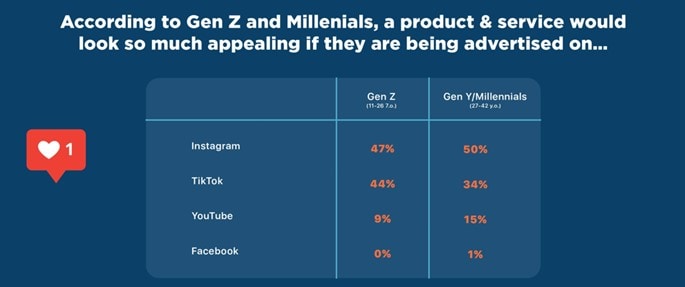 Despite the fact that the internet ads which are starred by influencers have affected most Indonesians to shop, this study also found out an intriguing fact that shows the act of influencer marketing is actually more effective through influencers' recommendations (endorsements) on their social media rather than through regular advertisements.
Why?
Because 62% of Indonesians confessed that the influencers in the ads don't really have a siginificant effect for them to buy the advertised products. You can check the details of their answer below.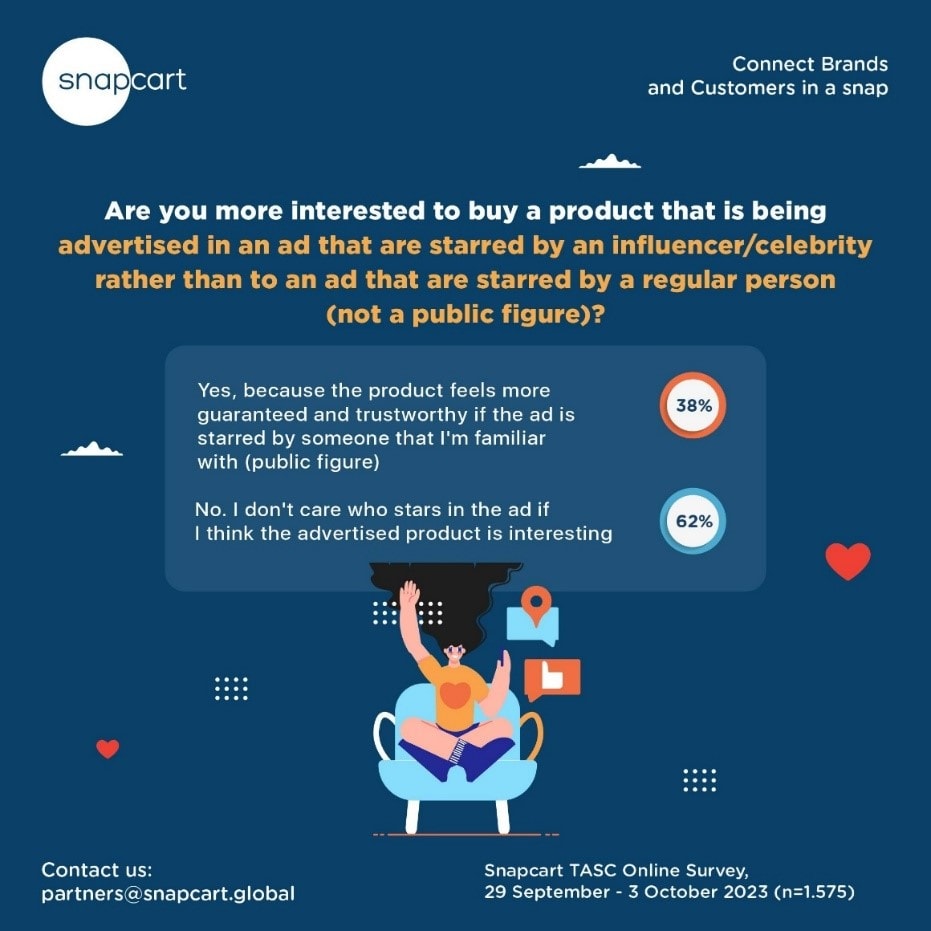 In order to discover the more effective way in this type of modern marketing, with open ended questions, we asked our respondents to mention the names of influencers who they think are suitable to promote/endorse certain kind of products or services.
According to the infographic above, majority of our respondents think that mega influencers are the most suitable people to endorse various of products/services.
Interestingly, even though celebrity influencers are mostly already well known everywhere in Indonesia, but due to the high rate of Indonesians' time consuming on social media, many people recommended internet influencers for advertising/endorsing products & services in this survey. Even those who "sit" on the 1st position in category fashion & beauty (Tasya Farasya), food & beverage (Fuji), technology (electronic items) (David Gadgetin), gaming (Jess No Limit), and educational (Jerome Polin) products/services are internet celebrities.
Meanwhile, among the popularity of internet influencers, our data shows that celebrity influencers like Raffi Ahmad, Nagita Slavina, and Deddy Corbuzier still have a big influence for Indonesian consumers. You can check the complete data about the names of influencers that people think have a good ability to influence netizens' mindset, endorse/advertise certain kind of products, along with their favorite influencers on the infographic above.
On the other hand, in sync with the previous paragraph above, where 62% of Indonesians said that the influencers in the ads don't really have a siginificant effect for them to buy the advertised products, 63% of our respondents said that indeed, a direct recommendation/endorsement by influencers often successful to make them try to buy the recommended products/services.