As one of the most popular beverages in many countries, including in Indonesia, new innovations are always discovered for coffee, which create new coffee consumption trends  from time to time.
Hence, from 12-15 September 2023, Snapcart conducted research to find out the newest coffee trends among Indonesian consumers; starting from their favorite types of coffee, drinking coffee habit, daily coffee purchases, to their favorite brands and coffee shops/cafes. With a sample size of 4.538 respondents, here are the results.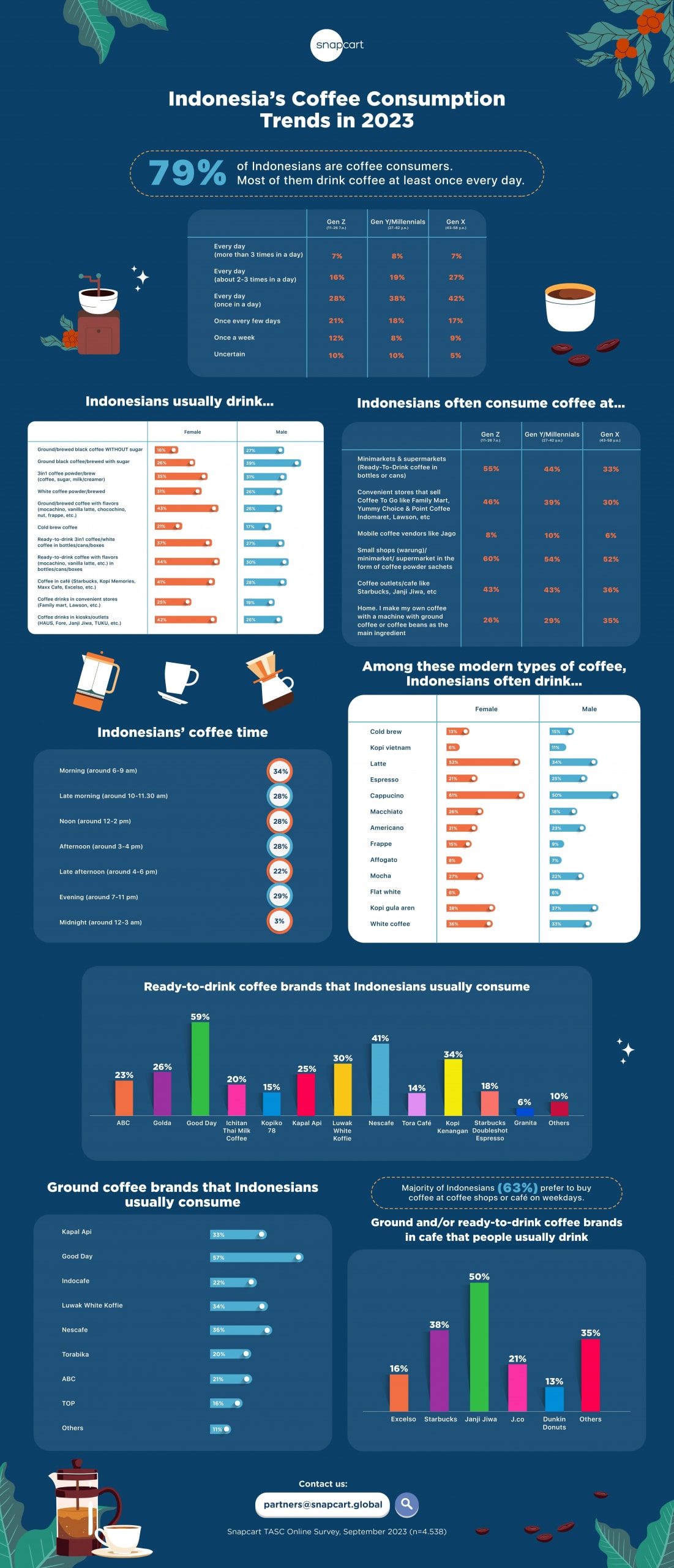 In sync with the info in our previous article that stated Indonesia is a country with a large number of coffee enthusiast [1], this study also revealed that 79% of Indonesian people are coffee consumers.
In this survey, most of them confessed that their coffee consumption behavior is similar with the time while Covid-19 pandemic was occuring. Many respondents said that they drink this beverage once (especially in the morning) every day. And apparently, different generations have similar drinking habit, as you can see on the infographic above.
However, unlike in many movies, even though many Indonesians consume coffee in the morning, but only less than 20% of them who drink it during breakfast or on their way to work/school/college.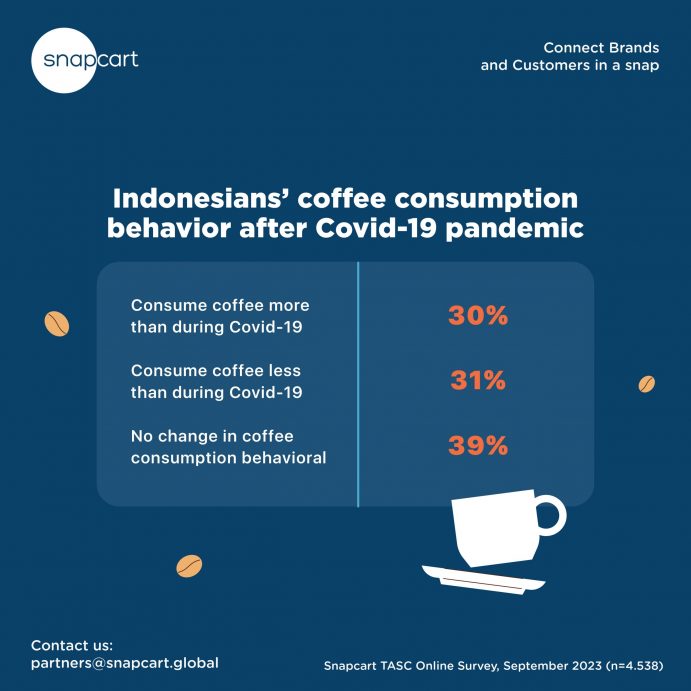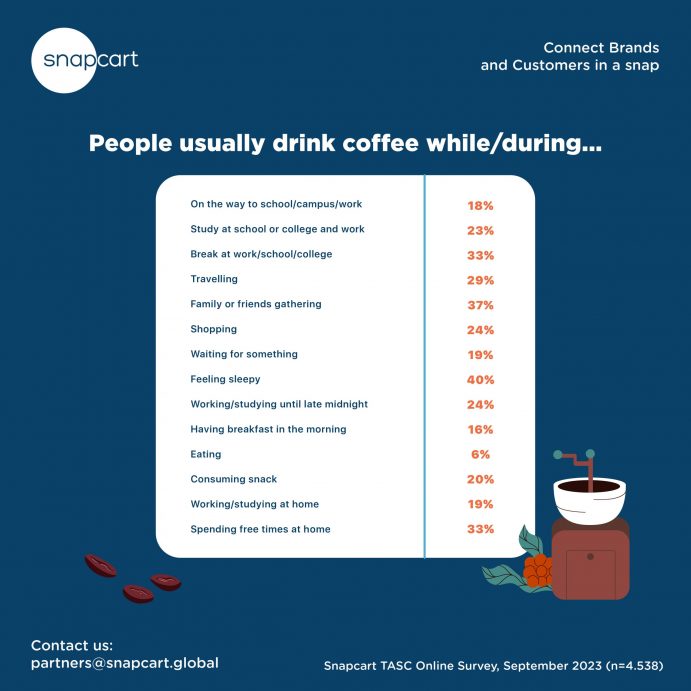 People's Coffee Purchasing Behavior
If we think that rich people often consuming premium/expensive coffee for their best drinking experience, this survey would change this stereotype.
Majority of our respondents from SES Lower to Upper confessed that they usually spend their money on coffee with affordable prices (around IDR 6.000 – IDR 20.000), and they often buy a simple coffee in ground/powder form in a small/sachet package at small shops (warung)/minimarkets/supermarkets.
On the other hand, 63% of those who like go to cafes/coffee shops said that they buy coffee there more often on weekdays rather than on weekends. You can check the details of these data below and on the infographic above.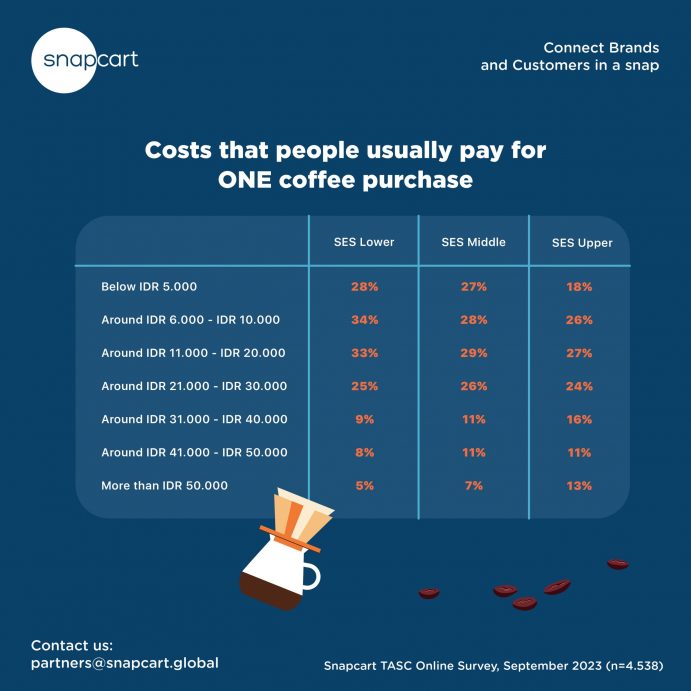 The Most Lovable Coffee
People have different taste. And among many various coffee types in 2023, we figured out that in general, most Indonesians (40%) usually consume ready-to-drink 3in1 coffee/white coffee in bottles/cans/boxes in their daily life.
According to the infographic above, if we take a look based on gender, majority of females often drink ready-to-drink coffee with flavors (mochacino, vanilla latte, etc), meanwhile ground black coffee (brewed with sugar) is the one that often consumed by men.
In addition, this study also found out that among many kinds of modern coffee, cappuccino is still become the most favorited coffee for almost all women & men in Indonesia.
Indonesians' Brands of Choice
As one of the most consumed products, of course many companies/brands are competing to produce coffee in various forms/categories.
This study discovered that Good Day is the most consumed coffee brand by Indonesian people for ready-to-drink and ground coffee categories. Meanwhile Janji Jiwa is on the top position for the most favorite brand in ground & ready-to-drink coffee that are produced by coffee shop/café category.
Interested to discover more about market trends? Contact us at partners@snapcart.global .
Source:
[1] https://snapcart.global/cold-brew-coffee-a-long-term-trend-or-new-thing-for-indonesians/