Click here to download the infographics in Bahasa Indonesia
With the pandemic dominating 2020 and the end of the year closing in, travel has been practically put to a halt for nearly an entire year. Knowing about consumers' past obsession for travel, it is expected that they practically can't wait before they can finally travel with ease of mind once more. And with Asia Pacific being one of the areas where tourism has been hit the hardest–estimated to have fallen 60-80%[1], now having to rely on innovations to stay afloat [2]–the industry's future is  riding on the hope that pent up travel demand can help the industry bounce back. How many in Indonesia have started planning to do so? Collaborating with Indonesia's Ministry of Tourism and Creative Economy (KEMENPAREKRAF), we have conducted a study with the following findings:
Will You, Or Will You Not?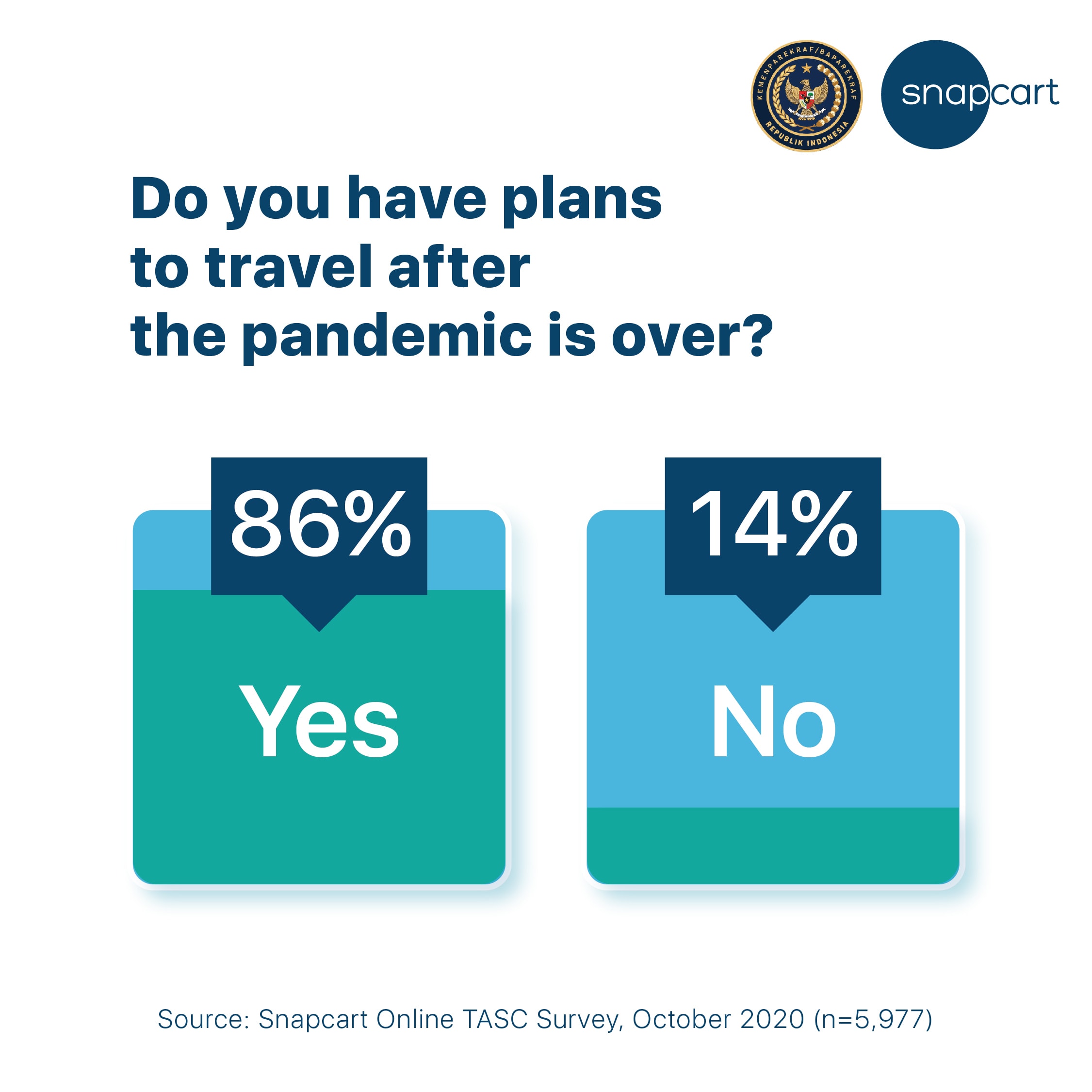 A resounding 86% said that they've set plans to travel when the pandemic is over, as we've expected. But we ask further to those who don't, to see why.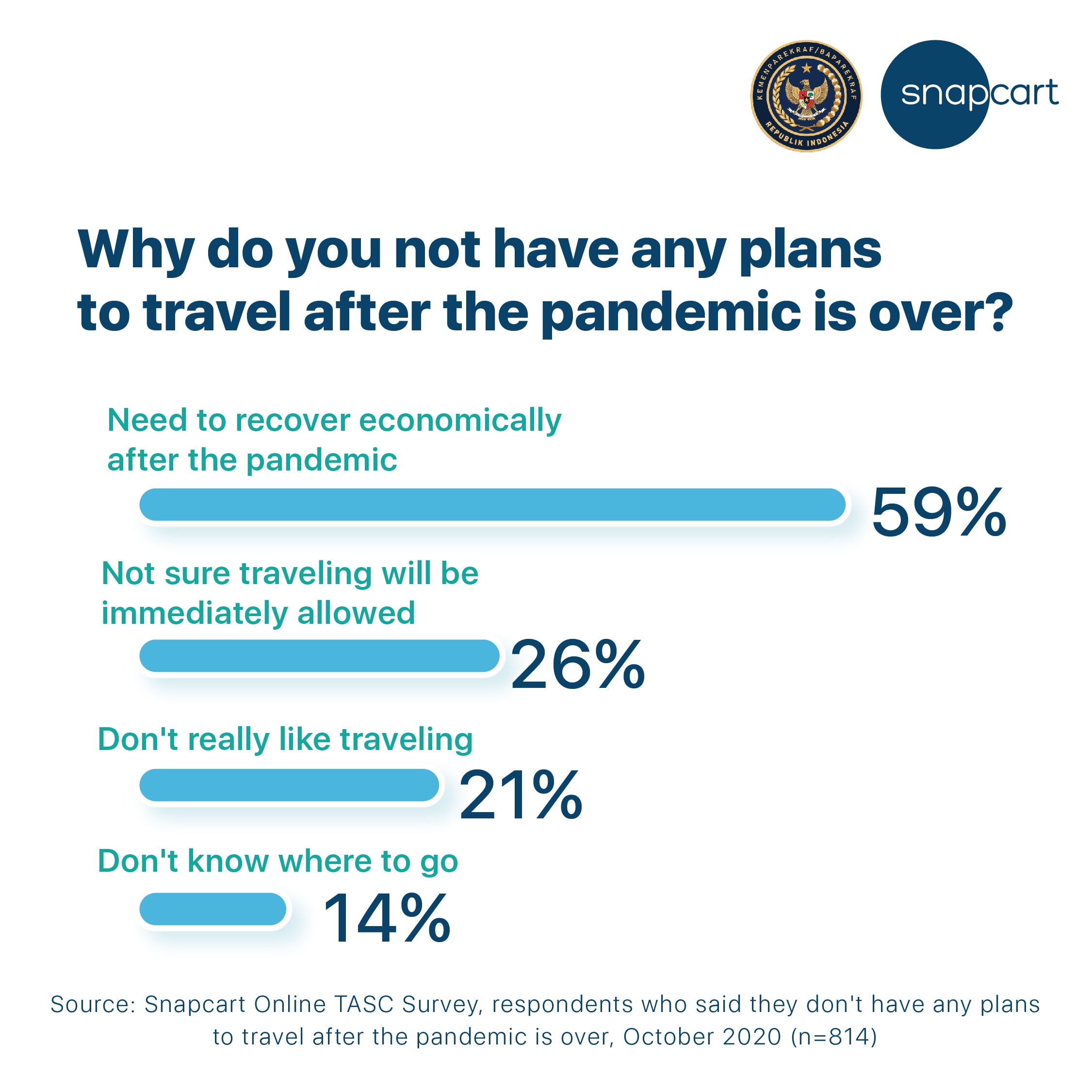 More than half mentioned that they need to recover financially. A lot of industries have been hit hard by the pandemic resulting in layoffs and/or pay cuts–leaving sizable amounts of the population focused on survival rather than the luxuries of travel.  Around 26% also voiced their concerns over the immediate availability of travel after the pandemic is over, which is an interesting question: with all the travel restrictions currently being enforced[3] , how long will it take for all travel restrictions pertaining to the pandemic to be lifted again?
Where Will You Go?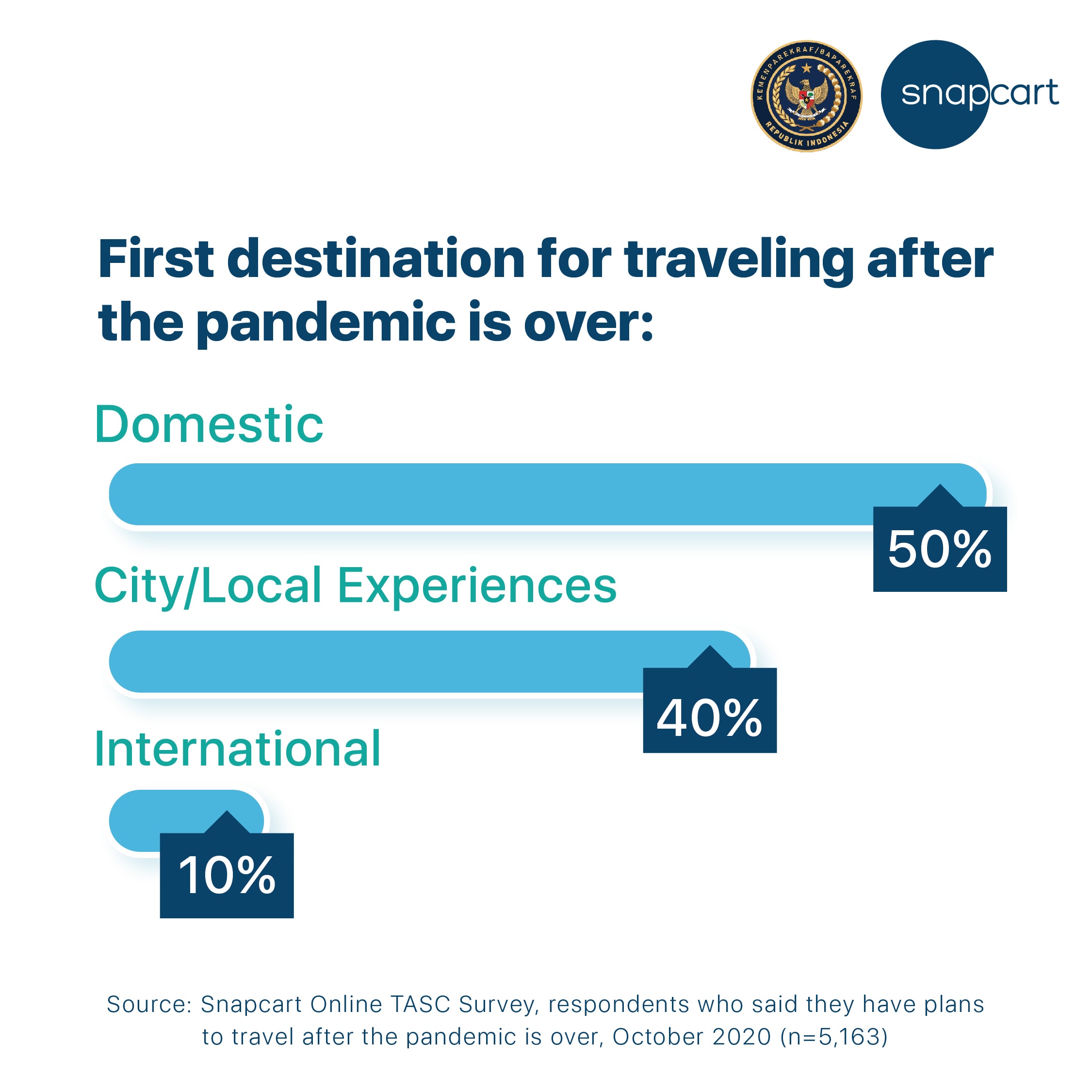 50% respondents stated they prefer to travel domestically as their first destination after the pandemic is over while 40% preferring to stick to their local attractions. Only 10% mentioned that they plan to travel internationally for their first travel destination after the pandemic is over, no doubt as they're skeptical on other countries' different approaches to opening borders for Indonesian travelers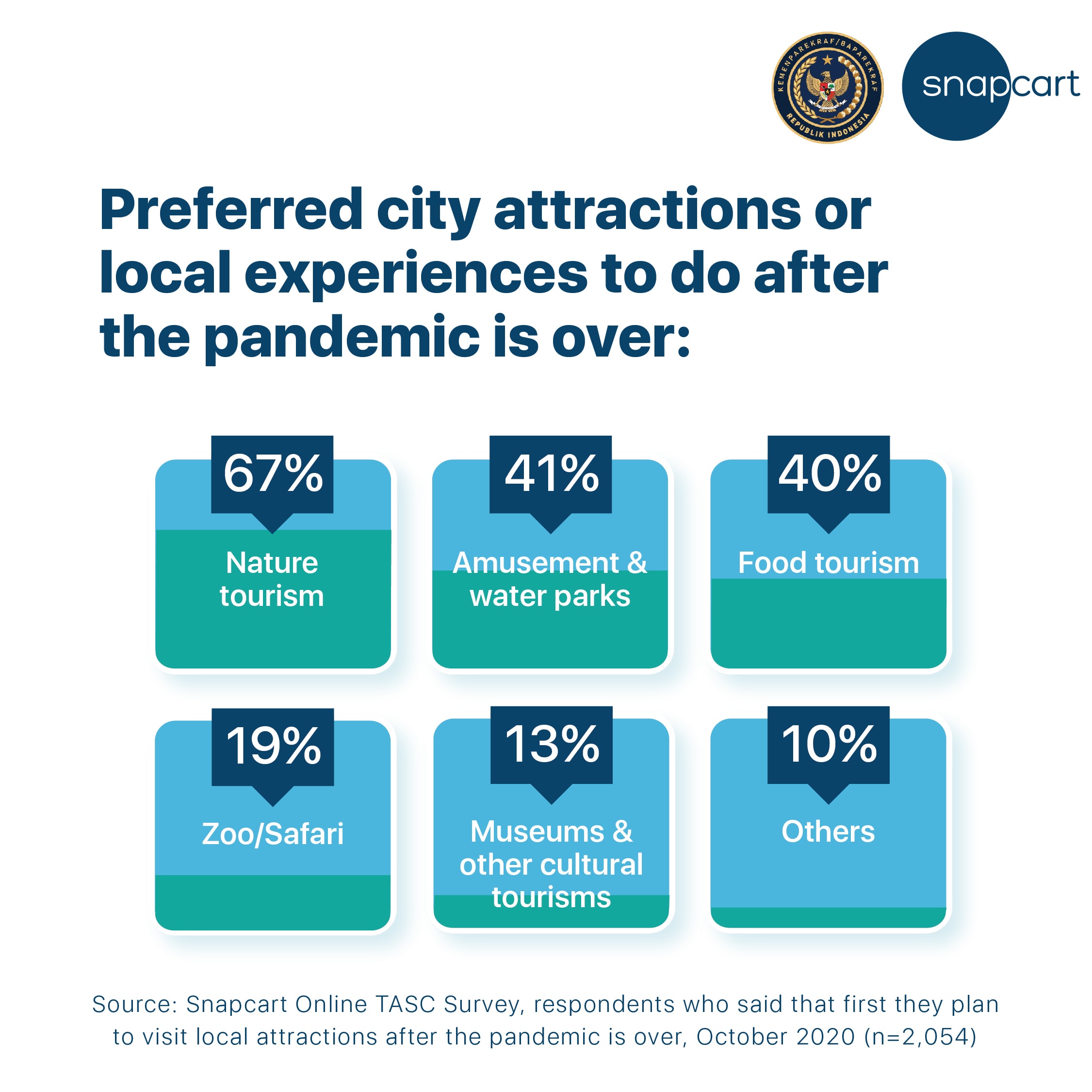 We looked deeper into the preferred transportation method for people who plan to travel domestically for their first travel destination, and 52% stuck with their private cars, a safety precaution turned habit from the pandemic that we anticipate will likely persist into the future.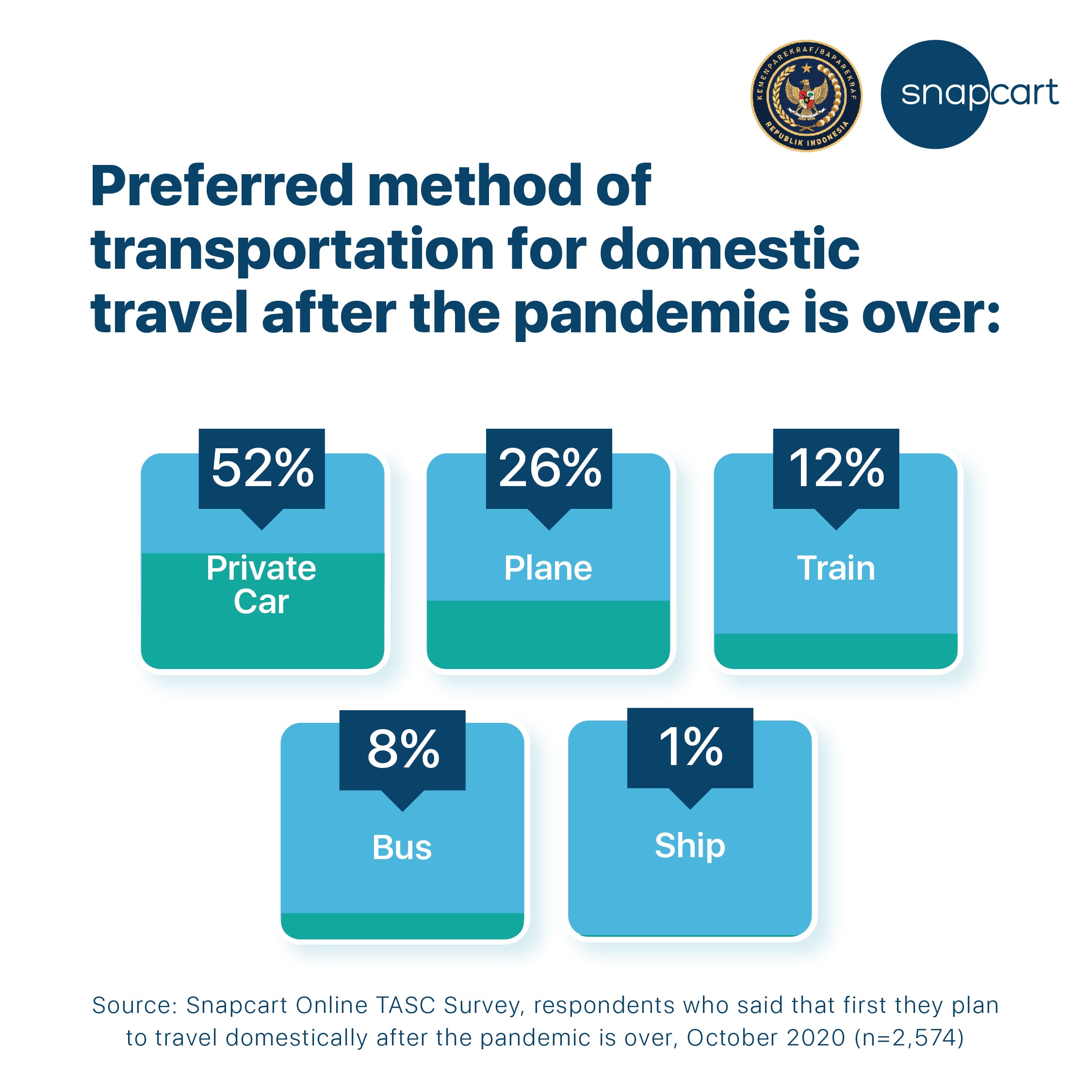 How about the choices for people who stuck to the attractions in and around town? 67% mentioned that they prefer to explore nature, which has experienced a surge of interest during the pandemic since it involves little human contact and exposure. Around 41%, however, has chosen amusement and water parks, which is on the opposite side of the scale  The third top choice is food tourism from 40% of our respondents which we attribute to the current limitations on public dining.
With the upcoming expected increase in interest towards traveling after the pandemic is over, it might be interesting to find out more regarding this topic. And with the TASC free trial, you can easily do that as you can get your first 100 respondents for free!
Sources:
[1] INTERNATIONAL TOURIST NUMBERS COULD FALL 60-80% IN 2020, UNWTO REPORTS
[2] First-class swag, airplane meals, 'flights to nowhere': Airlines innovate amid pandemic
[3] 5 charts show which travel sectors were worst hit by the coronavirus