Short answer? More positive than you think.
"Free-to-use" sites such as Facebook, Twitter, and YouTube profit from their platforms' ability to influence users with advertisements in exchange for being sources of endless entertainment for its users and giving its users the power to connect with millions of people globally.
These sites, however, when they started to become popular in the late 2000s, their users were not used to seeing advertisements online and thus when the ads finally came pouring as these sites became more popular, the majority of internet users did not appreciate it. It is, of course, very important for an advertising campaign to be seen positively by its audience if it wants to influence them to drive sales for their promoted brands.
Fast forward to 2020 when the digital natives (Millennials, Gen Z) have overtaken the older generations as the biggest internet users. More and more internet users have grown up with digital ads as a normal part of their digital experience, very much like how commercials/ads are normally seen on TV. Nowadays, digital ads are perceived differently, and are now much more influential than they were in the previous decade, even influencing election results. 
Now what does this setup look like in the Indonesian digital market?
Sentiment Towards Digital Advertising
According to a Snapcart survey on online habits of Indonesian shoppers, surprisingly, only 13% have expressed dislike with the wish to remove digital ads from their favorite website's feed. 
More than half of users (52%) expressed either tolerance or indifference towards digital ads accepting it as a normal part of "free" digital experience. 
On the more positive sentiments for digital ads, a significant portion of users (34%) actually like digital ads for reasons of:
1) being actually entertained by the ads (19%)
2) being referred to products they were actually interested in purchasing (15%)
In fact, 34% likability is huge compared to our initial hypothesis that almost all internet users would rather not be exposed to digital ads.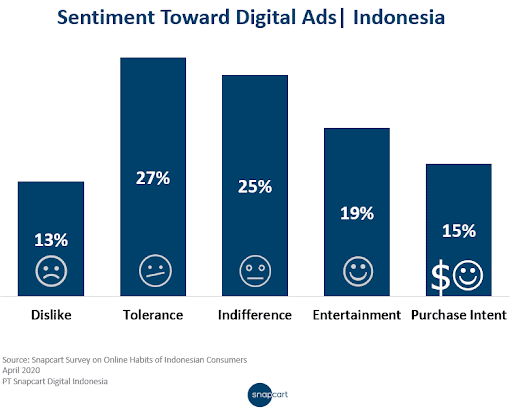 Digital Advertising Effectiveness
In terms of effectiveness, digital advertisements have been able to influence around 76% of Indonesian internet users to try purchasing items, online or offline, at least once, after being exposed to an online ad.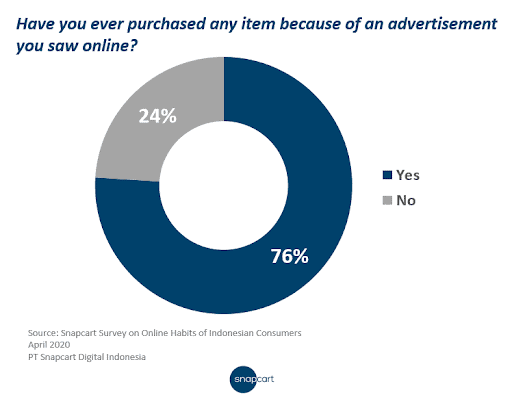 This finding is promising for brands with scheduled digital advertising campaigns especially if coupled with the fact that significantly more people are being online now because of the lockdown. According to the aforementioned Snapcart survey, 77% of Indonesian internet users claim to spend more time online now due to Covid-19's impact on Indonesians' daily activities.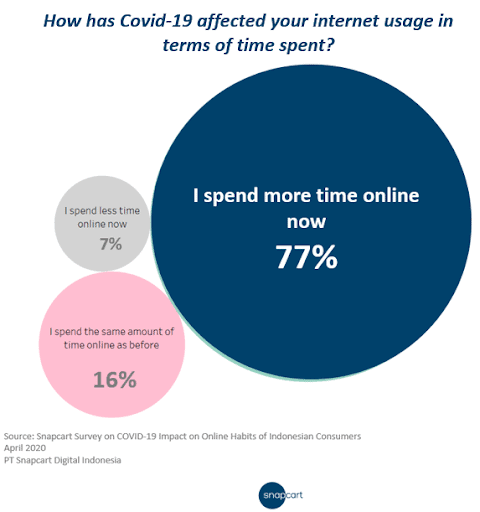 Recommendation
Remember the 15% of internet users who actually liked the online ads they saw on their feed because it suggested products that were interesting to them?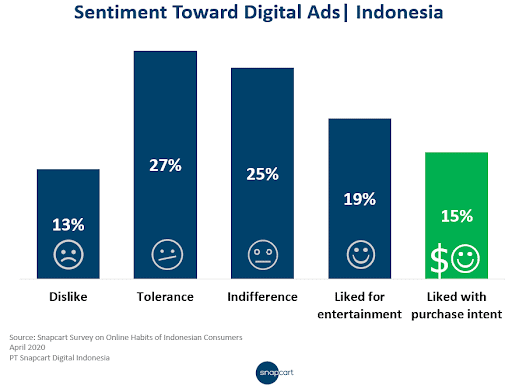 Wouldn't it be a great formula for a digital campaign's success if, alongside the high digital attention these days and the high trial rate for products seen in digital ads, we can focus our digital marketing spend to target the people who liked ads because the products featured are interesting to them?
This can be done by targeting users based on their internet browsing activity to measure interest for categories with high tendency to be researched on first on the web before purchase such as tech products, travel tickets, beauty products, and home appliances. 
And for more commonly bought categories, which do not have as many online activities to detect interest for them, this can be done via targeting users based on their purchase data and profile. 
For example, here in Snapcart with our product OPTI, we provide a "seed audience" that matches a campaign's criteria on purchase history and demographics which then gets thousands of lookalikes to which the ad campaign will be directed to.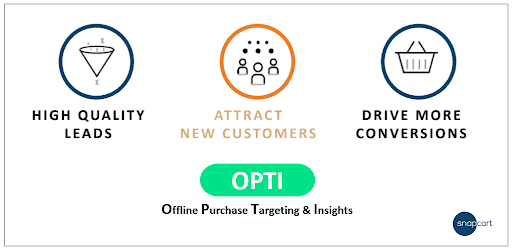 Would you like to see the findings of this study specifically for your industry or category?

References:
https://wistia.com/learn/marketing/the-psychology-behind-why-people-dislike-ads
https://www.theguardian.com/technology/2018/mar/19/facebook-political-ads-social-media-history-online-democrac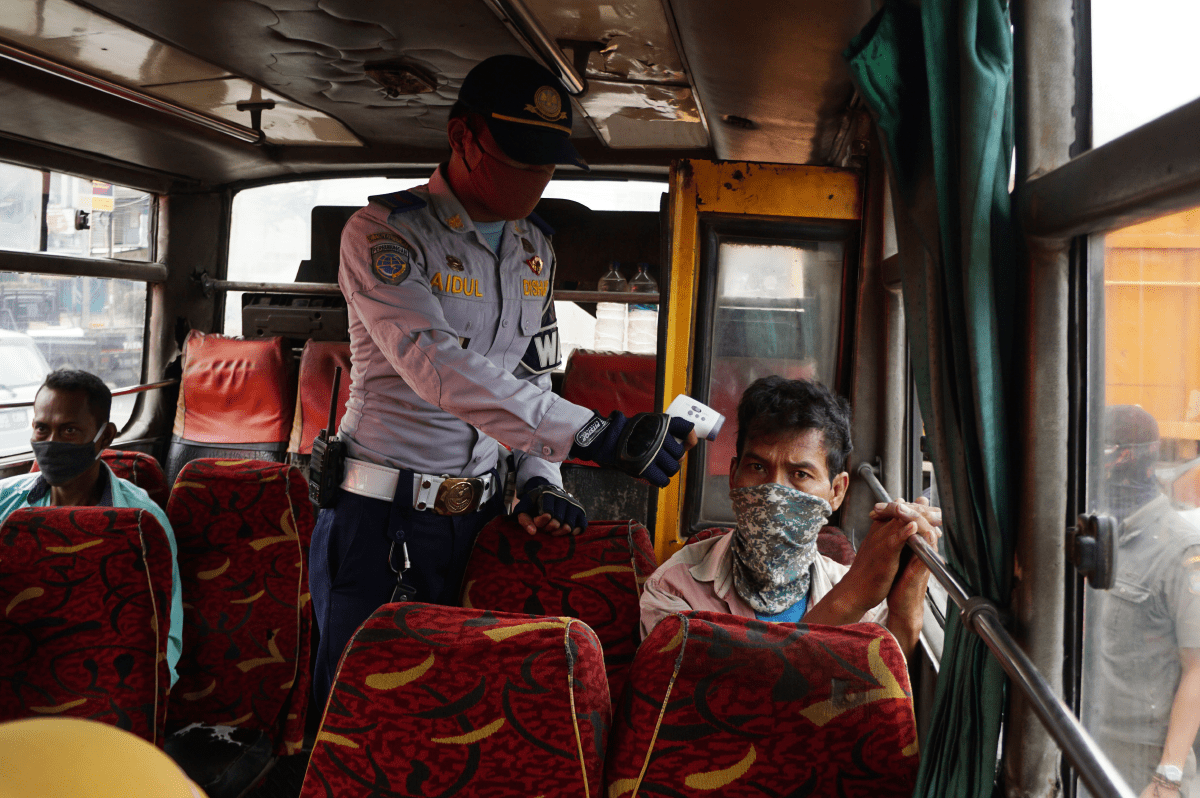 Is Indonesia ready for further easing of PSBB?
On April 3, 2020, the Indonesian government released regulations to implement large-scale social restrictions (PSBB) in order to slow down the spread of COVID-19 in the country. More than 50 days have passed since its first implementation in the Capital City, Jakarta and now the country is preparing to live in the situation now called the 'New Normal' brought about by the pandemic.
Experts have expressed concerns about policies regarding COVID-19. Some groups believe that the duration of PSBB might not be enough while others believe that it is already time to open up the economy as more and more people  are suffering financially due to the pandemic's effect on the economy.
But enough with the experts. If we ask Indonesian citizens themselves about the thoughts on this matter, what would be their opinion? 
On May 28, 2020, Snapcart, using its survey product TASC, asked over 3000 users to share their thoughts on the possible scenarios that may happen once PSBB is lifted as well as updates on how they are responding to the pandemic now compared to last month. Here are some of our findings.
1. Most Indonesians are still cautious about outdoor activities due to COVID-19
While the opinions on the level of safeness felt when going outdoors vary across different groups, a bigger percentage is leaning towards feeling less safe when going outdoors now compared to the past 30 days.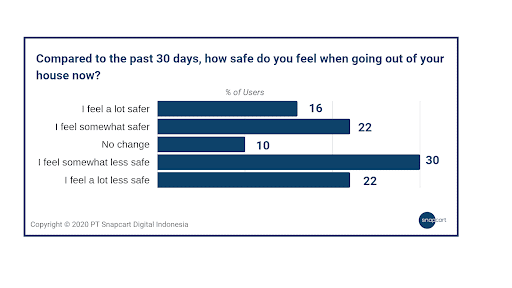 This level of cautiousness can also be seen with most people still worried about traveling for pleasure even in the later part of 2020.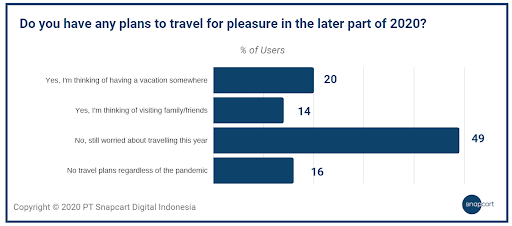 In terms of the stocking-up behavior observed at the beginning of the lockdown, the majority of people are still being cautious by stocking up on supplies of food and other necessities from grocery stores.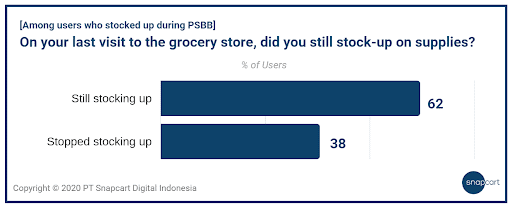 2. In terms of COVID-19 policies, most Indonesians are leaning towards more cautious decisions. 
The majority of Indonesians (60%) believe that the current social restriction rules are not strict enough and thus need to be tightened further.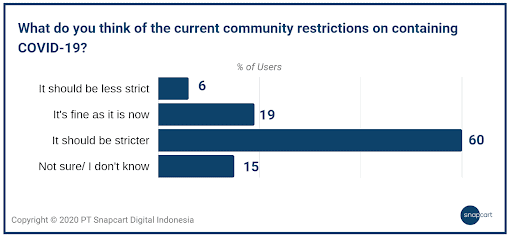 This is reflected in the fact that 50% thinks that in the next assessment of the extension or lifting of PSBB, the government must opt for the cautious approach of 'wait-and-see' first as they (the respondents) are not confident enough that the country is ready to lift PSBB, but also not overly pessimistic about the current situation.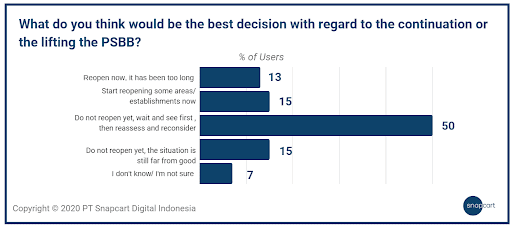 Moreover, the majority (51%) of Indonesians also believe that the community's health and survival must go first before its economic well-being. However, those who chose to prioritize addressing the economic problems are not far off in the figures (42%).
3. Yet, in terms of their views of the future regarding the pandemic, Indonesians are mostly optimistic. 
A total of 64% believe that by 2021, at least some things will have already returned to normal, with 32% believing that most things will be back to how they were before the pandemic by 2021 which is only 6 months from now.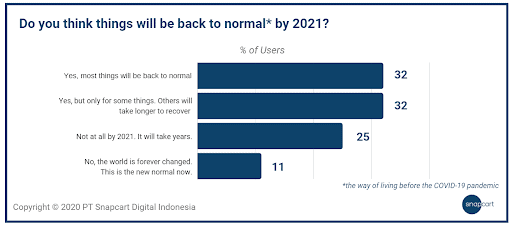 Summary
As of May 28, 2020, where Indonesia has started to loosen PSBB restrictions and is slowly opening up establishments closed during the lockdown, most Indonesians remain cautious on their activities, with the majority believing that stricter rules on PSBB is most necessary and that careful consideration is crucial to every decision on COVID-19 restrictions. However, despite the present cautiousness on the situation, most Indonesians are still optimistic about the future. 
Would you like to see this report's result in a specific demographic group significant to your business?

Is your digital ad effectively reaching your target age group?
77% of Indonesians are spending more time online, is your ad placed where your target audience actually are?
'Online' is a huge place. Ranging from a simple message sent in WhatsApp to gaining access to all the (public) knowledge in the world on one's fingertipsㅡ the internet actually proves to be a bigger space than the actual world. It is also a place where one can be in multiple places at one time. With this, we can expect that the additional time spent by Indonesians on the internet can be in multiple web spaces at the same time.
The world in the past thirty days is a world still in the COVID-19 lockdown which is the reason why most Indonesians are spending more time online in the first place. This increase in activity online has been seen across all demographic groups.
However, different demographic groups have different online habits. The difference is crucial to making sure the right campaign was pushed to the right audience at the right platform.
How Small CPG Players can Get Ahead in the time of Covid-19
It is easy to see how CPG giants have been winning heavily in this day of lockdowns and quarantines. This is due to consumers shifting to doing almost all activities at home and falling back to buying their tried and tested brands which are, in most cases, the biggest and oldest CPG brands.
Is this bad news for smaller and newer CPG players? Not necessarily. 
CPG is one of the very few industries still growing in the age of Covid-19 and is projected to keep on doing so until May in a conservative estimate. This means the pie has gotten much bigger, and so while the big players are the number one beneficiaries of this growth, small players are benefiting from this new growth as well.
A Big (and rare) Opportunity 
While there may not be a CPG supply issue, grocery stores still encounter frequent stock challenges because of logistical issues. This logistics issue inflicts the most in-demand categories and brands, opening the door for smaller brands to come in and supply shopper demand while the big players are refilling their stocks.
How does this logistics issue impact Indonesian shoppers? When faced with a situation where the favorite brand is out-of-stock, around half of shoppers would pick another brand.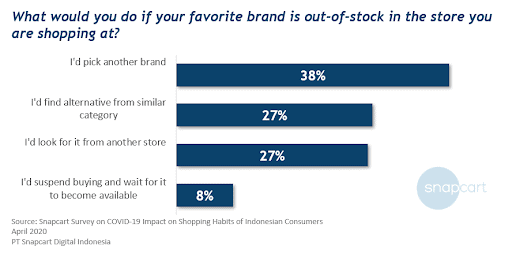 To maximize the opportunity of getting trialist buyers from a bigger brand, a smaller brand must make sure that it is perceived as having at least one of the attributes of: good quality, affordability, and trustworthiness. Fortunately for smaller brands, when in this situation, they don't have to be a perfect substitute for the favorite brand as only 16% of shoppers require the trial brand to be very similar to the favorite brand.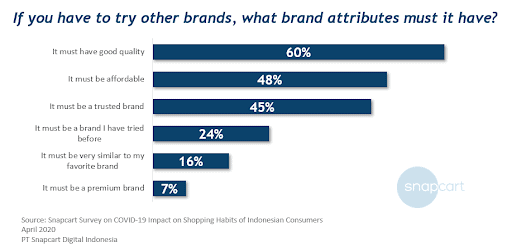 An Even Bigger Opportunity
The other half of shoppers who would find ways to still buy their favorite brands in case they are out-of stock answered so having their favorite brands in mind. However, in CPG, there are not many strong favorite brands for buyers if compared with more brand-conscious category buyers like in Fashion, Tech, and Sports. This means there is an even higher chance of gaining new buyers via increase in trials. 
In fact, in our survey, shoppers who are trying other brands due to out-of-stock issues are only 31% of shoppers who claim their brand sensitivity has been affected by the Covid-19 situation. A greater percentage of shoppers try other brands for more economical reasons such as affordability/"great deal" proposition (42%) and presence of promotion on those brands (41%). Only 18% of buyers say that they still stick completely to the same brands they are used to despite the situation.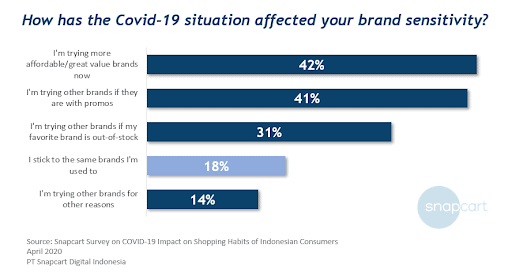 Recommendation for small CPG players
Covid-19 has shaken up the playing field knocking many players down no matter their size, while giving advantage to others. It has changed the field to something that is equally unfamiliar to all the players. Small players in every industry can use this reshuffling of cards to boost their standing in the competition. Thus, they must take advantage of every opportunity that comes from this recent change in some rules of the game.
For small CPG players, iIf your brand is not perceived as affordable or a "great deal" product, try to create and maximize the power of promotions and take advantage of the big brands' stock issues by having at least one of the attributes of: good quality, affordability, and trustworthiness to widen the opening of your sales funnel. The potency of these efforts are higher now more than ever as the majority of shoppers see their brand sensitivity decline during this pandemic. Watch out for stronger emergence of recessionary purchase behaviours and prepare strategies on capturing the attention of more purpose-driven, economic, and risk-averse shoppers.
Would you like to see this study's results specifically in your industry or category? 

References:
https://www.forbes.com/sites/andriacheng/2020/04/17/pgs-results-show-coronavirus-has-given-the-upper-hand-back-to-traditional-cpg-giants/#c1e817d33700
https://www.fooddive.com/news/cpg-sales-could-rise-as-much-as-30-from-march-to-may-report-finds/575154/
https://www.vice.com/en_us/article/g5x7w3/why-grocery-store-shelves-look-bare-even-though-theres-no-food-shortage
https://www.iriworldwide.com/IRI/media/Library/IRI-COVID-19-Impact-Assessment-4-24-2020.pdf?utm_term=Learn%20More&utm_campaign=%5BNew%20Report%5D%20Shopping%20Patterns%20Shifting%20Dramatically%20as%20Consumers%20Settle%20Into%20COVID-19%20Routines&utm_content=email&utm_source=Act-On+Software&utm_medium=email&cm_mmc=Act-On%20Software-_-email-_-%5BNew%20Report%5D%20Shopping%20Patterns%20Shifting%20Dramatically%20as%20Consumers%20Settle%20Into%20COVID-19%20Routines-_-Learn%20More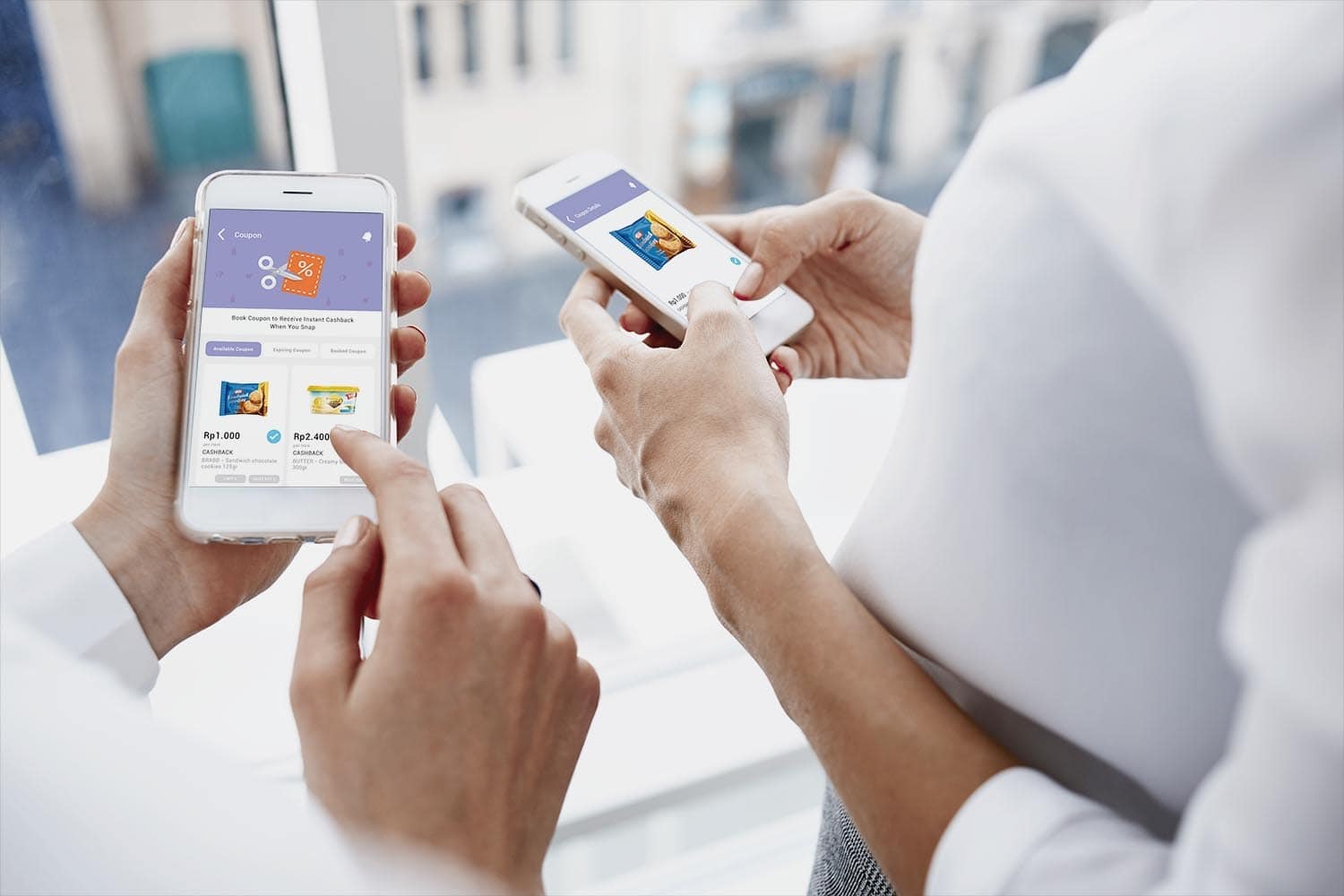 How to Maximize Promotions amidst Covid-19's Impact on Indonesian In-store Habits
As more cities are facing lockdown, nonessential businesses are being ordered to close and customers are generally avoiding public places. Limiting shopping for all but necessary essentials is becoming a new normal. Brands are finding the need to adapt and be flexible to meet changing needs.
read more →
Sign up for more actionable insights
Stay up to date with our latest findings