Insurance is one of those things we forget about until we need it, kind of like a spare tire. However, till date, people still have different opinions on whether it is necessary to have it or not. There are various types of insurance products like life insurance plans, health insurance, home insurance and many more. However, the core of any insurance plan is to offer you protection as life is very uncertain and has a way of throwing surprises at you when you least expect it. With this, there are many insurance companies we can choose from as well as plans and options that are made available to each individual according to our needs, type, or even budget. So knowing all that, how are Indonesian's awareness regarding insurance, as well as their ownership?
Looking at the data we've collected, only 55% of our respondents have insurance and that too are preferred within the older age group above 45 years. The other remaining finds insurance either unnecessary or too expensive. However, looking at the situation right now due to the pandemic, around 59% who don't have insurance currently are planning to get one in the near future. Till date, many Indonesians are still relying on the BPJS that are being provided by the government to the Indonesian citizens. Among the types of insurance, the health insurance policy still falls in the highest category with 68%, followed by life insurance with 38%. For more details check out the data below: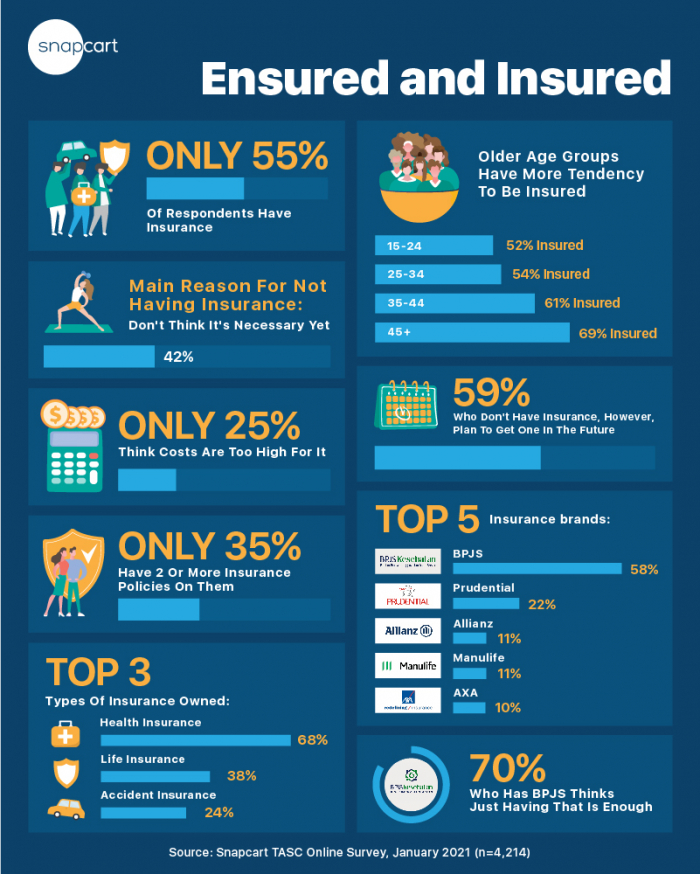 Get insights and public sentiments for your company with Snapcart's TASC, our fast, crowd-sourced data collection platform – now with a free trial!