The loss of our daily routines and the threat of more serious casualties to come from COVID-19 has put a serious emotional strain on people's mental health. Because of it, it's interesting to see that ever since the outbreak, there has been an exceptional increase in animal adoptions and purchases[1]. Pets have helped many people cope with the mental stress of being locked down during the pandemic as well as to tackle feelings of isolation and anxiety. Activities with animals that you enjoy can become a part of our routine that can help bring back some degree of normalcy in people's lives. According to CNN Health benefits of pet ownership include higher survival rates, fewer heart attacks, less loneliness, stable blood pressure, better psychological well-being and lower rates of depression/stress levels[2]. So knowing all that, how are Indonesians response regarding pet ownership during the pandemic?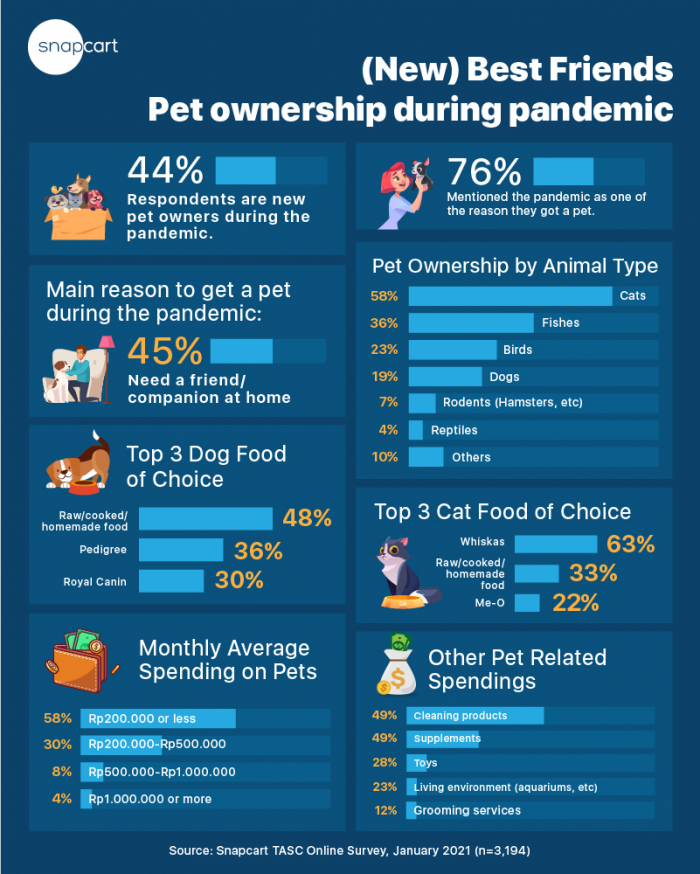 From the data we have collected, 76% of our respondents mentioned the pandemic as one of the reasons they got a pet, with 44% of them being new pet owners. The main reason for adoption is to provide company/friend at home due to the lack of mobility and quarantine, with 45% answering that as their reason. In Indonesia, cats are on top of the preferred animal list with 58% respondents being cat owners, followed by fishes with 36%, birds 23%, and dogs with only 19%. Spending-wise, pet owners are usually quite frugal, with around 58% answering that they spend Rp200.000 or less per month for their pets. This checks out with how 48% dog owners and 33% cat owners give their pets raw/cooked/homemade food instead of branded ones. For more details, please check out the data below:
Get insights and public sentiments for your company with Snapcart's TASC, our fast, crowd-sourced data collection platform – now with a free trial!
[1] Coronavirus: Animal charities issue warning after rise in enquiries to adopt pets
[2] Benefits (and some surprising science) about owning a pet