The culture of snacking is hard to separate from Indonesians with its abundant choice of street food and home-industry-produced snacks. And this is even more relevant during the pandemic: Mondelez International's State of Snacking report shows that in the year 2020, 88% of global respondents, including those from Indonesia, either increased or maintained their snacking frequency, with comfort being their main reason to snack[1]. With the various choices available in the Indonesian market between modern and traditional snacks, we look deeper into Indonesian respondents' snack of choice as well as their reasoning for them.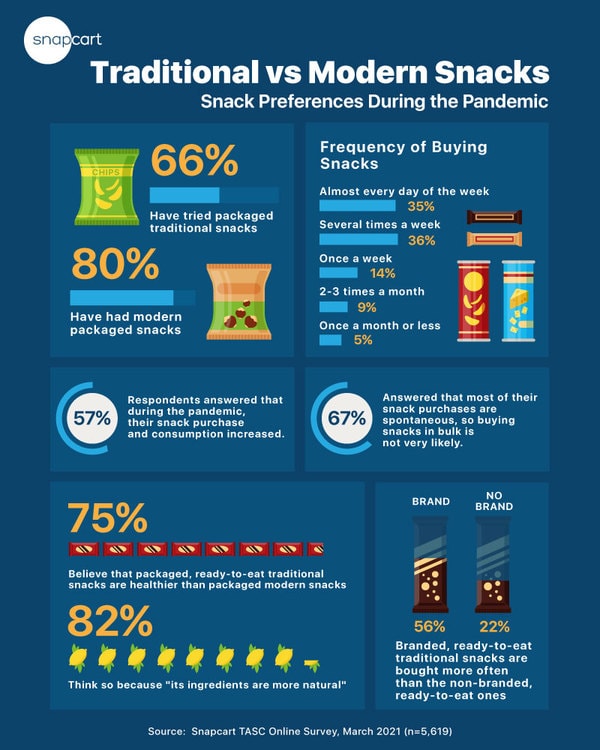 Respondents who've mentioned that they've tried packaged traditional snacks amounts to 66%, only 14 % lower than the 80% respondents who've had modern packaged snacks. This might be the result of the current increase in efforts to package and brand Indonesian traditional snacks, such as what has been done by Maicih, for example. Health concerns might also be a factor, as 75% of respondents who've had packaged traditional snacks believed that they are healthier compared to packaged modern snacks, with 82% believing traditional snacks ingredients are more natural. Customer perception plays a big part in their choice in snacks, further enforced with how branded, ready-to-eat traditional snacks are more preferred (56%) compared to non-branded ready-to-eat ones (22%).

Want to know more beyond snacking? We've recently released a whitepaper on current FMCG landscape which you can download here.
Sources: