Plans of going back to working from the office are coming soon — or is already beginning for some of us. However, the pandemic is still here, and so we'd like to see how it affects one of the factors that comes with working from the office: commuting. Though working schedules are already back to "normal" for some (and soon for some others), does the pandemic still affect how they commute to and from work as well as to other places?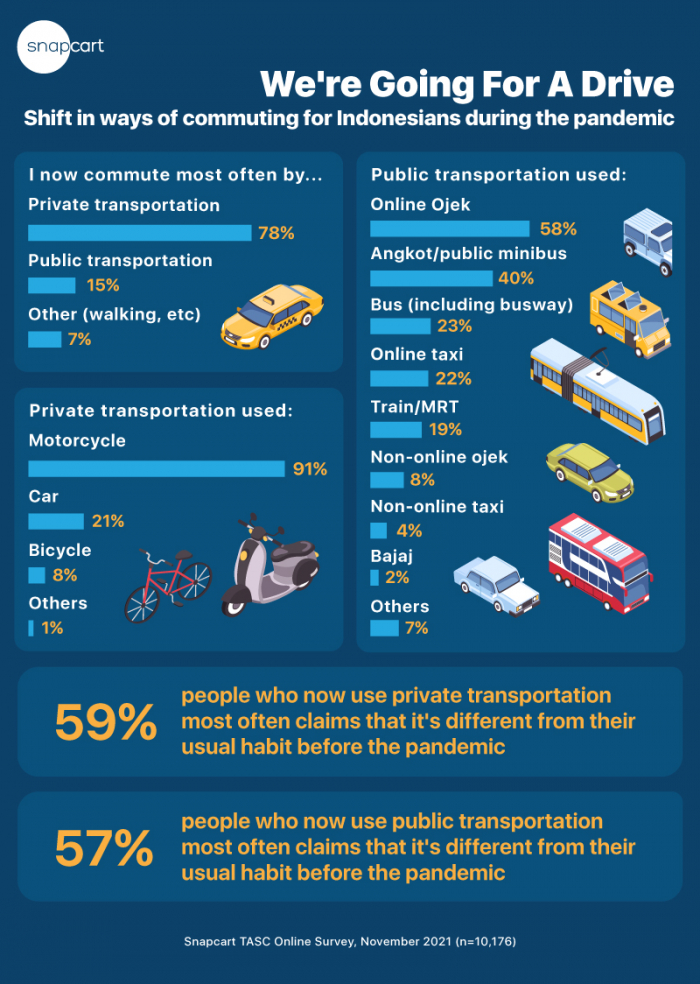 A significant number of consumers answered that they now commute most often by private transportation: 78%, to be precise. And, 91% of those use motorcycles, with only 21% using cars and, despite being the new trend during the pandemic, only 8% use their bicycles to commute. It's interesting to note as well that 59% who now use private transportation claim that it's a change from how they usually commute before the pandemic, meaning that the pandemic still affects their choice of transportation.
For those who opted for public transportation, online ojeks are still the most used at 58%, followed by minibuses/angkots second at 40%. Non-online ojeks, in comparison, only comprise 8% consumers. The same preference towards online also shows for taxis, with online taxis being used by 22% consumers but non-online ones only 4%.
How about you? Have you started commuting daily once more? What's your choice of transportation?