The rapid evolution of digital technology has significantly altered the way individuals interact with various aspects of their lives, including shopping, banking, education, and entertainment. We all know that the younger generations are more technologically open and quick to adopt.  However, between the two younger generation: Generation Z (up to 26 years old) and Generation Y (27 to 42 years old), commonly referred to as Millennials, are they the same in their preference in using different digital platforms or there are differences?
Snapcart collaborated again with Iwan Murty, one of our early angel investors and a seasoned marketing researcher, to explore the differences in digital platform usage between two prominent generations: Generation Z and Generation Y. By understanding their preferences and behaviors, we can uncover potential business implications for industries aiming to cater to these distinct consumer segments.
The data presented in this report is derived from our online survey covering across Indonesia from 18 to 24 July 2023. Total sample of n=4,337 males and females are split into 2,590 individuals from Generation Z and 2,347 individuals from Generation Y. To be eligible to this survey, these individuals have to have prior experience using digital platform and at least has done a transaction only.
The survey encompassed a range of digital platform usage categories, including online shopping, food delivery, banking, transportation, travel booking, daily necessities, streaming services, online education, and telehealth.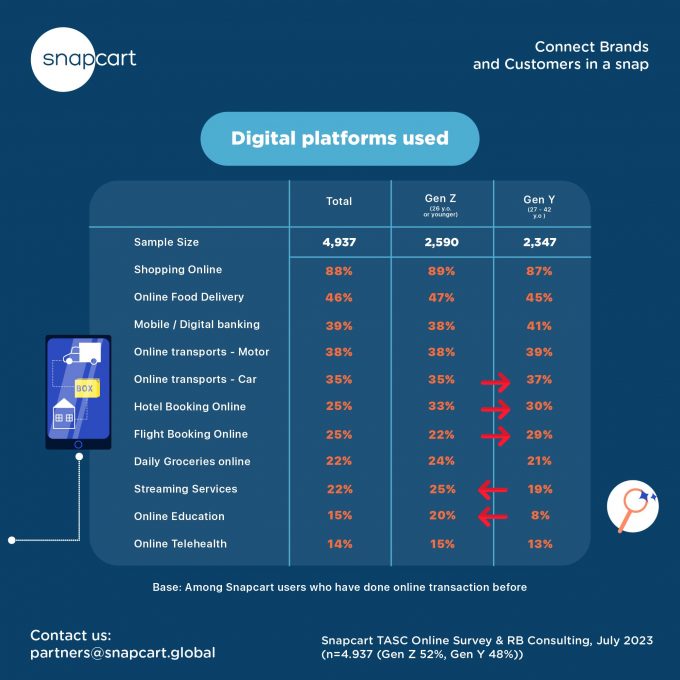 Key Findings
Both generations show a strong adoption of online shopping, followed by online food delivery, digital banking and online transports. 
The lowest adoption is found for online education and telehealth.
Very high adoption of online shopping highlights the growing comfort of the younger generation with e-commerce platforms and presents opportunities for businesses to create tailored online shopping experiences to capture their preferences.
Travel and Transportation: Interestingly, Gen Z and Gen Y's preferences diverge in terms of online transportation services. Generation Z appears to rely more on motorized transportation (38%) than mobile-based alternatives (35%), whereas Generation Y displays a more balanced usage pattern (39% motorized and 37% mobile).   This is likely due to different charges between the two types and these generations' spending power.  This insight may guide transportation companies in tailoring their services to each generation's preferred modes of commuting.
Entertainment and Education: Generation Z demonstrates a more significant inclination towards streaming services (25%) compared to Generation Y (19%). Furthermore, the data unveils a notable contrast in the adoption of online education, with Gen Z embracing it at a rate of 20%, compared to a mere 8% among Gen Y respondents. These variations suggest a growing market for digital educational content, along with a potential for innovative edutainment platforms targeted at Gen Z.
Online Travel and Hotel Booking: usage of this digital platform is significantly higher among the Gen Y which might be driven by more travel for works and higher purchase power.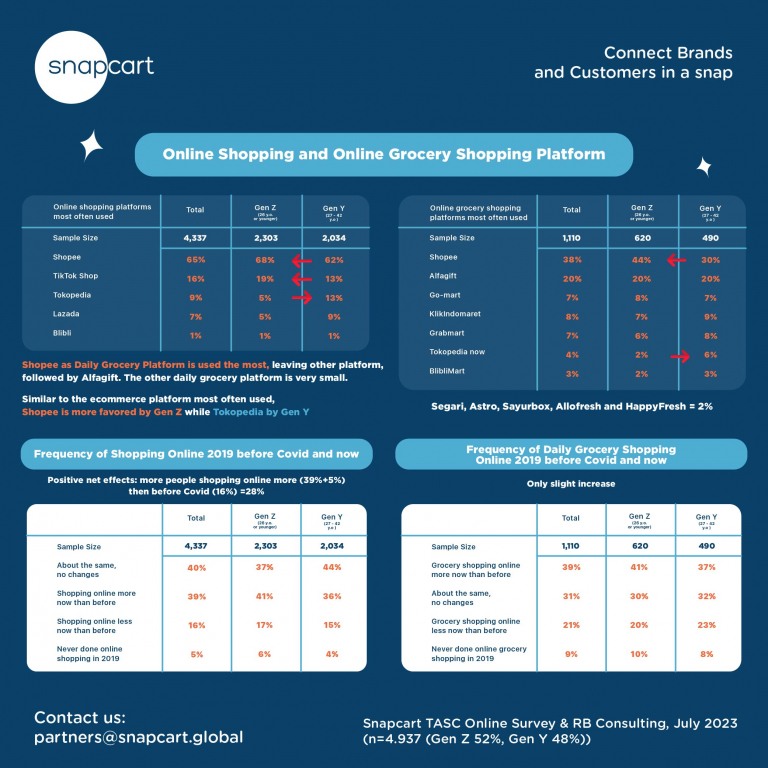 For online shopping most often used by these generations, Shopee leads the share by wide margin for both online shopping and grocery shopping; and generation Z is more likely to shop from Shopee than generation Y.   Gen Y also has higher inclination to shop at TikTok Shop.
Tokopedia seems to be preferred by Generation Y.
Gojek and Grab has 80% of the market, but it seems their strategy is different. Gojek is appealing more to the younger generation, while Grab is preferred more by Gen Y.
Maxim is challenging the two main players with 13% share and skews slightly to the younger generation.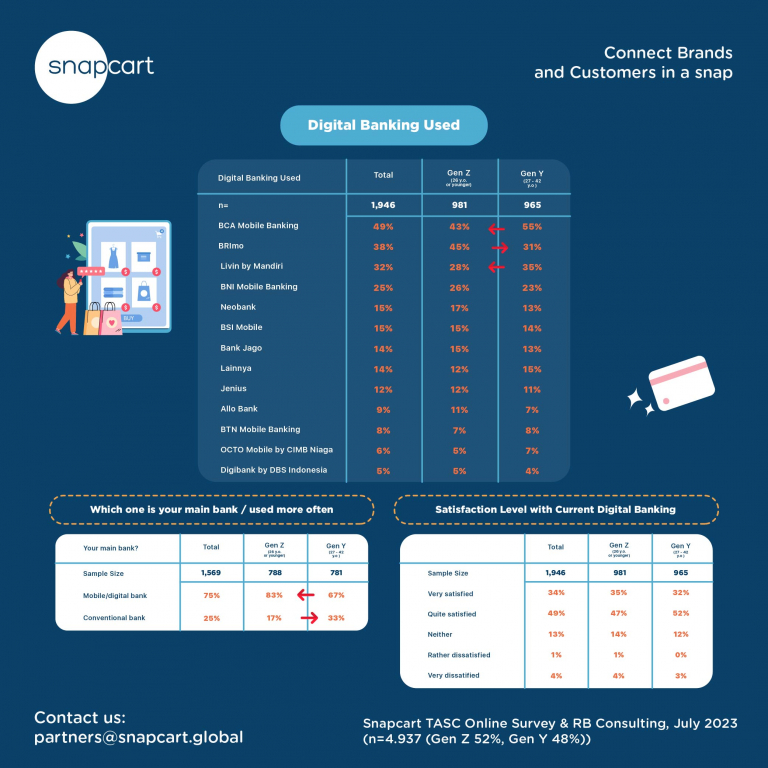 The top two digital banking used – BCA Mobile and BRImo – have different skews.  BCA is used more by Generation Y, while BRImo by Generation Z.   Livin by Mandiri is also preferred by Generation Y.
Majority of Gen Z (83%) claims that their mobile main bank is using digital banking, compared to only 67% of Gen Y.
Additional Information – Brand Funnel
Among the Generation Z and Y, the following data show awareness level, incidence of ever used to main platform used for online shopping, online grocery shopping and online transport (car)
For the online shopping platform:
·       Shopee has a good retention rate from aware to ever used to retain them as main platform.  Tiktok Shop is the other platform that is able to retain about a third of those who have tried to be their loyal users
·       The other platforms show a loss in conversion from aware to induce trial to try their platform.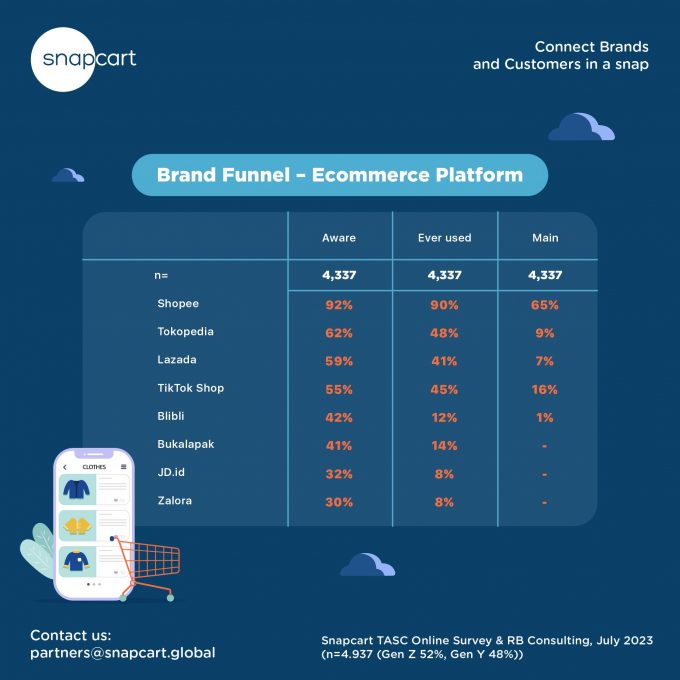 For the online grocery shopping platform:
·       Again Shopee has the higher awareness with 82% of those aware to try the platform (57% of ever used divided by 70% awareness) and ability to retain those who tried to make Shopee as their main online grocery shopping platform 67% (38% who use Shopee as their main platform divided by 57% of those who ever)
·    The next group of platforms with similar awareness level are Alfagift, Grabmart, Go-Mart and KlikIndomaret. Alfagift leads this pack with 20% claiming to use it as their main online daily grocery shopping platfrom. 
For the online transport shopping platform:
·       Both Gojek and Grab has high conversion from aware to ever try to main. 
·       Maxim has a good level awareness, better than MyBluebird, and InDrive among these target markets. About a third who used Maxim before, they kept using it as their main online platform transport.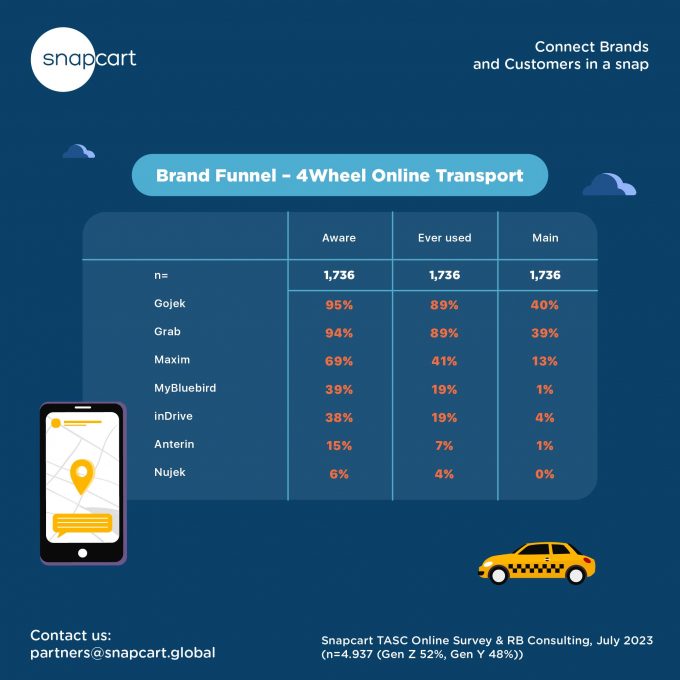 Conclusion
The research highlights the nuanced differences in digital platform usage between Generation Z and Generation Y. By acknowledging and responding to these distinctions, businesses can tailor their products and services to effectively target these two vital consumer segments. This will not only enhance customer satisfaction but also contribute to the growth and innovation of various industries in the digital era.
About Snapcart
Snapcart offers real-time insights about offline shoppers and consumers for brands. Through a mobile app that provides cashback upon scanning receipts, Snapcart collects data points on the individual shopper level, which has never been done in the market research industry. It gives brands the opportunity to get closer in order to understand their consumers holistically than ever before.
Snapcart can identify optimal promotion levels to maximize revenue, help evaluate the effectiveness of media spending, understand buying habits and more. Snapcart is known worldwide and according to Disrupt 100,  Snapcart is praised as one of the 22 most influential companies which has collaborated with more than 150 brands of fast-moving consumer goods companies in Southeast Asia. For more information, visit www.snapcart.global
Iwan Murty
Iwan Murty is a passionate marketing researcher, serial entrepreneur and experienced CEO. He is a consultant specializing in consumer and market behaviours. 
Iwan has 30 years experiences in the research industry. As a researcher, he handles both quantitative and qualitative research studies, with extensive marketing research consulting experiences across different industries and marketing issues. 
Iwan was a shareholder of Ipsos in Indonesia when he set it up in 2007 and run it profitably until 2016.  Other agencies that he set up and run include Field Force, Central Data, Research International, Infinity CxT and Essensight. He is currently the CEO of RB Consulting. 
He holds a degree in Business Marketing from Monash University Australia and MBA degree from National University of Singapore.