Started to be applied in Indonesia 11 years ago [1], twin date sale has become one of important events for many consumers, sellers, e-commerce and certain social media platforms in Indonesia.
Nonetheless as the time goes by, we rarely see this series of events being celebrated as grand and cheerful as they used to be. Even if we take a look on social media, some people has started to discuss whether Indonesians are still enthusiastic to join this monthly promo or not.
To answer this phenomenon, Snapcart conducted a study in July 2023 and ask Indonesian consumers about their interest toward twin date promo nowadays. Below is the result that we got from the survey.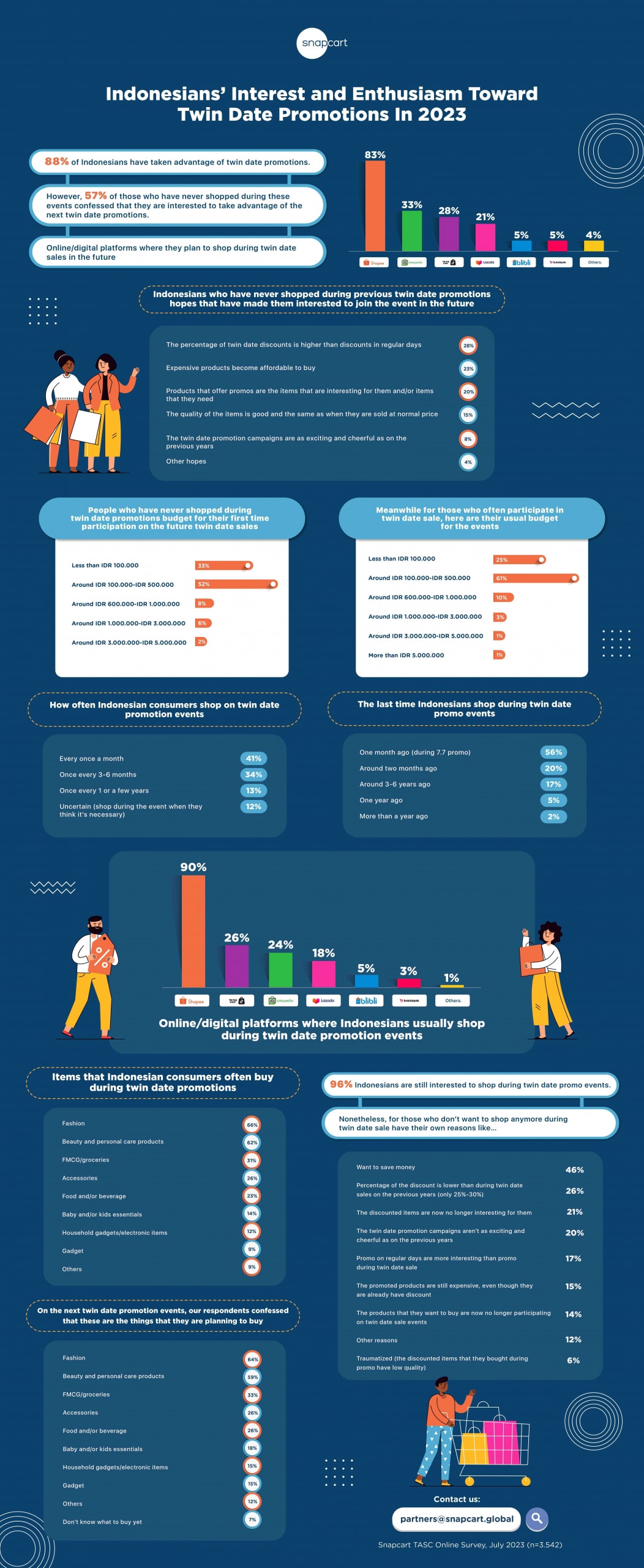 From our survey with 3.542 sample of respondents, we figured out that only 12% of Indonesians who have never taken advantage of twin date promotions this whole time. Majority of them confessed that limited personal budget is their main reason.
However, 57% of these people said that they are interested to try shopping on the next twin date sale events because they have certain expectations like the percentage of the discounts during twin date promo is higher than discounts on regular days (28%), expensive products become affordable to buy (23%), products that join the promo are the items that they need or interesting for them (20%), and so on, as you can see on the infographic above and graphic below.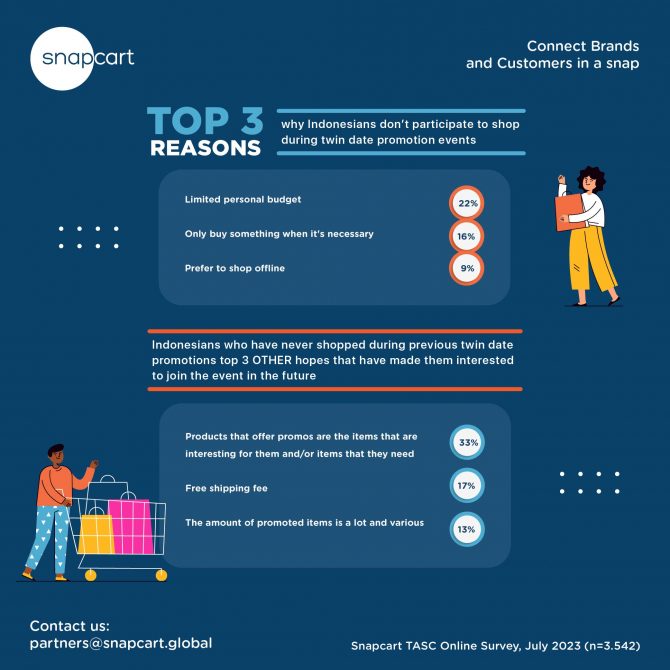 New vs Old Consumers Behavior On Twin Date Sale
For a slight moment, we might think that the behavior of consumers who often shop during twin date promo and those who plan to join the next one(s) for the first time is different. But as we take a look closer at our survey, we found out that in fact, they are not. For examples, the budget that majority of both parties usually spend or planning to spend is at the same level; around IDR 100.000 -IDR 500.000. And the most favorite products for both parties are also the same; fashion products are on the first rank, followed by beauty & personal care, and FMCG/groceries. You can check the full list of the other type of products on the infographic above.
On the other hand, even though more than 80% from both parties choose Shopee to shop during twin date sale events, but the 2nd rank of shopping platform that these two parties choose are quite different. For instance, second majority of the 'newbie' group prefer to shop on Tokopedia for their first twin date promo event. Meanwhile TikTok Shop is the second most interesting platform to shop for those who often join the twin date sale events. The details of this data is represented on the infographic above.
Indonesian Consumers' Future Interest On Twin Date Promo
In order to acknowledge Indonesian consumers' interest and enthusiasm toward twin date promo sales in the future, we also asked our respondents about their shopping behavior on this event for the past few years.
From this survey we figured out that most people who have shopped during twin date sale events (41%) are actually still shop every once a month for the promo, and more than a half (56%) said that the last time they join this event was on July 2023 (7.7 sale). And additionally, 96% of them also said that they would like to join other twin date sale events on the future.
Nevertheless, those who don't want to join the event anymore confessed that there are some reasons why they don't want to shop anymore during the twin date promo such as the desire to save money (46%), the percentage of the discount of the twin date sales nowadays are lower than during the twin date sales on the previous years (26%), uninteresting products that have discount during the events (21%), and more. You can see the details of their answers below.