The number of freight/logistics service companies in Indonesia are keep increasing. Based on data from the Central Statistics Agency or Badan Pusat Statistik (BPS) for Quarter III-2021, Supply Chain Indonesia (SCI) estimates that this sector will contribute IDR 699.1 trillion to the Gross Domestic Product (GDP) or grows by 1.08% (year-on-year) in 2022 [1].
Covid-19 pandemic and the development of e-commerce for the last 3 years are believed to be the main reason why this kind of business grows quickly [2]. Moreover, according to the analysis by RedSeer, e-commerce in Indonesia is projected to grow until US$ 137.5 billion by 2025 [3], which means that freight/logistics industry in Indonesia is potential to grow bigger.
Due to the tight competition between many freight/logistics service companies in Indonesia, Snapcart conducted a study about Indonesian customers' ideality toward this service, and here are the results.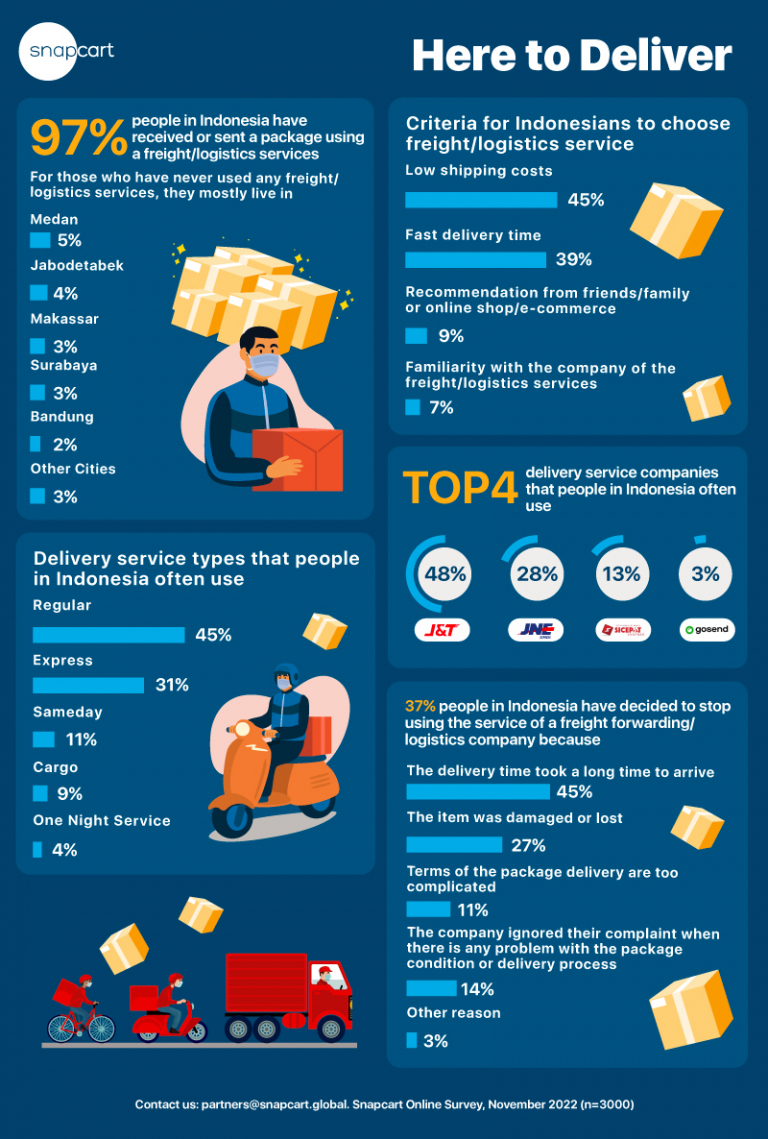 The popularity of freight/logistics services in Indonesia has been proven by our study result, where among 3.000 people in Indonesia, 97% of them have received or sent a package by using the service from freight/logistics companies. However interestingly, those who have never used this service are mostly living in two big cities/areas like Medan (5%) and Jabodetabek (4%), as you can see on the infographic above.
On the other side, we figured out that Indonesian customers have their own criteria. For example, among lots of freight/logistics service companies in Indonesia, there are 4 top companies that Indonesian people often rely on to deliver their package, where J&T become the most popular one, and it is followed by JNE (28%), Si Cepat (13%), and Go Send (3%).
Moreover, we also found out that among 5 delivery service types that are usually used by people in Indonesia, regular delivery is the most favorited service for Indonesians (45%) to deliver their package, where majority of them (43%) think that the ideal arrival time of the package by using this service is around 2-3 days, as represented by the data below.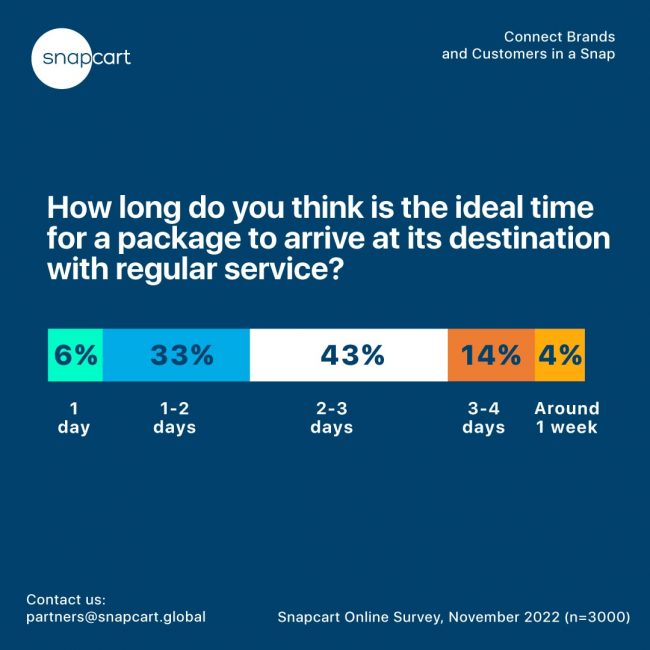 Furthermore, our respondents also told us interesting facts.
As represented by the infographic above, majority of Indonesians (45%) choose a freight/logistics service brand/company to deliver their package due to its low shipping cost. However, 37% of Indonesians confessed that they have decided to stop using the service of a freight/logistics company mostly because of the slow delivery time (45%), while those who have issue with the shipping price are included in the minority group of people (3%) or those who choose "other reason" as an answer (you can see the detail of their answers on the graphic below).