How much is the pandemic tipping the scales in favor of online platforms for groceries? Is this online channel's boom here to stay? Or will this boom be over as soon as the pandemic ends?
With the pandemic continuously looming over the world, and with no clear end to its presence in sight, individuals and organizations have learned to adapt their practices to what is required now by the 'new normal'.
Social distancing protocols, in order to contain the spread of the virus, have greatly incapacitated strong and established industries, even the ones that used to be part of people's daily activities.
However, even as some sectors crashed from great heights as people all of a sudden retreated to their homes and drastically changed their daily routines, there have been sectors that have actually thrived during this pandemic. Two of them are the FMCG (Fast-Moving Consumer Goods) sector, and E-commerce.
Opportunities in E-commerce for Grocery Brands
 According to a Snapcart survey on Online Grocery Shopping Habits, the majority (59%)  of Indonesian grocery shoppers have used e-commerce sites to do their grocery shopping. This rate of online grocery trial is even higher in the capital city, Jakarta, which is at 76% of grocery shoppers.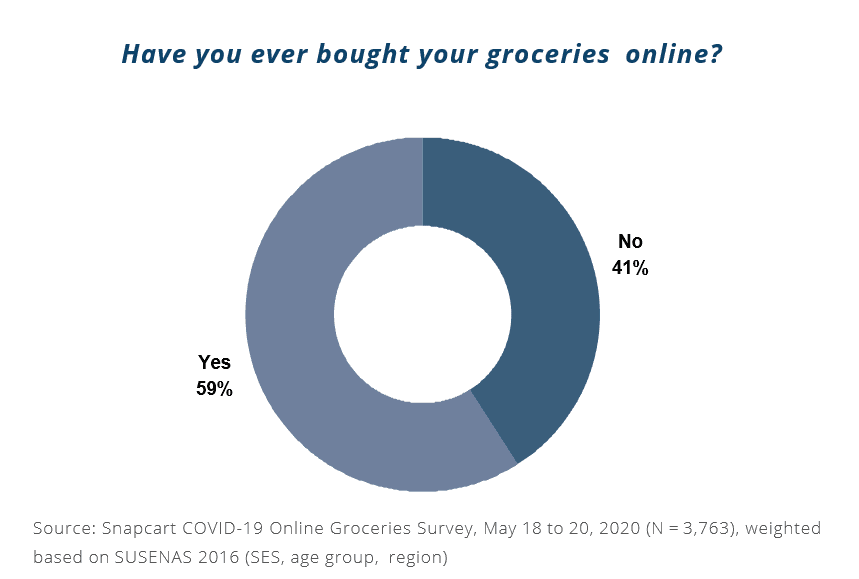 Moreover, a huge majority (81% total) of those who have tried e-commerce sites as grocery shopping platforms are doing so at least once a week which means that most  of online grocery shoppers are actively using the channel to supply their grocery needs.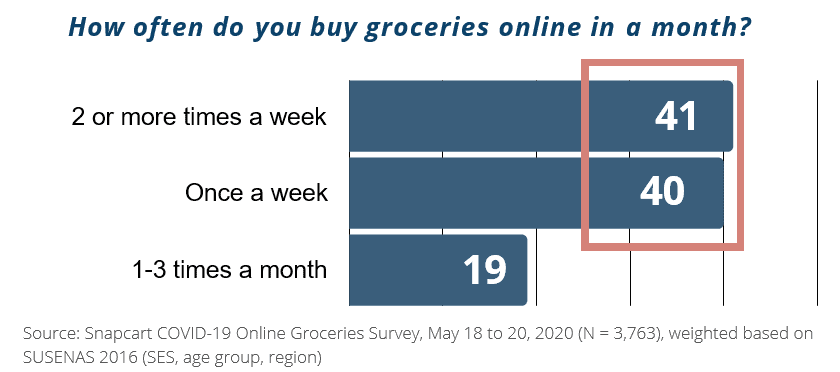 The categories that topped the list of products that were bought more online during the pandemic are products that are daily necessities for consumers such as food, personal care, and medicine.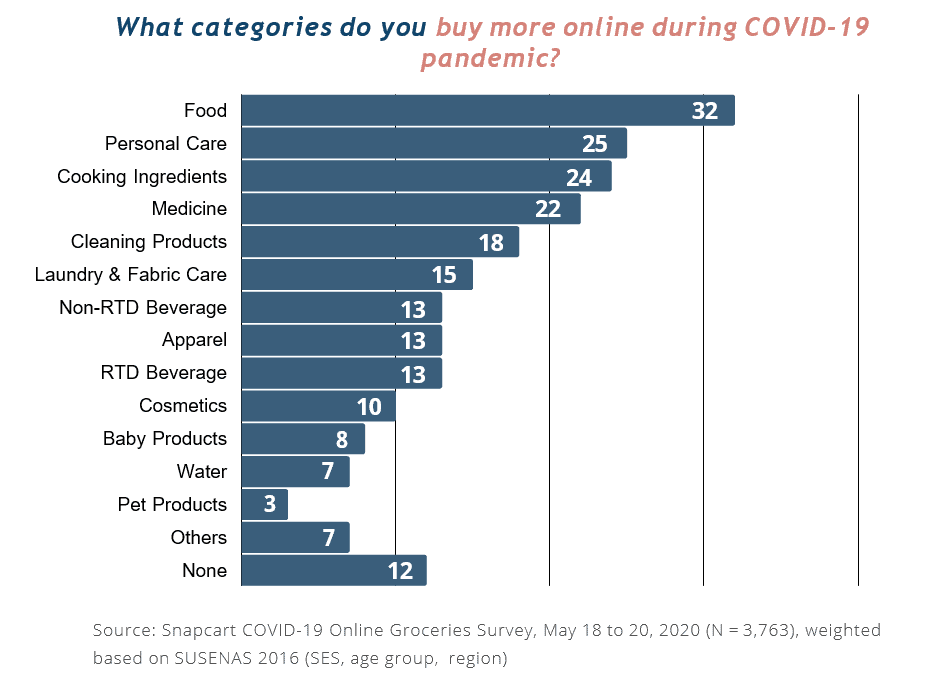 The Best Online Grocery Platforms
 Shopee, by a huge margin, wins as Indonesia's most used online grocery platform with penetration of 65% among online grocery shoppers and with 40% user share on platform used most often.
Tokopedia follows in second place in terms of user penetration (30%), although in terms of repeat purchase, it comes in fifth place with only 7% user share as platform used most often.
The opposite is true for KlikIndomaret where it comes in fourth in terms of user penetration (17%), but second in repeat purchase with 11% share.
Lazada is in third place for both user penetration and platform used most often. Similarly, WhatsApp (grocery items purchased directly from sellers using the messaging app) also takes the same spot as fourth place for both metrics.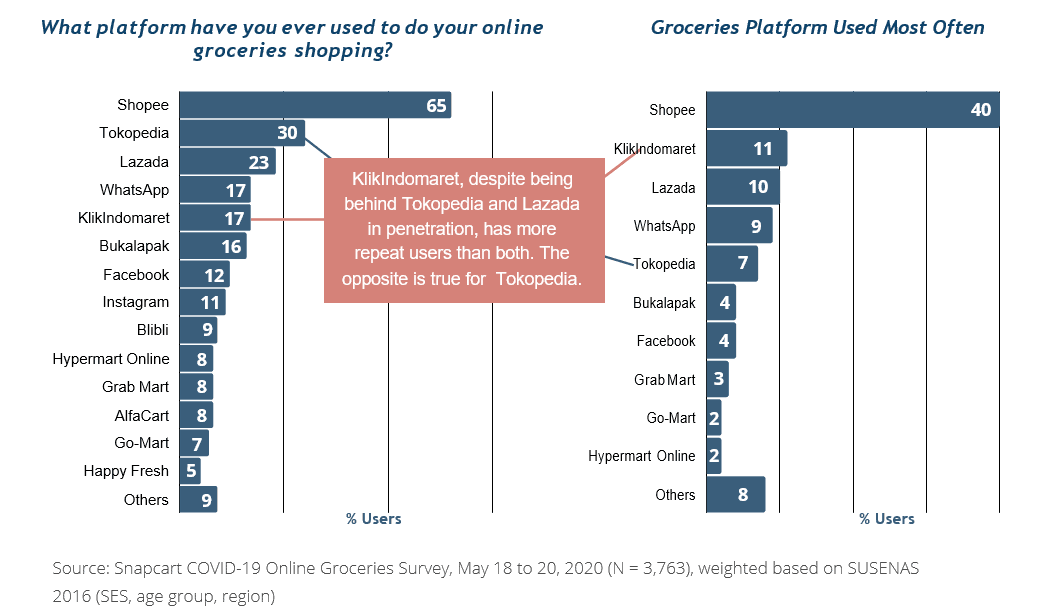 Online Grocery Shopping in Post-Pandemic World
 Of course, online grocery shopping thrives during the pandemic as a result of the government imposing social restrictions. But what will happen to it once the pandemic is over?
According to the aforementioned survey, 42% of Indonesian online grocery shoppers would buy less groceries thru it as they still prefer to shop groceries in physical stores, and so once the social restrictions are lifted, they would go back to it.
However, only 3% claim they would stop any online grocery shopping they are doing now after the pandemic, and 20% are even claiming that they would increase their grocery shopping online.
In fact, if we sum up the percentage of shoppers who would either continue buying with the same frequency or buy more after the pandemic, it would total to 55% which would be the majority of shoppers.
This indicates that e-commerce demand for grocery shopping is here to stay.
This means that grocery brands must create a long-term e-commerce strategy not just to take advantage of the current situation, but to adapt to a permanently changed shopper demand in a post-pandemic world.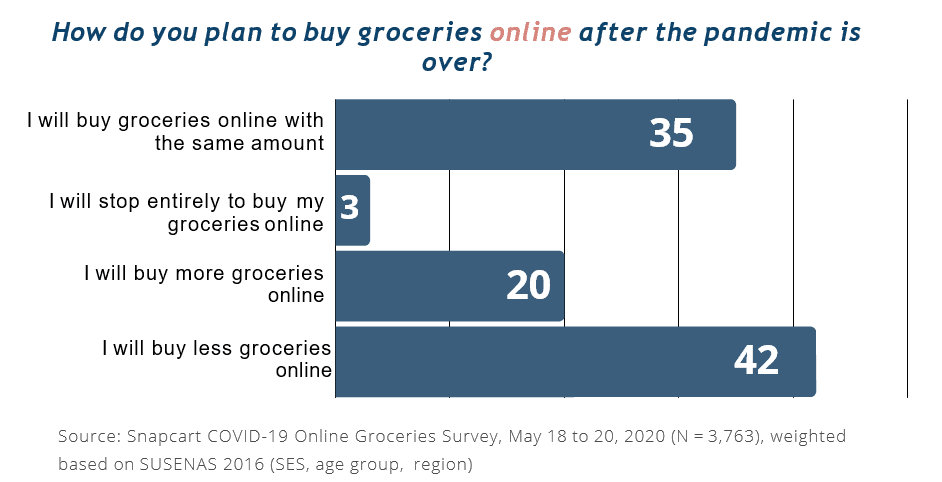 Did you know that Snapcart can help you with your e-commerce strategy via audience targeting using purchase behavior-based profiling? It is more targeted than merely profiling using demographics!
Request a demo to know more.

And click here to download the full report.