According to the studies released by YouGov in April last year, Indonesia is one of the top two countries within the Asia Pacific region with the biggest snacking habit. With the information pulled from the latest real-time consumer data by Snapcart–Indonesia's leading cash back app–, it also reveals that Indonesia's snacking habit is not only the biggest, but it also grows and possibly have the most potential in cultivating a healthy snack market.
Taking from a sample size of 10,000 shopping receipts uploaded by 2,000 unique members of Snapcart–who have also completed an in-app survey–within a period of March to April 2016, the data indicates that most indonesian have adopted a more compulsive and frequent snacking behaviour with higher caloric intake than what was shows on the studies by YouGov in 2015. Furthermore, the data also shows that most Indonesians are late-night snackers and they don't necessarily feel guilty about their unhealthy snacking habits and that onlye a mere 2% of the consumers already prefer and consume healthy greens as a choice of snack.
However, the most interesting information from the data shows that a significant percentage of the sample states that given a more variety for healthier snack options, they are willing to switch their consumption from the lesser health benefits.
Our Dataset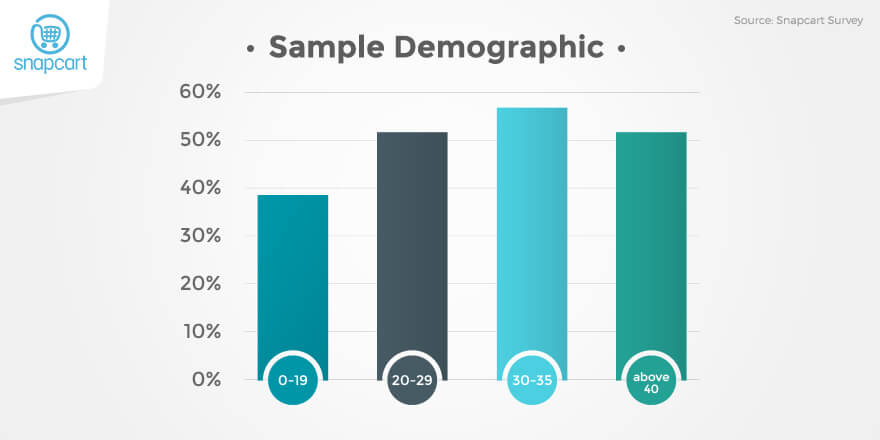 Half of the population snack twice a day or even more.
Most of the time, Indonesians purchase their snacks from minimarkets or convenience stores as proven by Snapcart users' receipts are mostly coming from Indomaret or Alfamart (two thirds of the total number of receipts). However, a recent study from Boston Consulting Group (BCG) shows that despite convenience stores continue to be an important retail channel for fast moving consumer goods (FMCG), Indonesians, as a whole, still make their retail purchases in a wide range of retail channels.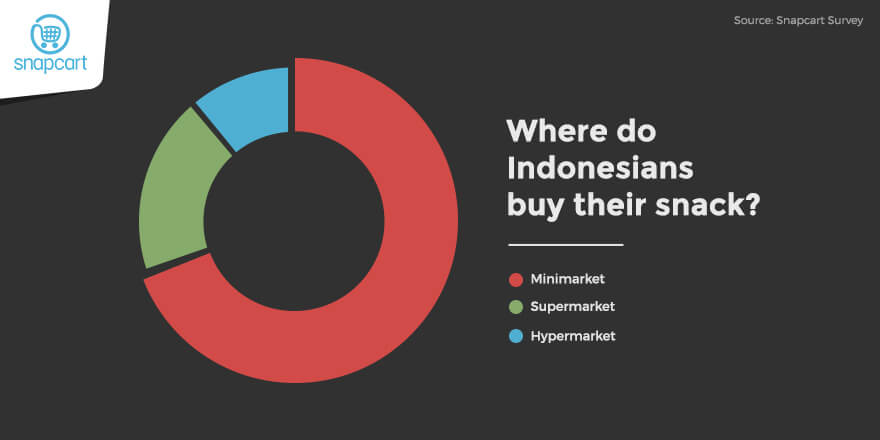 Indonesians are late-night snackers
According to the receipt collection data, there are two top daytime snacking hours; after lunch at 1 pm and before dinner at 6 pm. For the highest purchasing hour, it clocks in at 8 pm. Interestingly, there is a gender different at the 6 pm window where there are 13% more men buying snacks than women, which potentially indicating the country's traditional gender roles in the kitchen where women are expected to prepare dinner. Furthermore, when asked about the reason behind their snacking habits, the top two reasons are "to fill the free time" (32%) and "overcoming hunger before mealtimes" (28%).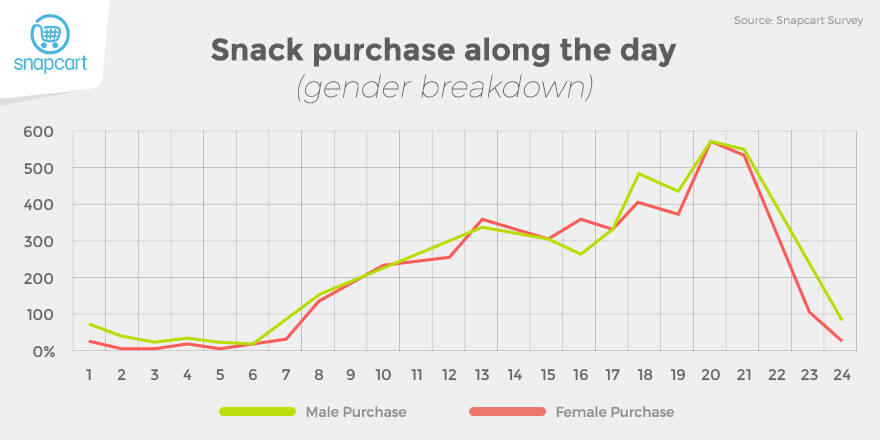 Healthy food options are not yet integrated into daily consumption
Healthier snack options such as fresh fruits, protein bars and yogurts represent a modest share of total snack with 75% of respondents did not rank healthier option in their top 3 snack options. Vegetables or salads are amongst the lowest rank in the reported preferred snack (2%). Fresh fruits ranked fifth with 22% of respondents expressing preference for biscuits (66%), chips (67%) and bread and cakes (38%) as the top three snacks. Suspected cause of the low numbers of healthy food options is the lack of availability in the market in general, as 88% of Indonesians actually wanting more healthy options.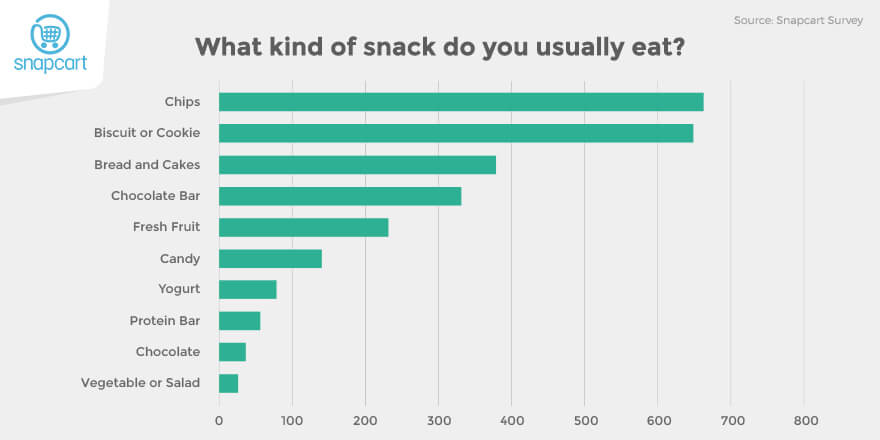 What Indonesian women want: healthier snacks
Overall, women are more disappointed by the lack of options available for snacks. Women are also more compulsive buyers, showing that they are 10% less likely to control their snack consumption than their male counterparts. The Indonesian female market are also more likely to feel guilty about their snacking habit–60% admitting their guilt after eating unhealthy snack, compared to only 47% of the men, and the percentage rises for women from higher socio-economic status (SES).
Additionally, Indonesian women are especially demanding for "low-fat" and "diet-helping snacks" to be available as 47% of them quoted these two features as their main expectations for healthier snacks.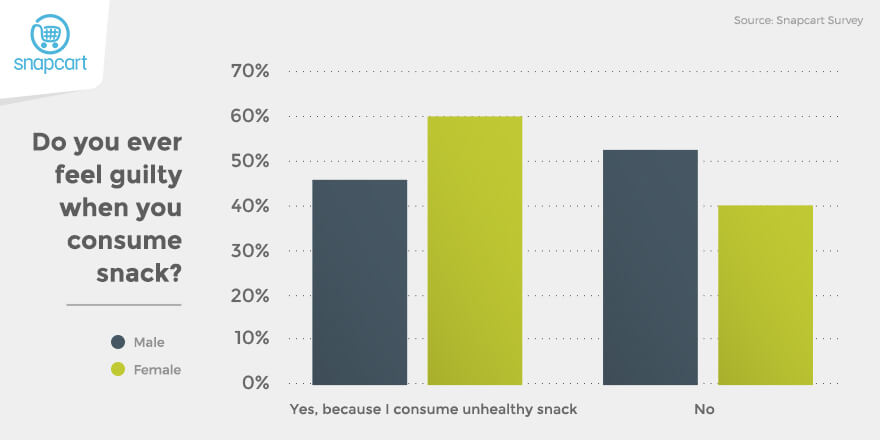 Indonesians admits their unhealthy snacking habits and are willing to change
Almost half of all Indonesians surveyed expressed no guilt for their unhealthy snack choices. Since eating is a national pastime, this would explain why Indonesians would not feel bad about the commonly shared habit. Men feel much less guilty than women when consuming unhealthy snacks. Nonetheless, men are also demanding for certain kinds of healthier snack options like low-cholesterol (38% of men quoted it as number one expectations for healthier snacks compared to 30% for the women) and low sugar snack.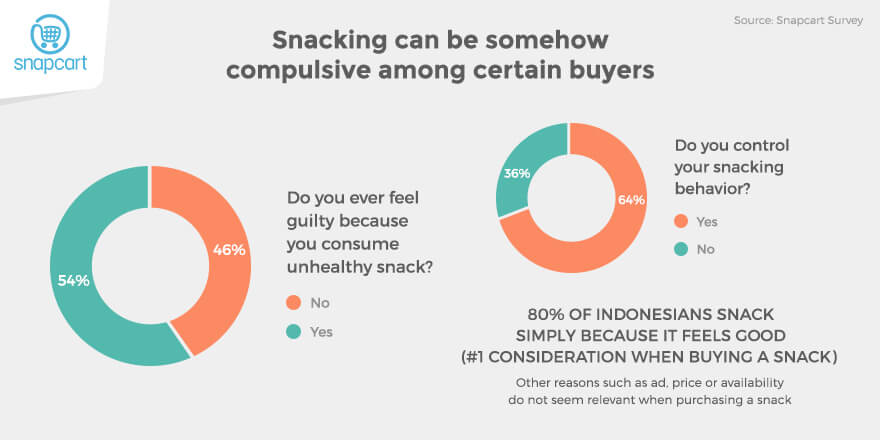 Women are willing to spend more than men
Men tend to be much more cost-saver than women when it comes to purchasing snacks with 48% of them choose to spend less than Rp. 15,000, versus 37.5% of the female counterparts. Women are also 45% more likelyto spend above Rp. 35,000 for their snacks than men.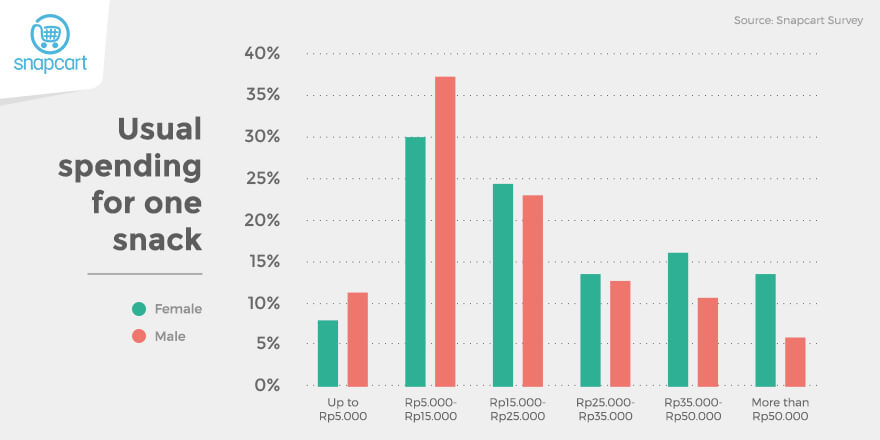 To conclude
With most within the sample demographic are willing to change their snacking habits into a healthier one, it is recommended that FMCG companies (especially those with snack products), are recommended to cater to this growing demand. Providing a healthier snack options with "low calories" or "non-fat" could possibly bring more revenue as the market is willing to pay more for the option to be available. Futhermore, such products would estimatedly perform better when aimed at a higher SES female consumers.
Additionally these are these are the chosen activities of Indonesians while they snack rated on its frequency from very often to sometimes: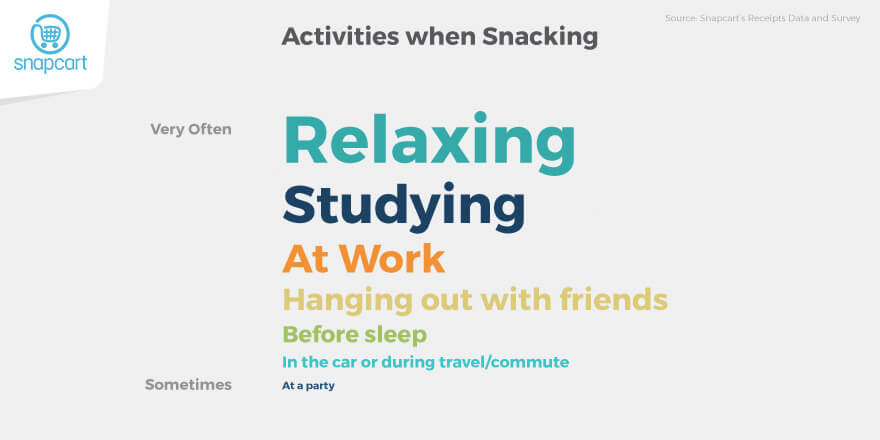 Insights and data are powered by Snapcart, the real time, multi-channel, big data analytics and engagement platform. The receipts data and survey gathered were taken from May 2016.