School's back in, and not from the holidays – the government has announced that by July 2021, offline schools will start again[1]. Of course, the pandemic is still in effect, with vaccinations currently ongoing. So how do Indonesian consumers respond to this announcement?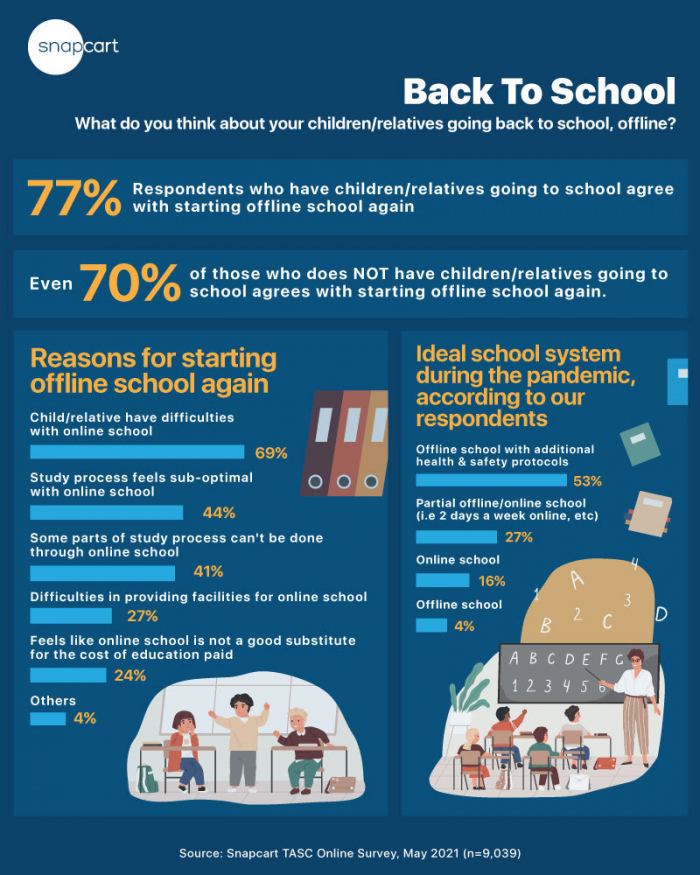 A solid 70% agrees with starting offline school again, but this is coming from those who do not have children or relatives that will go to offline school. For those who do, 77% agree! Main reason being that their children or relatives are having difficulties with online school, which can be caused by several reasons such as lack of infrastructure, lack of conducive study environment, and more. And even when asked regarding the ideal schooling system during the pandemic, more than 50% answered that offline school, albeit with additional health and safety protocols, are still the most preferable.

How about you? What do you think about the upcoming start of offline school?

This survey is powered by Snapcart's TASC. Free trial is available, ask your first 10 questions for free to our panel of Indonesian consumers!
Source:
[1] Sekolah Tatap Muka Dimulai Juli 2021, Ini Skema dan Panduan Lengkapnya