After around a year or so of the COVID-19 pandemic, plenty of research around the world shows one definite change: that the adoption of cashless payments is increasing faster than ever compared to the times before the pandemic[1]. But how is it in Indonesia, where around 6% of the world's unbanked population is[2]?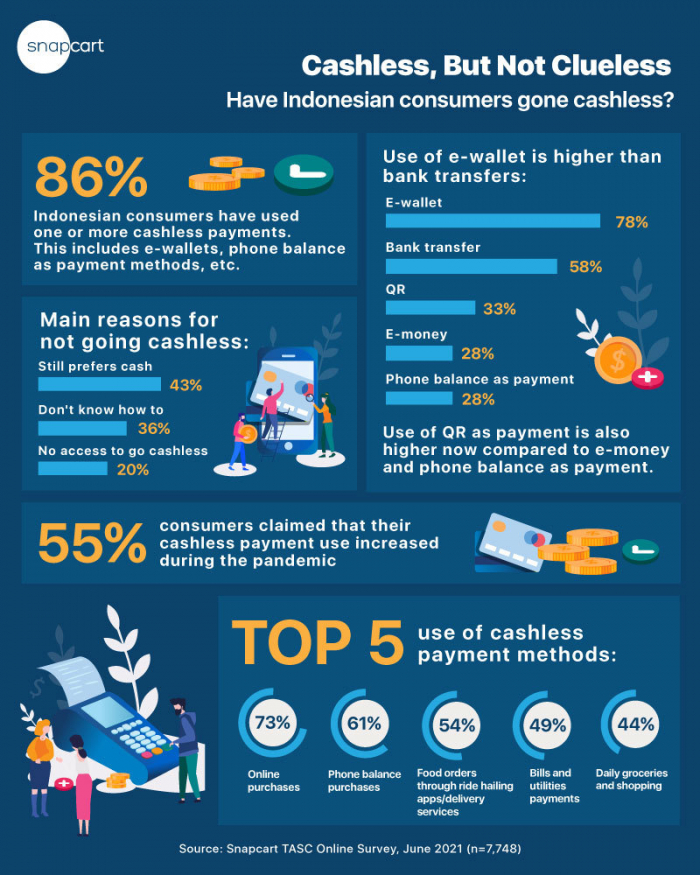 A high percentage of Indonesian consumers have actually tried cashless payments, which includes phone balance as payment methods – this is relevant because even as per 2019, smartphone penetration in Indonesia is as high as 63%[3]. And with the pandemic on top of it, the adoption is ever increasing, with 55% consumers claiming that they've increased their cashless payment usage during the pandemic. It's also interesting to note that the highest usage of cashless payments came in the form of e-wallets, which most are powered by smartphones as well.

How about you? How far have you gone cashless in your daily purchases, especially during the pandemic?
This survey is powered by Snapcart's TASC. Click here for a free trial!
Sources:
[1] After One Year of COVID-19, New Square Data Reveals the Share of Cashless Businesses Has More Than Doubled
[2]Banking on Indonesia's unbanked: Tech giants see big potential

[3]Smartphone penetration rate as share of the population in Indonesia from 2015 to 2019 with forecasts for 2020 to 2025