At the end of June 2021, the government has announced the start of COVID-19 vaccination programs for children aged between 12-17 years old[1]. For some, this is a breath of fresh air, considering the Indonesian national COVID-19 positive distribution for children between 6-18 years old are around 9.9% of all positive cases[2]. However, considering there are still 23.5% respondents that when asked by LSI mentioned that they doubt vaccination's efficiency[3], we asked our consumer panel their opinions, especially regarding the vaccines for children.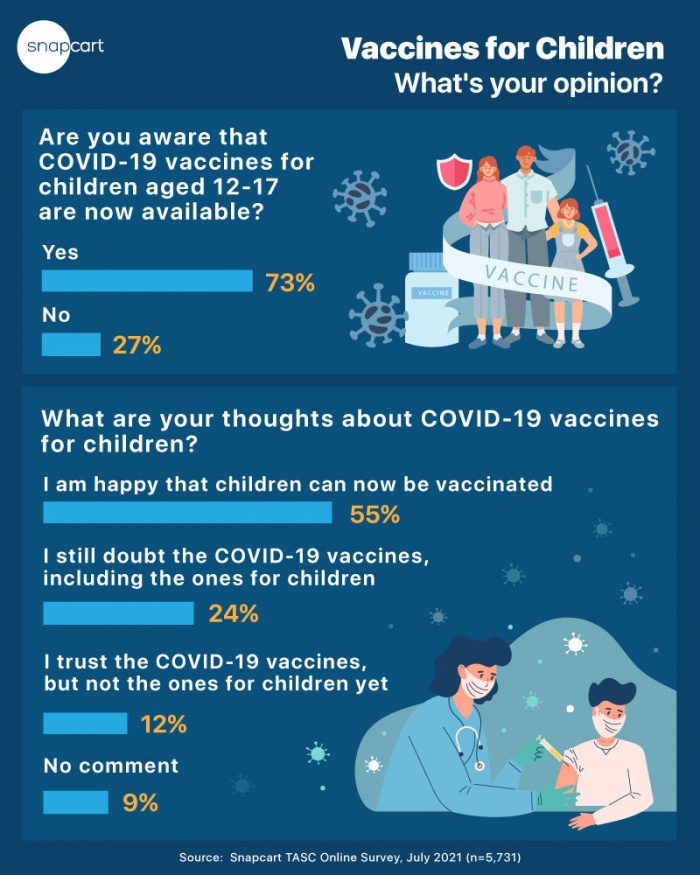 At the time of the survey, 27% of consumers are still not aware of the availability of vaccines for children. For those who do, It's interesting to see that only 55% are happy regarding the vaccine's availability. 24% still mentioned that they doubt the vaccines, even the ones for adults, which is in line with LSI's data mentioned previously. 12%, however, trust them for adults, however are yet to trust the ones for children.

How about you? What are your thoughts regarding the COVID-19 vaccine currently, especially the ones for children?
Sources:
[1] Indonesia Allows Use of the Sinovac Vaccine on Children 
[2] covid19.go.id : Kelompok Umur Positif COVID-19 per 21st July 2021

[3] LSI: Masih Ada yang Tak Percaya Vaksinasi Bisa Cegah Covid-19, Tersebar di Sumatera, Jatim, dan Sulawesi