In the years before the pandemic in Indonesia, new tourism spots were popping up everywhere, capitalizing on activities as simple as photo spots –  a trend also practiced by many cafes and restaurants, labeling them as "instagrammable". The increased communications to encourage domestic travel has also contributed to this, with many destinations racing to grow their selection of attractions and landmarks. In addition to amusement parks, both old and new, these serve as the plethora of choices available to the Indonesian consumers on how to spend their time during the holidays. But then, of course, comes the pandemic. We look at Indonesian consumer's general take on these amusement parks and tourist attractions, both before and during the pandemic.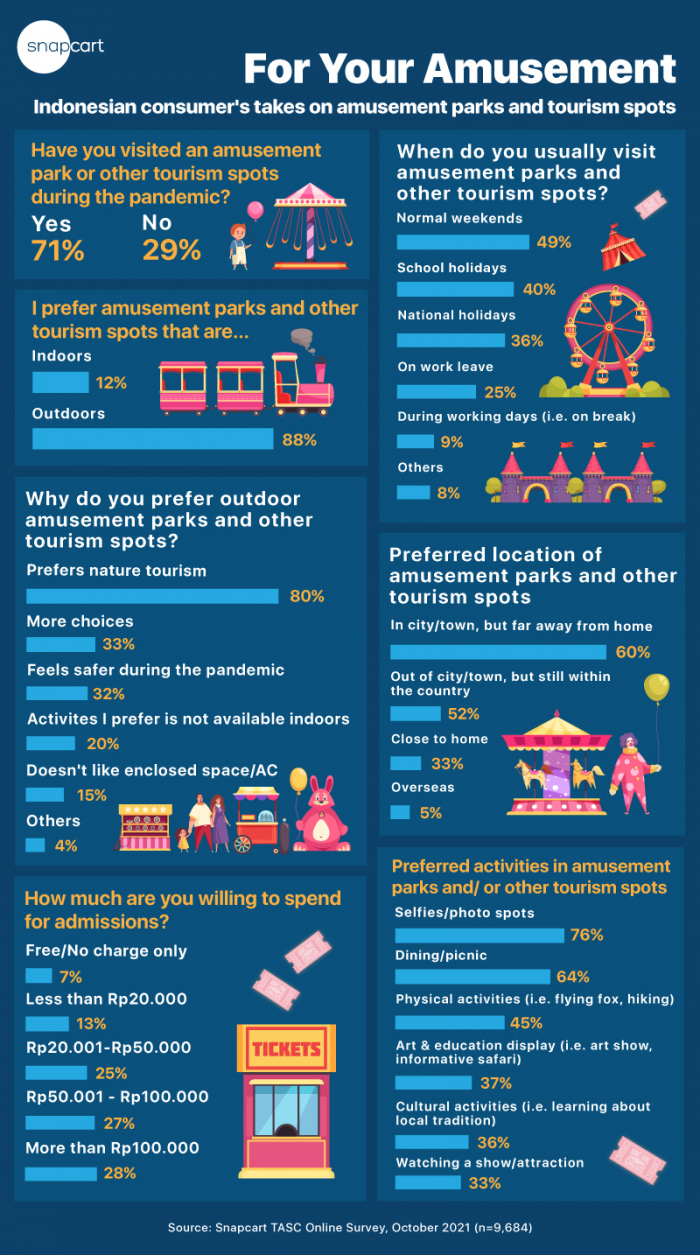 In October 2021, the second year of pandemic: 71% answered that they're gotten the opportunity to visit an amusement park or other tourism spots during the pandemic. It is true that on some occasions, regulations are laxed and there are times when people can take the chance to finally go on a holiday when it was strictly prohibited before. But when asked whether they prefer indoor or outdoors locations, 88% answered that they prefer it outdoors: a preference that's also beneficial in reducing risk during the pandemic. But when asked their reasons for doing so, most answered that it's just due to most preferring nature tourism during the time being, with only 32% answering that being outdoors makes them feel safer during the pandemic.

How about you? Have you visited any amusement parks or other tourism spots during the pandemic so far?