During the pandemic, a lot of activities are switched to being remote – remote working, remote schools, and so on. Consequently, simple communications to those who do not live under the same roof also need to resort to indirect methods, that of which are further bolstered by the ever increasing smartphone penetration in Indonesia[1]. We ask our consumers how they've chosen to maintain communication during the pandemic, and these are what we've found.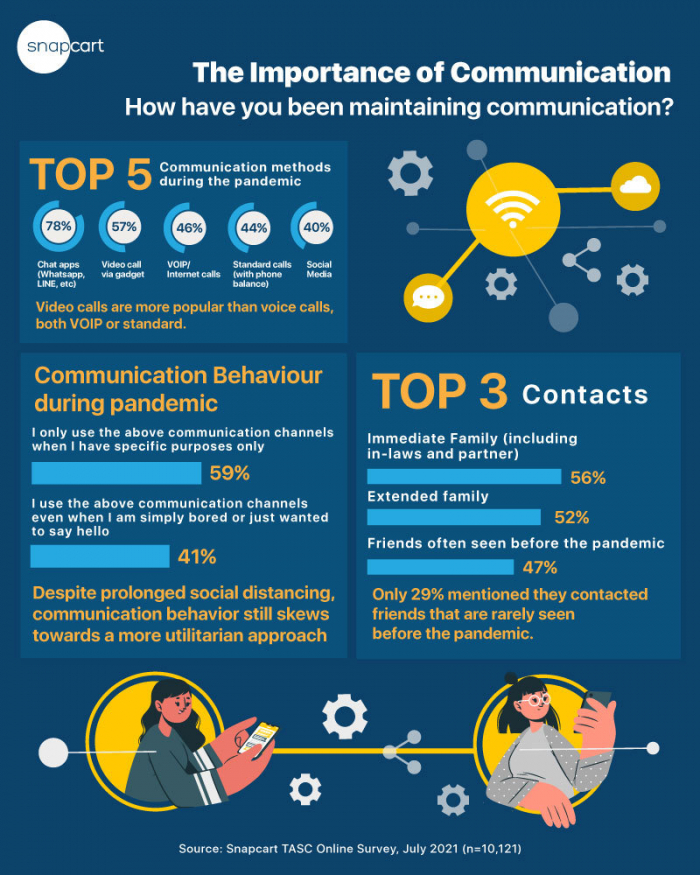 As expected, chatting apps like Whatsapp and LINE were the most used to maintain communication during the pandemic. Ease of use, relatively light data usage, as well as higher freedom during communication through their platforms (relatively asynchronous, so does not really need to commit time to communicate) helped make it the channel of choice for most Indonesian consumers at 78% consumers using it during the pandemic. What's interesting is how video call is actually more popular compared to both VOIP (voice-over-internet-protocol or internet call) as well as traditional phone calls. One assumption during the pandemic is that due to severely decreased social interactions, most people might find it an opportunity to reconnect with people who they haven't been seeing much before the pandemic. However, this is proven to be false, as only 29% have done so during the pandemic, with most focusing on immediate and extended families as well as friends and acquaintances that are frequently seen before the pandemic.

How about you? How have you been keeping up with people close to you (or perhaps those further away)?
Source:
[1] Smartphone penetration rate as share of the population in Indonesia from 2015 to 2019 with forecasts for 2020 to 2025