A quote by Margaret Atwood says, "touch comes before sight, before speech. It is the first language and the last, and it always tells the truth." This encapsulates the paramount role of human sensory in offline grocery shopping experience–a sensation that may only be achieved through engaging in it. However when it comes to online grocery shopping, such experience is–as the research on The Future of Online Grocery says–"virtually impossible to replicate." While this is might be the case for food and beverage shopping, as evidenced in the following graph with 70% prefer to buy such category offline, product categories like home care and personal care still score better in online shopping poll with 33% and 37%, respectively. 
Knowing this fact, toppled with the rise of technology and digitalization come the inevitable questions on the future of retailing:  Will online shopping eventually replace offline shopping? Will the brick and mortar stores be eventually replaced by clicks? In order to uncover and understand this more, Snapcart delved into this question by looking into millions of receipts submitted by shoppers and data coming from online polls of more than 150,000 monthly active users in Indonesia.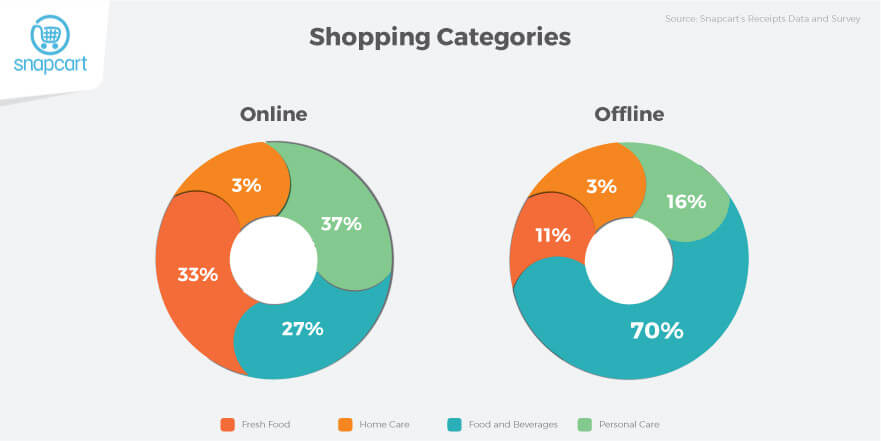 Who are the Indonesian online grocery shoppers?
Indonesian shoppers are long associated with their incessant options of offline groceries, from traditional markets and mom & pop stores, to the emergence of modern retailers – hypermarkets, supermarkets, minimarkets, and convenience stores – each imprints a major role in shoppers' habits. Online grocery then makes for an interesting addition to the already dynamic landscape. Its presence, however, invites various views – be it something that sheds a light in seeing it as a refreshing option to shoppers, to something more as a disruption to the existing grocery industry. Having said that, our findings indicate that the Indonesian online grocery shoppers are consisted of 13% of Generation Z (aged 15-20), 69% Millennials (21-34), 17% Generation X (35 – 49), and 1 % of Baby Boomers (aged 50 years onwards). Who are almost mirrored in the grocery shoppers for offline, as apparent in the number of respondents offline in comparison to online for packaged food and beverages, personal care, home care, and other categories in the following graphs.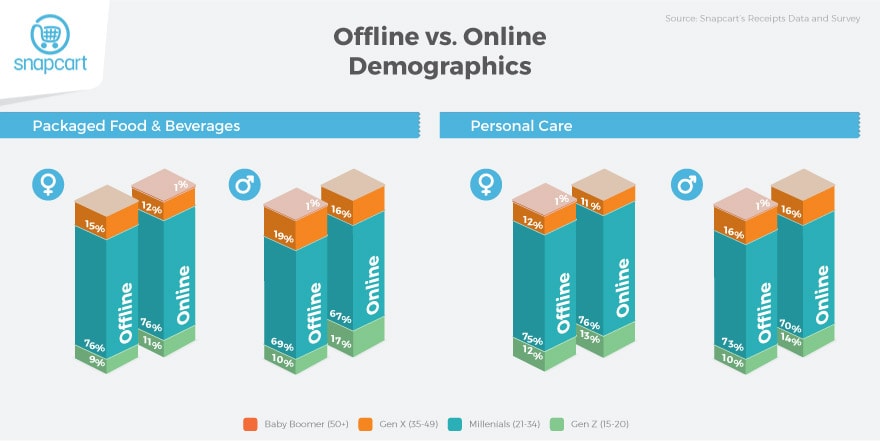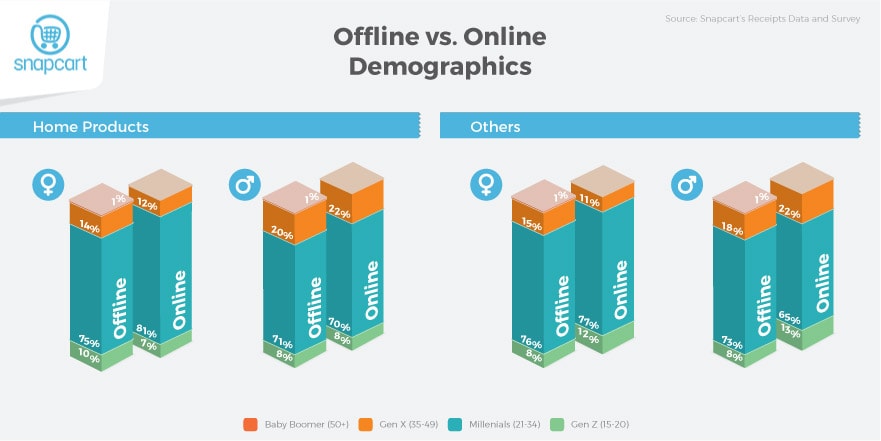 These graphs allows us to get a picture on which demographics are already using online grocery shopping, and which ones have not. Generally speaking, shoppers' profiles for offline tend to reflect similarly online, since shoppers' expectations of future grocers (online grocery shopping) may not at all be that different from what they want today. Moreover, it is apparent that across these shopping categories – packaged food & beverages, personal care, home products, and others – female and male Millennials (ages 21 – 34) are consistent in dominating the offline and online shoppers demographics. But this doesn't mean that there's no indication that other demographic groups present opportunities for offline or online retailers. For example, male Generation X-ers (ages 35 to 49), engage more in grocery shopping both offline and online by up to 20% than female shoppers of the same age group. Considering generation x's lifestyle and their connection with everyday household and family activities, males of this generation are prone to engage more in grocery shopping than males within younger age groups of other generations.
The most apparent difference lies in the fresh produce category; Generation Z (ages 15 – 20) shoppers are the most enthused towards grocery shopping online by 10% more than offline. A possible hypothesis is that these consumers have a high level comfort with technology, and that online shopping is becoming a natural daily habit. Their engagement in online groceries indicate that they're not overtly concerned about the quality of the fresh produce they buy. Quite the contrary to male Generation X (ages 35 – 49) shoppers, who opt offline for fresh produce needs. In this category, baby boomers (50+) don't seem to shop online whatsoever.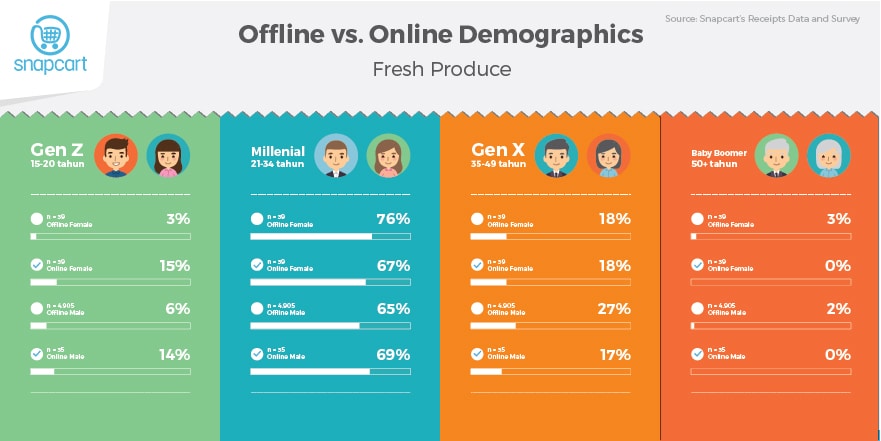 From bricks to clicks – It's not neither or either, it's now both
A bevy of questions and articles have tried to pinpoint whether or not brick and mortars will ever be replaced online. We turned to our surveyed-shoppers who've gone digital in grocery shopping to unearth this belief by asking about their frequencies in shopping offline vs online – and their answers seem to show otherwise.
The stark difference derives from the frequency of visits for both online and offline grocery shopping. 71% agree that they shop groceries offline more often than online. Another 20% say they shop groceries both offline and online at equal measures, while a handful 8% shop groceries online more than offline. The question should be whether or not the needle would move, frequency wise, towards shopping groceries more online than offline. Offline grocery purchase will never be replaced, but at the same time online grocers may tackle some unmet needs that current offline grocers could not provide.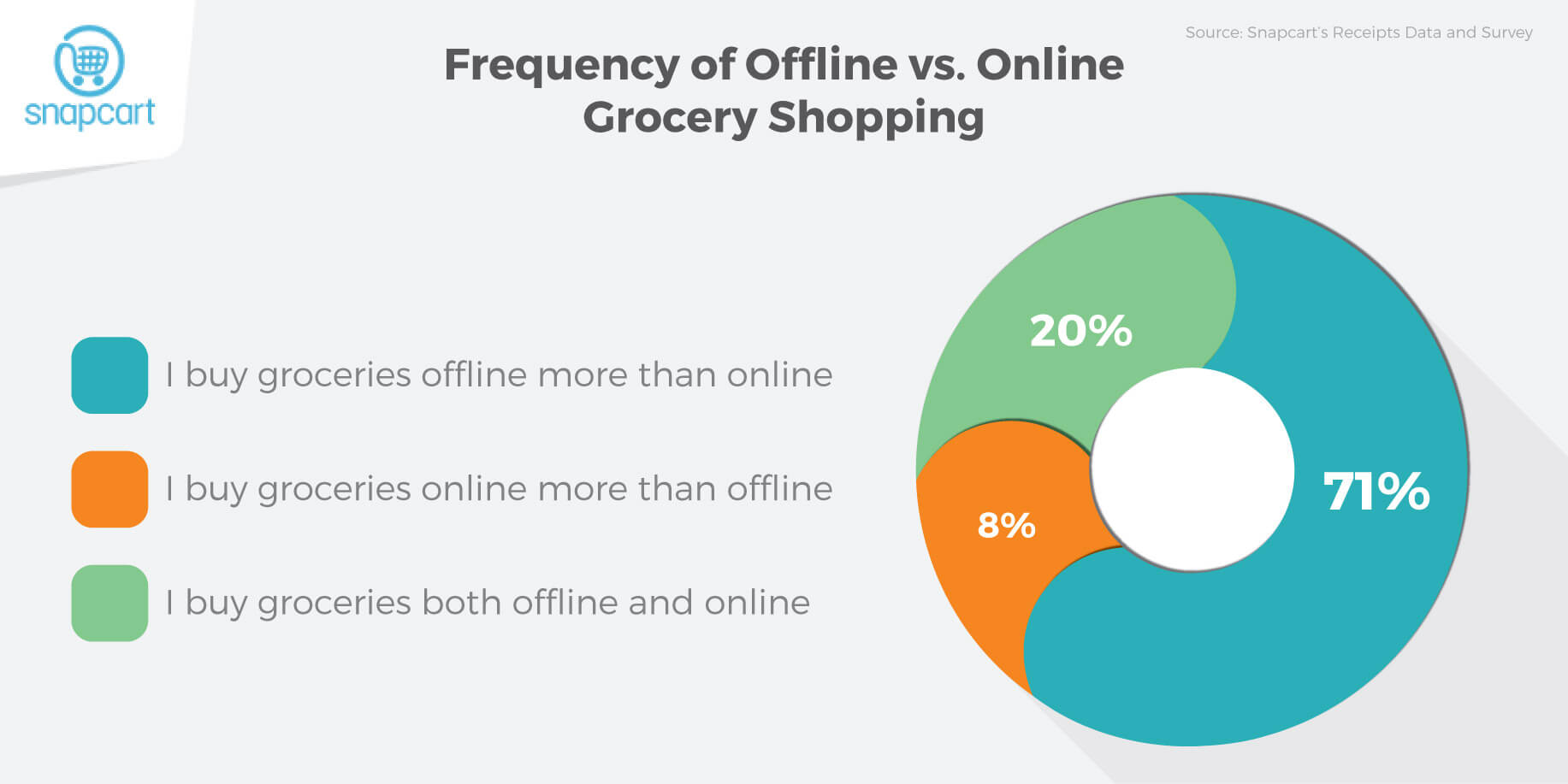 Parallel to the universal forecast that Indonesia, alongside several Asia Pacific countries, have  transformed into mobile-first nations, our finding reveals that our surveyed shoppers use mobile phones as their ideal mean to engage in online grocery shopping. Smartphone penetration has proven itself to outpace traditional desktop devices, and our surveyed shoppers are no different – 67% of shoppers digitally shop groceries through mobile compared to  the remaining 33%, who do so through desktop.
Omni-channel trumps pure-play online grocers
Close to 57% respondents never shop groceries online. While that proves to be a big of a number, the presence of online grocery platforms in Indonesia cannot be undermined. Interestingly a variety of business models exists in the online grocery world.
Some adopt its novel presence as a completely new business model and opportunity to take on. Thus, this is where an array of online-only grocers – such as HappyFresh and Bilna – to jump on the e-grocery bandwagon, contributing a total of  8.1% as surveyed shoppers' choice of their go-to place for online grocery shopping.
The digitalization of grocery shopping also manifests to be prolific for brick-n-mortars, and other kinds of offline shops that plan to take omnichannel up a notch. Where existing assets are tied onto their digital capabilities and enhance their online offering. Based on the data below, omnichannel retailers prove to be a favorite, as shoppers have a preference on using their online shops; with Alfaonline leading with 12% and Klik Indomaret with 11.5%. These preferences may be caused by how big the role of familiarity is in users' choice of where to shop.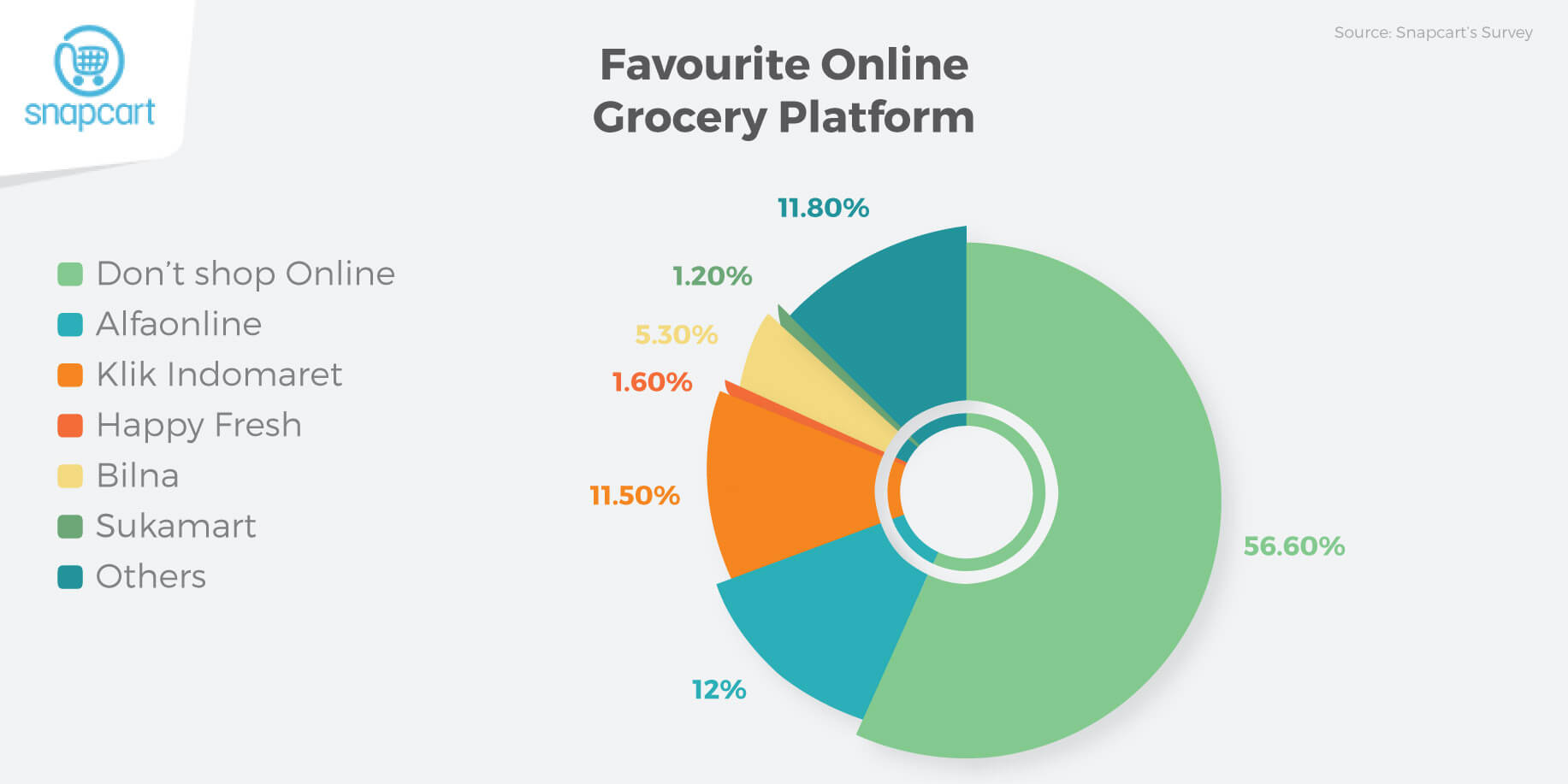 Convenience isn't everything
The careened popularity of online grocery shopping, some argue, has been fueled by two major causes: traffic congestion and long working hours, but surveyed shoppers tell us otherwise. When they're asked about their reasons in going digital to buy groceries, discounts and promos turn out to be the number one most popular answer, leading with 61%. Digital capability allows users to receive coupons that are made specifically for them—for example, delivering discounts digitally to shoppers' mobile devices may create a better and a more personal incentive than traditional distribution.
The second and third popular reasons – a variety of payment methods; and being supple on how, when, and where to shop – with 37% answer rate each, emphasizing flexibility for shoppers. This signifies that online groceries need to have less restrictions and serve as a more practical alternative to offline channels.
The major note here however, is that online grocers should avoid giving serious discounts in the long run and should focus more in providing additional values to shoppers to ensure sustainability. The closing down of Sukamart serves as a reminder to online grocers how pure discounting strategy entail drive acquisition of new users, but does not guarantee loyalty of purchases.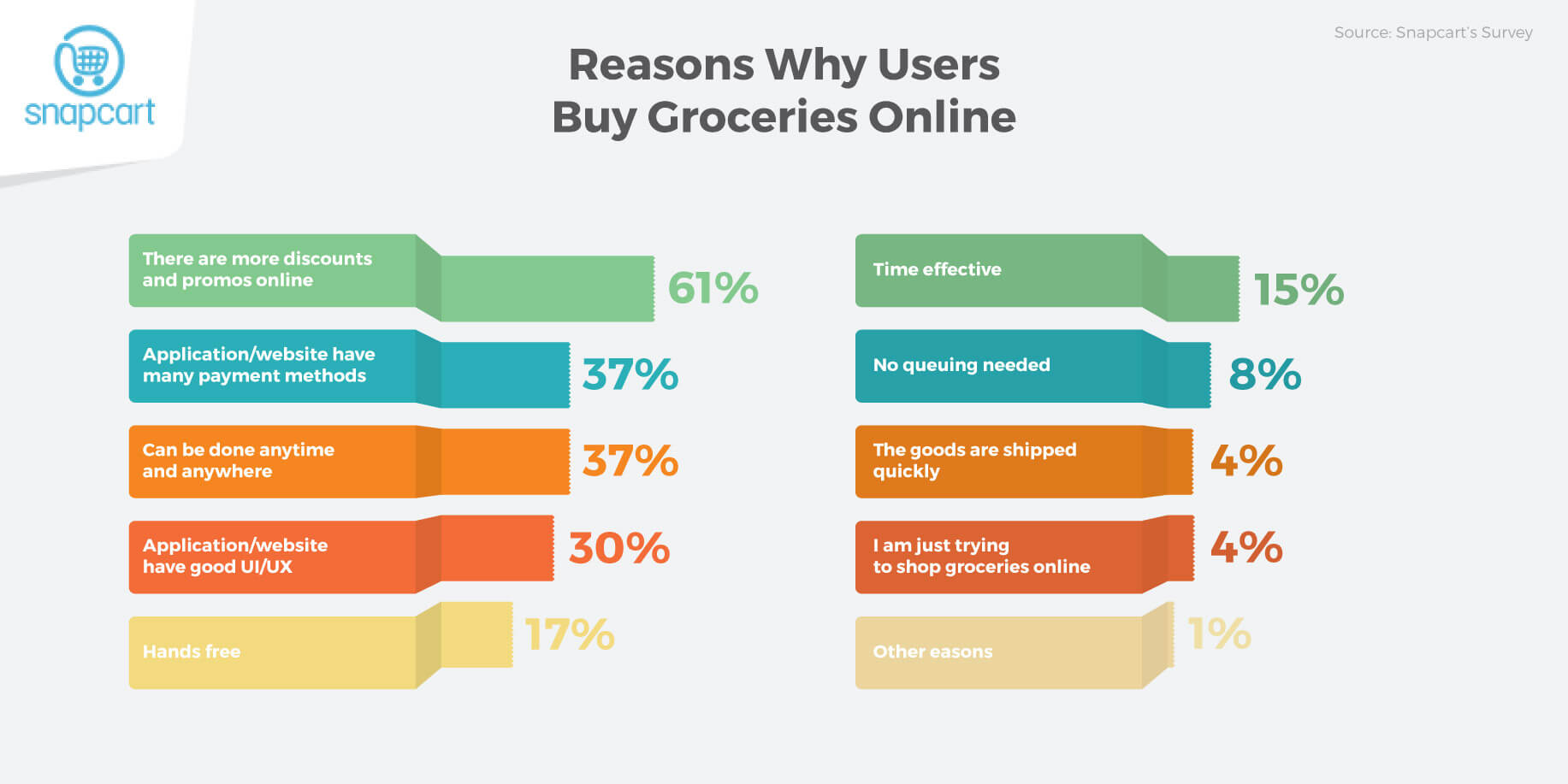 Shoppers' expectation of online grocery shopping
According to McKinsey's research, The Evolving Indonesian Consumer, Indonesians are prone to consider that "word-of-mouth recommendations are stated as the most credible source for endorsements". This is evident in our research, when product recommendations is crowned as the number one favorite feature when shopping online with 30%. Perhaps, our surveyed shoppers prioritize accuracy and customization in grocery shopping, making personalization a key factor.
Other features that surveyed-shoppers find to be crucial reflect their reasons in going digital in grocery shopping. 29% of shoppers deem varieties of payment methods to be an important feature to have when shopping online – mainly the ability to be flexible in paying in cash or using a credit card. Referral discounts comes in third, as 16% of respondents championed this feature. This may be due to consumers' reliance on referrals, where shoppers look to user reviews and recommendations to inform their purchase decisions.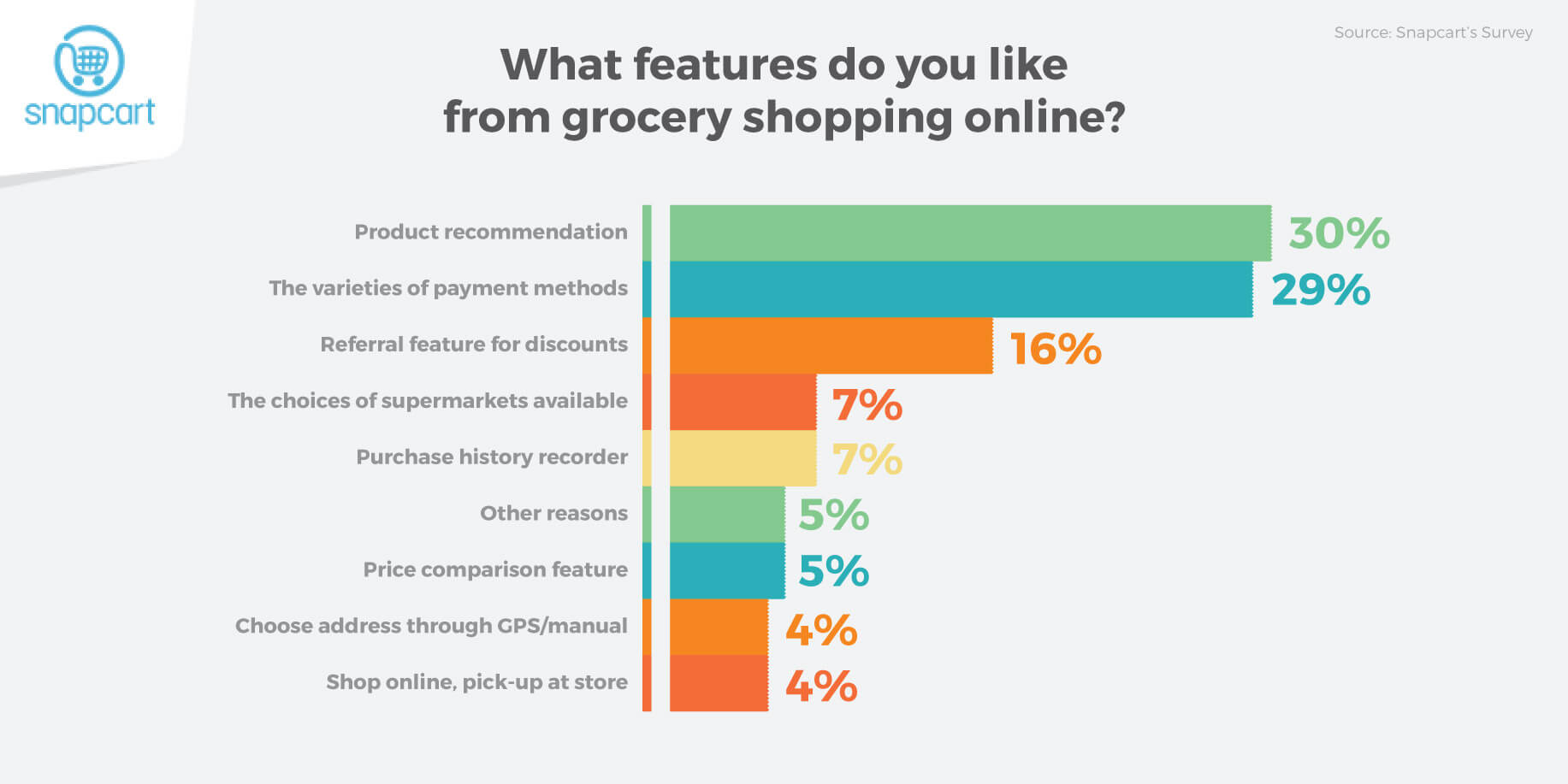 How retailers and brands can stay ahead of the game?
From specialized online grocers, to the optimization of omnichanneling for brick-n-mortars – not to mention, more online grocery opportunities to come (despite the recent news of Sukamart's shut down) – the digitalization of grocery shopping is here to stay. We're aware that offline grocery shopping still rules, but shoppers will always opt for whatever shopping channel that best suits their needs. Here are two strategic suggestions that will help retailers and brands in staying ahead:
Personalize: Get to know your shopper segments' needs and wants accurately
A shopper-segment targeting effort will not be optimal unless you get to know the shoppers' needs and wants from the beginning. Analyzing shoppers' behaviors through historical-view analytics give impactful insights, but topping it with a survey will further give knowledge to create a more personal in-store and online experience to various shopper segments. Retailers and brands should not opt for a one size fits all strategy, rather take the time and effort to cater to different shoppers' unique needs, by tailoring a seamless business and marketing plan.
Offer Flexibility: Go digital because it adds value to shoppers, not because everyone else is doing it
As consumers are getting savvier with their technology devices, they're automatically becoming more aware if an application they download, or a website they visit, would add any value to their lives. One very crucial and common value in online grocery shopping, however, falls under greater flexibility – the ability to purchase through omni-channelling, which create no time or place restrictions, and a variety of payment options, to name a few. In short, those that make users' lives better will last, and those that do not will be scrapped off. As a result, it is vital for retailers and manufacturers to create inimitable value, and when developing digital initiatives; be sure to always communicate the benefits to consumers in a succinct fashion.
Insights and data are powered by Snapcart, the real time, multi-channel, big data analytics and engagement platform. The receipts data and survey gathered were taken from April 2016.