Although a total of 83% of Indonesians are interested in getting the COVID-19 vaccine once available, only 34% of them strongly agree about the statement that they are interested in getting the vaccine, while 49% say that they somewhat agree. That means, at least for now, only one-third of Indonesians will get the COVID-19 vaccine once available, while there is no guarantee that the others will take the vaccine. Moreover, though 83% may seem high, the 17% who are reluctant or unwilling to get vaccine makes up a large number of individuals.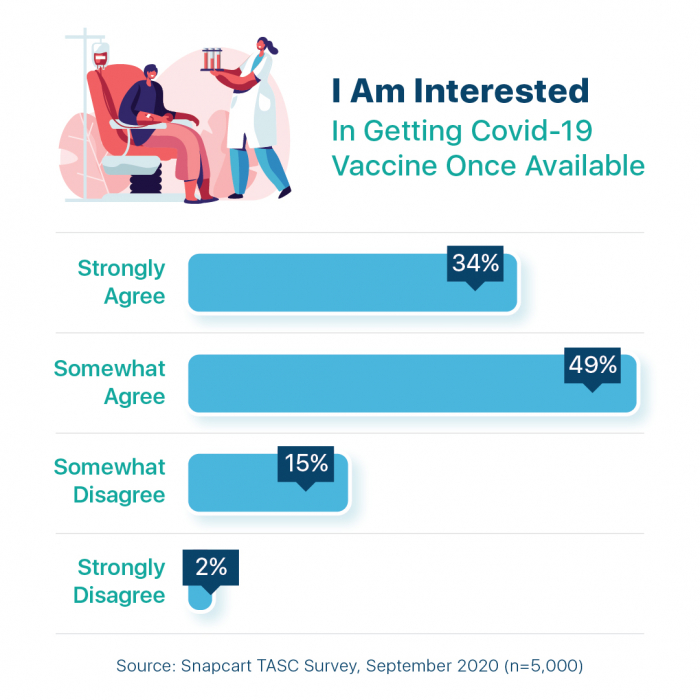 SIDE EFFECTS DISCOURAGES INDONESIANS FROM GETTING THE VACCINE
The biggest reason why 17% of Indonesians are not interested in getting the vaccine (those who somewhat disagree and strongly disagree about getting the vaccine once available) is because of its side effects. 69% of those who are not interested in getting the COVID-19 vaccine said that they are concerned about its side effect. 
This suggests that more tests are needed to be done and more information are needed to be published regarding the use of the vaccine to provide people with assurances.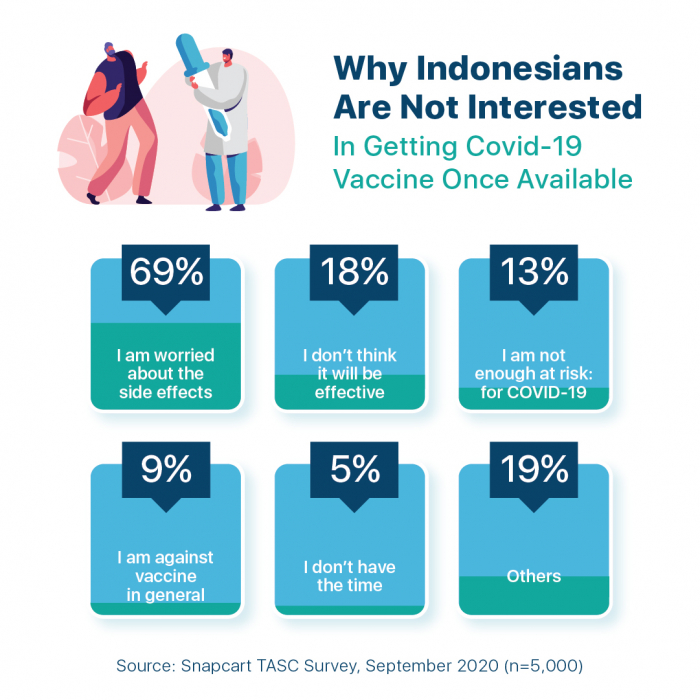 OPTIMISTIC OUTLOOK IN THE VACCINE AVAILABILITY BY YEAR END 
25% of Indonesians strongly agree that vaccine will be available by year end and 51% somewhat agree while only 3% strongly disagree. Although President Jokowi has announced that mass vaccination can start in January 2021, the positivity of Indonesians believing that vaccine will be available before year end reflects the optimism towards global and local health experts and institutions.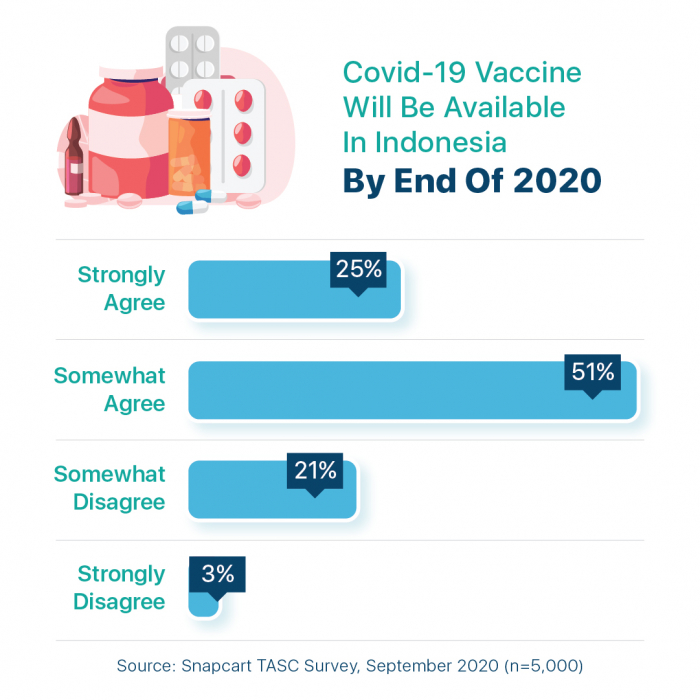 A LOT OF HOMEWORK AHEAD
The survey results show that there are still a lot of work to be done, prior and during the rolling out of the COVID-19 vaccine in Indonesia. Everyone needs to work hand in hand, be it the government, health institutions and experts, and us as part of the society, to have the vaccine available as soon as possible, to educate the mass on potential side effects of the vaccine and to ensure the entire nation is able to receive vaccination.
We also have a sentiment tracker regarding COVID-19 you can check out for FREE here.
SOURCES
President Jokowi Says Vaccination against Covid-19 Can Start in January