On December 4th, Indonesia reported 8,369 new daily COVID-19 cases, a new record[1]. Until the 26th of December 2020, we've already had more than 700.000 confirmed cases, and it's still growing [2]. Yet the end of the year is coming up, where it is usually a time for celebration, for people to take some time off and go on a holiday. Given the pandemic is still at large, what are people's plans for the upcoming new year's celebration?
To Celebrate, or Not To Celebrate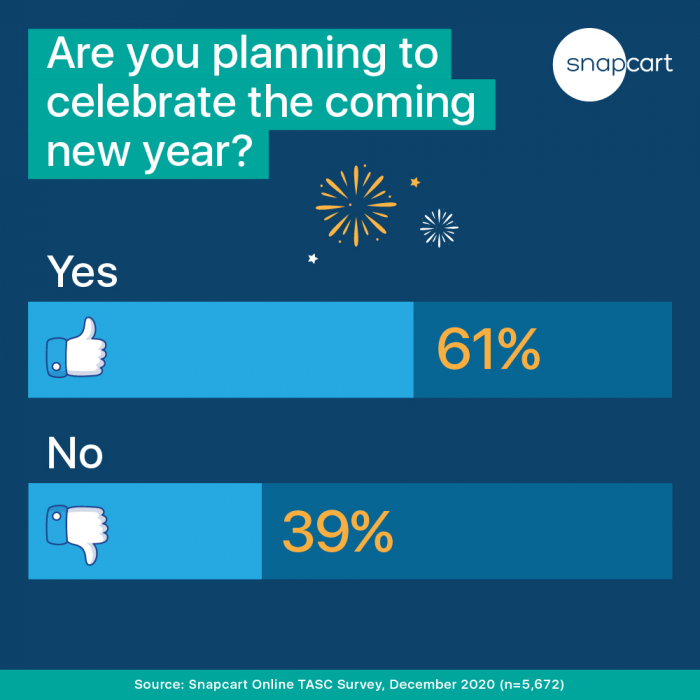 A strong 61% answered that they will still celebrate, whereas 39% mentioned they choose not to. Although the obvious reason is due to the pandemic, there are other considerations not to celebrate as well.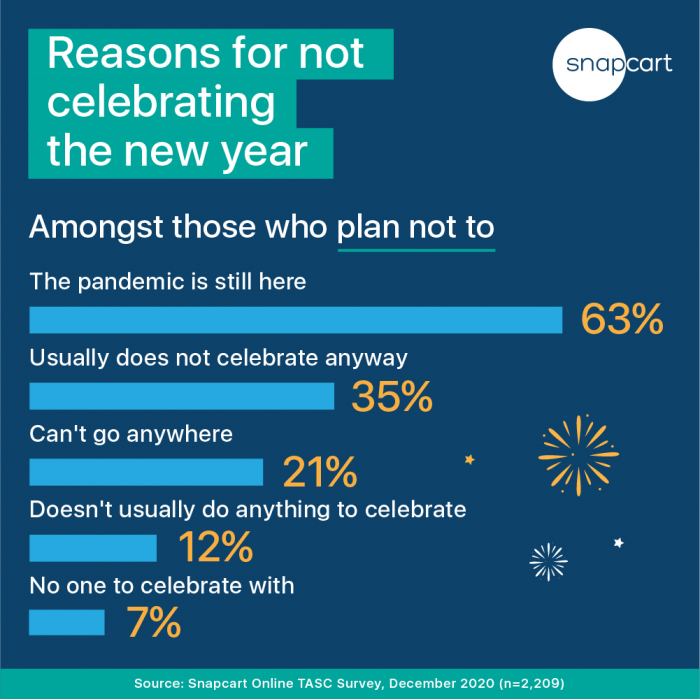 The interesting part is that 35% mentioned they don't usually celebrate new years anyway. The large majority is of course saying that they'd rather not celebrate due to the pandemic still happening.
Force of Habit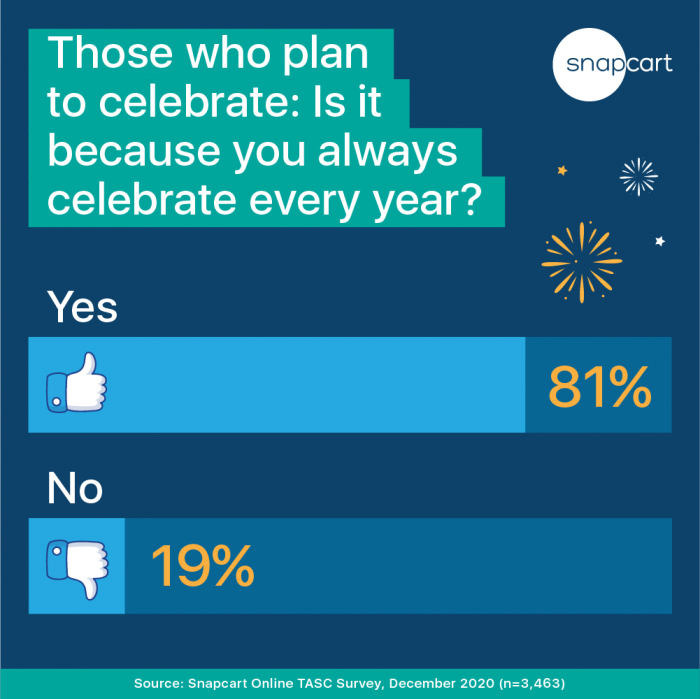 For those who usually celebrate, it might be strange or even hard not to celebrate again this year even during the pandemic. Around 81% mentioned that they choose to celebrate this year as they have always been celebrating it every year. What's interesting is the 19% who mentioned that although they don't usually celebrate new years, they choose to do so now  during the pandemic. A possible reason can be the prolonged social distancing measures and lockdowns being implemented in Indonesia for over 9 months since April. Celebrating new years is seen as a good reason to finally go out, celebrate, and socialize after being stuck at home.
So, Where Exactly?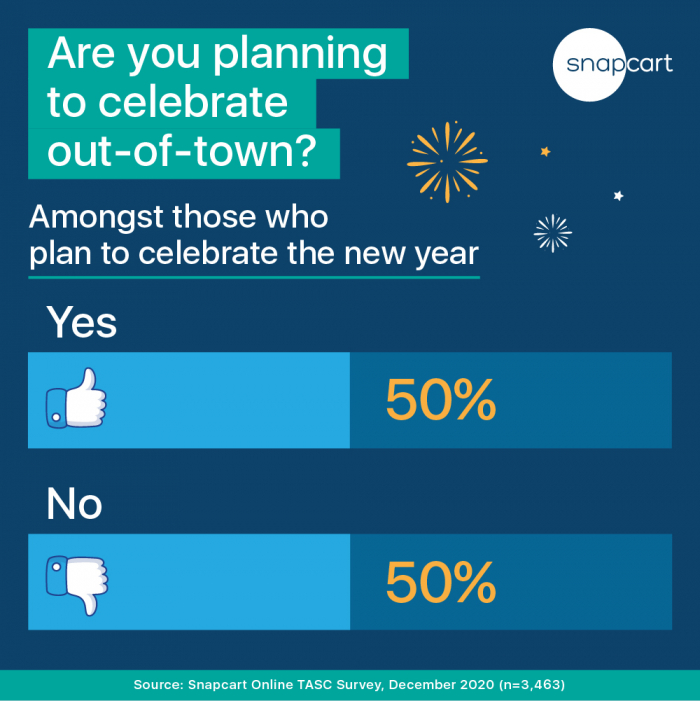 Between those who plan to celebrate out-of-town and those who don't, there's a 50:50 split. As mentioned in our previous article, trips by private cars are more preferred, and domestic travel is having a rise in popularity. This might have also affected the year end holiday plans for Indonesians, where plenty opt to celebrate out-of-town destination cities like Bali or Jogja.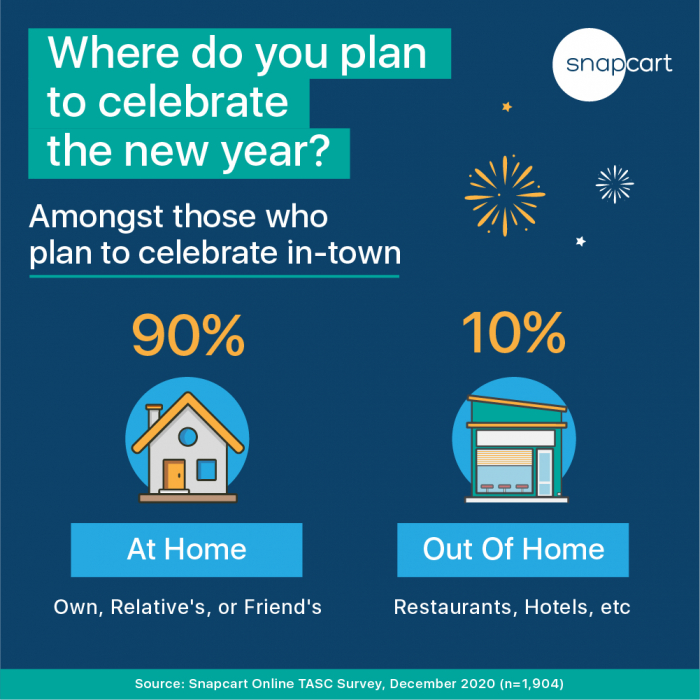 For those who planned to celebrate in-town, 90% answered that they will celebrate at home, either their own, a relative's, or a friend's. Only 10% answered that they will still celebrate in a more public venue, like hotels or restaurants.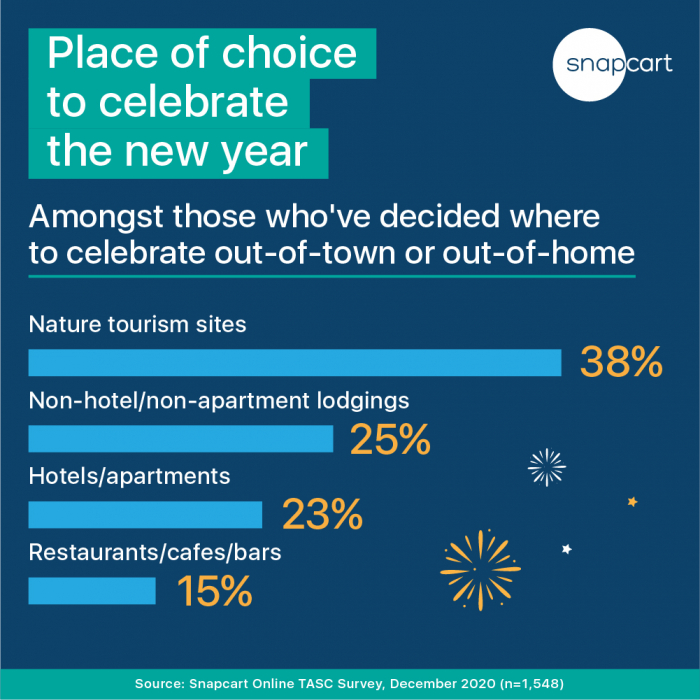 For those who celebrate out-of-home as well as those who do so out-of-town, nature tourism sites are the most preferred destination, which has been experiencing increased popularity during the pandemic. For those who choose to stay somewhere, non-hotel and non-apartment lodgings such as villas and bungalows are only slightly more popular than hotels and apartments.
How about you? What are you preparing for the new year? Whatever it is you have planned, we hope that you stay safe and healthy, while keeping your spirit up and looking forward to the upcoming year. If you are preparing any campaigns or studies for 2021, why not get a head start now? TASC offers a free trial for your first 100 respondents, and our OPTI has a calculator that you can try to see how it'll help expand your digital campaign's reach.
Sources:
[1] Indonesia reports record highest daily Covid-19 surge with 8,369 cases