Indonesia is the third largest cocoa producer nation in the world, and an average Indonesian consume 0.4 kg chocolate per year. Indonesia's chocolate market itself, is dominated by 2 local companies, Mayora Indah and Petra Food, boasting with almost 80% market share combined. Analyzing Snapcart's data, we found that confectionary category is at 8% average market share from all categories. Looking further into confectionary category, Chocolate is leading with 28% share among other confectionary sub-categories. We also found that chocolate share is increasing about 5% on average only in February, compared to the other months. This indicates a seasonal increase during Valentine's month.
Chocolate for the Young
If we look into the age group on the chocolate receipt data, chocolate sales is dominated by the two younger groups, the 15-24 and 25-34. With more than 80% value shares, this can be correlated with their snacking habit. Looking at Snapcart's survey on snacking habit, Chocolate is one of the snack type that favored by Indonesian.
However, how much they spent on chocolate, is a different story. While the 15-24 and 25-34 dominated in receipt shares, they spent more or less the same as the older age group, the >45. The highest average chocolate spending per receipt, is the 35-44 age group. While they bought chocolate not as often, they spent more per trip. Considering that 35-44 age group is dominated by those who are married, household size therefore affect heavily on their purchases.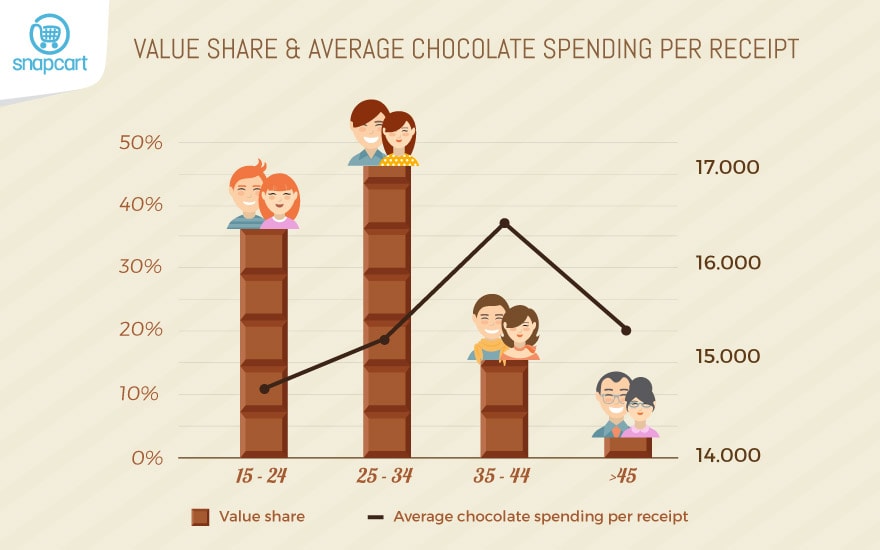 Store Format for Chocolate
Minimarket is the go-to format for chocolate purchases, which is not surprising as chocolate consumption falls under the snacking consumption type. A variation of chocolate ranges from bar, paste, to molded bars,  usually targeted for a quick consumption. "Small but often" type purchase is very much catered by Minimarket that has a high penetration.
Average spending in each format is inversely related on the purchase frequency. The average spending is higher at bigger formats. Likely due to the fact that bigger store format offers more brands and types along with bigger package options which can have effect on consumer shopping behavior.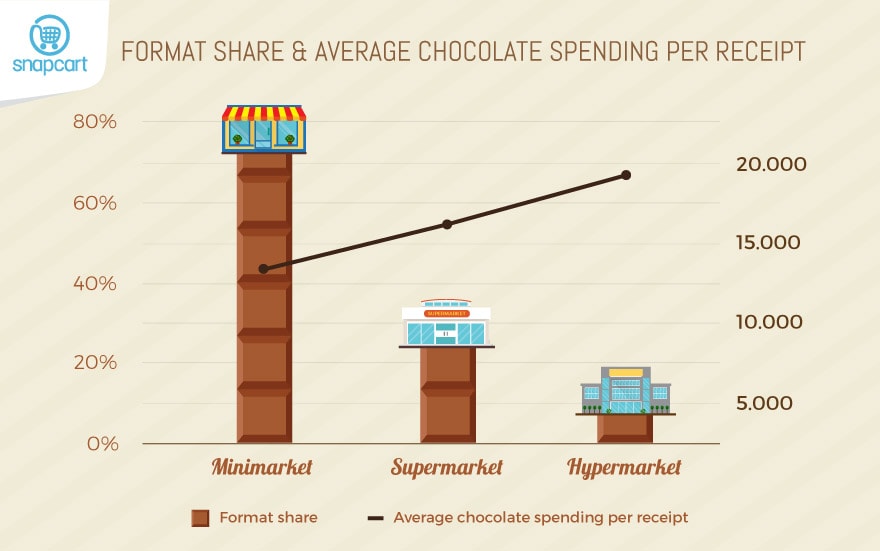 Chocolate's Season
Seasonal event is a big factor on chocolate sales. Looking at how much people spent per month for chocolate, the average spending is higher in February and December. Valentine's Day is the main caused of increase in spending as the occasion is directly associated with chocolate as gift giving. As for Christmas and New Year, chocolate plays a big part of gift giving but not the main one. Compared to the rest of the year, in February people spent 38% more per receipt for Chocolate, and 14% more in December.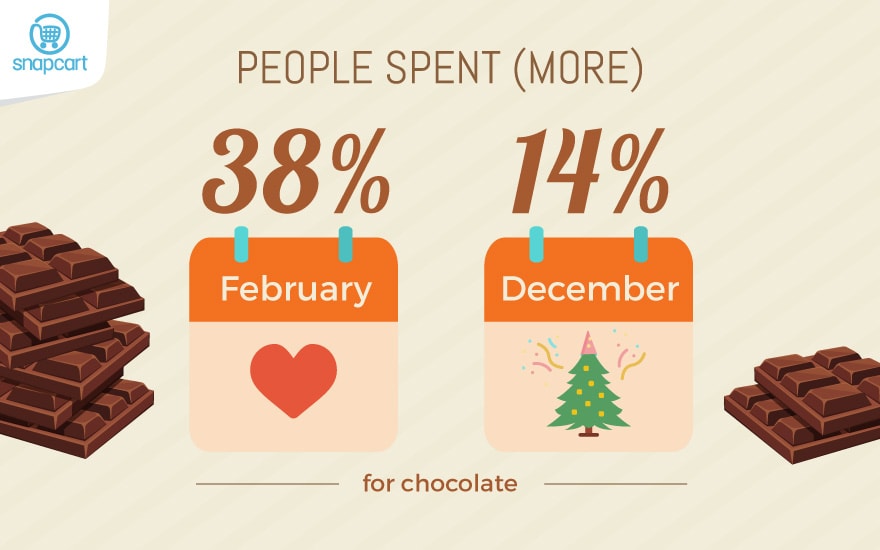 Let us take a deeper look into February and compared it to other months. If we look into the age and gender, while all of them increase their average spending in February, the difference among group is quite apparent. The youngest age group (15 – 24), increased their average spending heavily. High-Schoolers and College Students is the group that very much affected by the Valentine's tradition. With the female in that group has the highest increase, this is aligned with Valentine's tradition in which chocolate gifting happens with both genders, but more customary on the female part.
The 25-34 age group however, has a low increase on both genders. This young adult group apparently does not get affected much with Valentine's tradition, or does not mind much about chocolate as a Valentine's gift. While the older age group also has a high increase, with big chance it is driven by their family members. As for male who are older than 45 age group, the are the one least affected, with only a slight increase in their spending budget.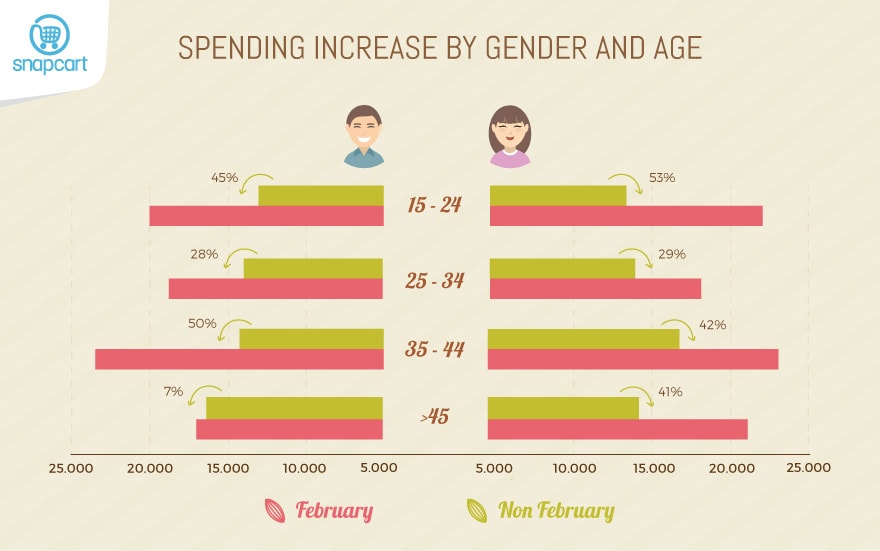 Conclusion
Chocolate sales in Indonesia is highly seasonal on Valentine's day and Christmas / End Year with the increased spending in February (38%) and December (14%). Driven by Valentine's Day, chocolate share in confectionary category increases around 5% in February. Chocolate's share are dominated by age groups 15-24 and 25-34, especially Female. Those age groups are heavy social media users, with snacking habit that willing to spend more and wanting a healthier option. While chocolate sales promotions are already addressing Valentine and Christmas / New Year, it would benefit to focus more on specific gender & age group.
Insights and data are powered by Snapcart, the real time, multi-channel, big data analytics and engagement platform. Based on on receipt data collected between January 2016 – February 2017.