Education is one of the main sectors that are severely impacted by the pandemic. Over 530.000 schools have closed, affecting around 68 million students[1], limiting their access to education to online learning. Tutoring, which is quite common for students to further supplement their learning at school, have mostly consequently shifted online as well. Indonesia should be no stranger to online tutoring, with its first one, Zenius, having launched since 2007. And especially during the pandemic, how are consumer's opinions about it?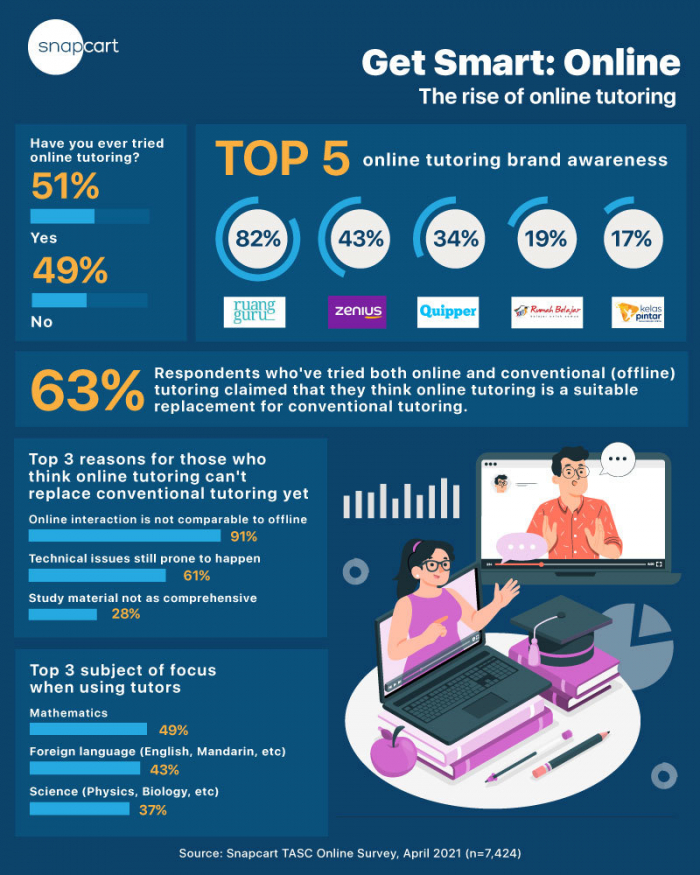 Although more than 90% of our respondents are aware of online tutoring, only 51% have ever tried them. However, 63% who've tried both online and offline tutoring think that online tutoring is a suitable replacement for offline ones. Especially in this time of social distancing, online tutoring is likely to be the only option for a lot of families, so this can reflect increased confidence as well as potential further shift towards online for tutoring in general. For those who says otherwise, however, 91% thinks that online interactions can't replace offline ones, where in case of tutoring, it is very much required – the interaction between student and tutor. 61% also stated that online tutoring is still prone to technical difficulties, especially considering the lack of proper infrastructure.

Have you ever tried online tutoring for yourself or for your family? How did your experience go?

This study is brought to you by Snapcart's TASC. Try the free, 10 question trial today!
Sources:
[1] Indonesia's education technology during COVID-19 and beyond