K-Wave, or also known as Hallyu, has taken Indonesia by storm, particularly for the millennial generation, who leads the charge of public enthusiasm for the Korean wave in Indonesia. Have you jumped on the bandwagon too?
Let's find out if other Indonesians have done so.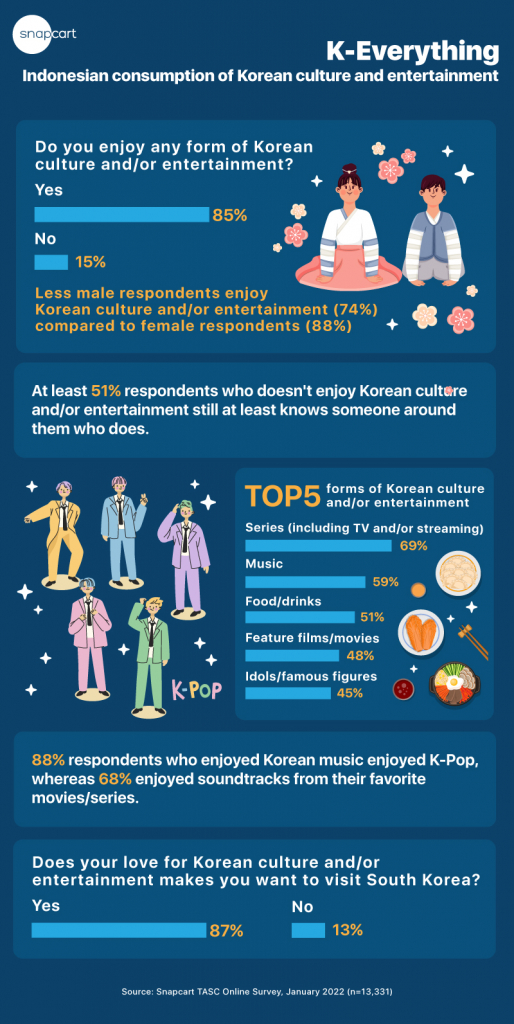 Well, at first glance, it seems like the answer is an overwhelming yes! 85% of respondents have responded that they do enjoy some form of Korean culture and entertainment. Based on our survey, the top 5 forms of Korean culture and entertainment are, in order, TV and streaming series, music, food/drinks, feature films/movies and idols/famous figures.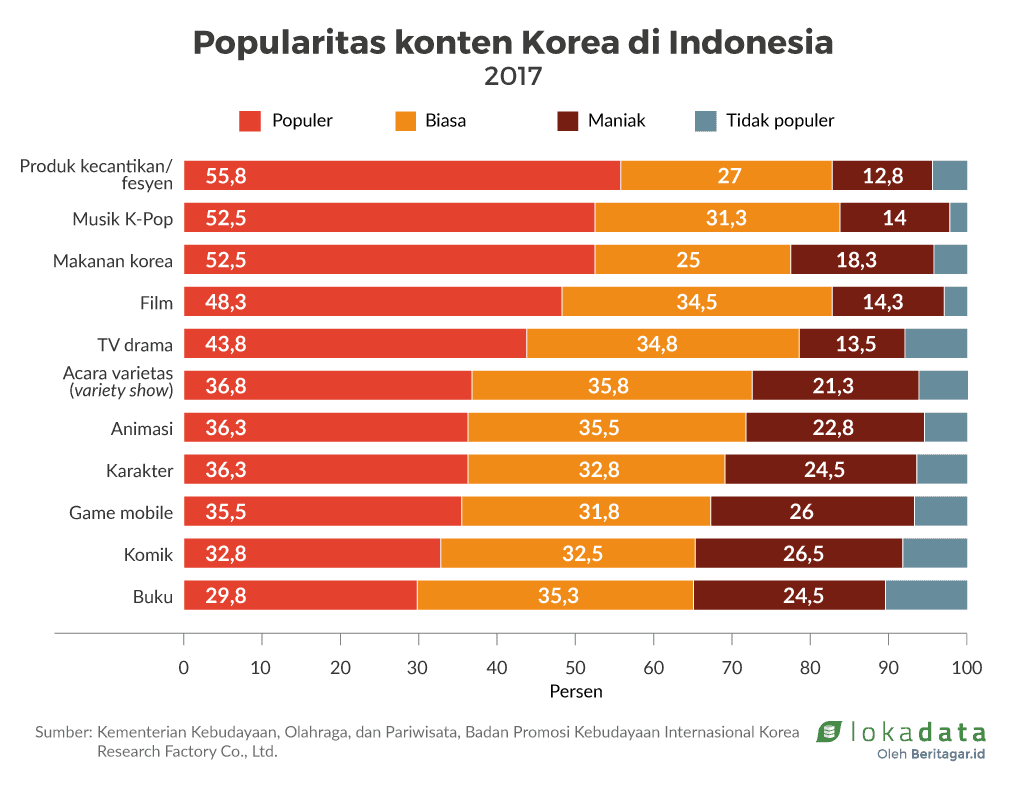 Source: Fesyen, makanan, dan musik K-Pop terpopuler di Indonesia [1]
Contrary to the popularity test done by loka data in 2017, it appears that TV and streaming series have risen in popularity across the years in Indonesia. This trend increased even more so during the pandemic, where research found that the average watch time of K-drama increased from 2.7 hours to 4.6 hours per day. [2]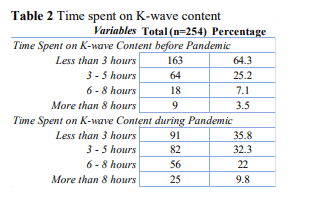 Source: K-Wave Content as a Source of Comfort During Coronavirus Widespread in Indonesia [2]
Looking at the results of other options, it is definitely far from surprising that Korean music is second on the favourites list. According to EGSA UGM (2020), Indonesia ranked 2nd for viewing K-pop videos on Youtube, only 0.2% behind South Korea. [3]
On the other hand, it is rather unexpected that idols/famous figures are 5th on Snapcart's survey at only 45%. Based on statistics, among countries where Korean bands are watched the most, Indonesia comes in first. [4] Furthermore, in 2019, Indonesia was ranked 3rd on the list of countries that tweeted the most about K-pop artists. [3] Hence, the comparatively lower percentage of respondents who enjoyed idols/famous figures is unanticipated. But perhaps these results highlight the preference of locals for K-pop music, rather than individual artists and idols.
Lastly, a large majority (87%) of our respondents have indicated that Korean entertainment and culture has enticed them to visit Korea. This desire for cultural exchange is present not only in Indonesia, but also reciprocated by South Korea. For instance, popular Korean TV programs and reality shows, like TMI and Analog Trip, have picked Indonesia as the place for their programs. [5] Furthermore, an increase in cross exchange of knowledge in education can also be observed in both countries. EGSA UGM shared that three universities in South Korea have started to offer Indonesian language programs. [3] Similarly, a report from South China Morning Post finds that South Koreans make up one of the largest expatriate communities in Indonesia, amongst which are many students who come abroad to Indonesia to study. [6]
Overall, our findings have found that Korean culture and entertainment is largely enjoyed in Indonesia, from dramas to music and even food. Additionally, it appears that South Korea has been increasingly interested in Indonesia as well, as the K-wave continues to bring in idols for entertainment, enhancing tourism in both countries, and even opening educational opportunities for studies.
Sources:
[1] Fesyen, makanan, dan musik K-Pop terpopuler di Indonesia
[2] K-Wave Content as a Source of Comfort During Coronavirus Widespread in Indonesia
[3] Fenomena Korean Wave di Indonesia
[4] K-Pop Wave Storms Indonesia
[5] Korean Wave di Indonesia
[6] The Massive Korean Wave in Indonesia and Its Effects in the Term of Culture