Holiday is finally here. After being "forced" to stay at home during pandemic for about two years, the hype to welcome this year-end holiday is rising.
Thus, in order to know further about Indonesian customers' behavior after the decreasing cases of Covid-19 [1], Snapcart conducted a study about their plans for this end of year long holiday. And with 2.473 samples, we found out that indeed, Covid-19 pandemic has changed some of their interests and habits during holiday, compared to the past few years.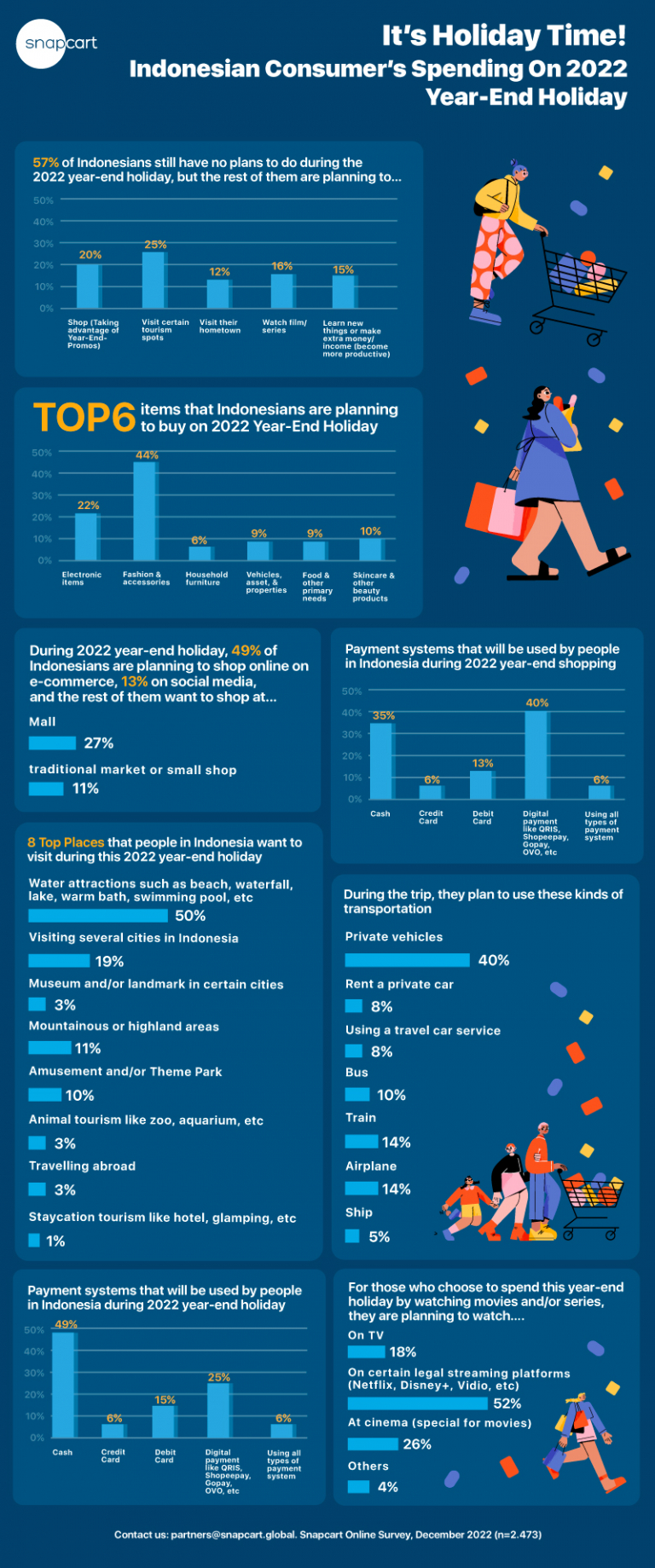 According to the data above, our study figured out that more than half population (57%) still don't have any plans for spending their free times during this year-end holiday.
On the other side, we also found out some interesting facts such as even though attractive promos/discounts often attract most people in Indonesia [2] [3] [4], but at the end of this year, most Indonesians (25%) choose to visit interesting places rather than taking benefits of many year-end sale to shop (20%).
Furthermore, despite the fact that majority of Indonesian people are planning to go outside at the end of this year, but 62% of those who want to spend their holiday times to shop are choosing to shop online. This percentage is increasing, compared to the end of 2020 & 2021 when only 27% Indonesians who chose to shop online.
Meanwhile during the end of 2022, the percentage of Indonesians who want to shop at malls are only 27%, and the rest of them (11%) will shop at traditional market/small shops. You can see the detailed comparison of Indonesian customer's year-end holiday spending on shopping during pandemic (2020-2021) & 2022 trends on the infographic above and graphic below.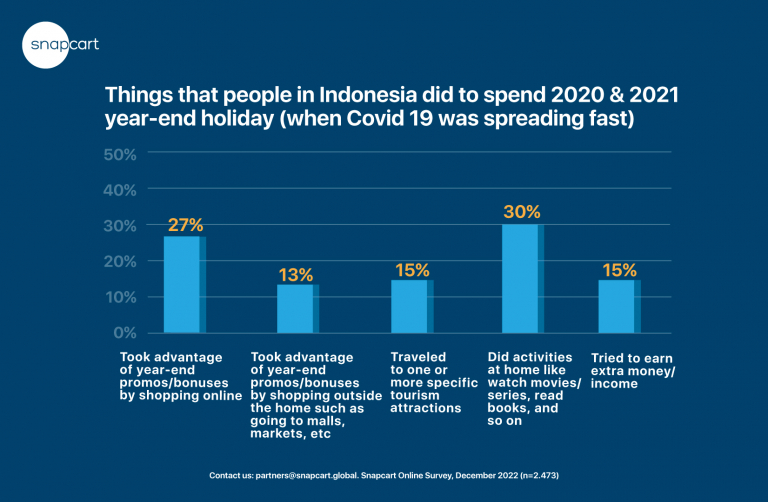 Additionally, we also figured out that Indonesian customers' interest in buying products has changed.
For the past few months our previous studies often found out that food, household furniture, skincare & other beauty products are often being the most sold items in Indonesia [3] [4], but at the end of 2022, as you can see on the infographic, Indonesian customers are more interested to buy electronic items than those mentioned products. While on the other hand, fashion & accessories products remain "primadonna" items for Indonesians.
Other pleasures
As the most chosen option in this survey, our data also shows that the popularity of tourism spots in Indonesia is now dominated by water attraction places, as 50% of Indonesians who want to refresh their mind outside their home are planning to visit beaches, pools, water falls, and so on during this year-end holiday. Meanwhile amusement and/or theme parks are only interesting for 10% of them after several cities/town (19%) and mountainous or highland areas (11%) in Indonesia.
However, another interesting fact is also found by our research. If we often see lots of people in the previous years were still enjoying their holidays by watching TV or go to cinemas, but during 2022 year-end holiday, Indonesians who want to spend their holiday times by watching movies and/or series confessed that they now prefer to watch movies/series on certain legal streaming platforms (52%) rather than at cinemas (26%) and TV (18%), as you can see on the infographic above.
Payment and financial planning
Not only influencing Indonesian customers' taste and behavior during this long holiday, Covid-19 pandemic also affects Indonesians' payment habits, where digital system has become the most favorited way for them (40%) to pay items that they bought during year-end shopping, while cash is the 2nd favorite payment system (35%) that they use to shop.
However, this phenomenon doesn't applied for Indonesians who choose to visit tourism attractions at the end of this year holiday, because most of them still prefer to use cash (49%) instead of other payment systems, and only 25% who want to use digital payment during their trip and visit.
Meanwhile on the other side, majority of our respondents also confessed to us that Covid-19 pandemic has made some of Indonesians create financial planning habits during this year-end holiday like saving money for instance. You can see the detailed data on the graphic below.