Snapcart –Asia's first and only cashback app–has just turn one year-old today. In celebration of the the anniversary, We are recapping on the milestones that the company has successfully achieved in the past year, as well as setting new milestones for the prosperous years to come. Without further ado, here are the company's achievements to date: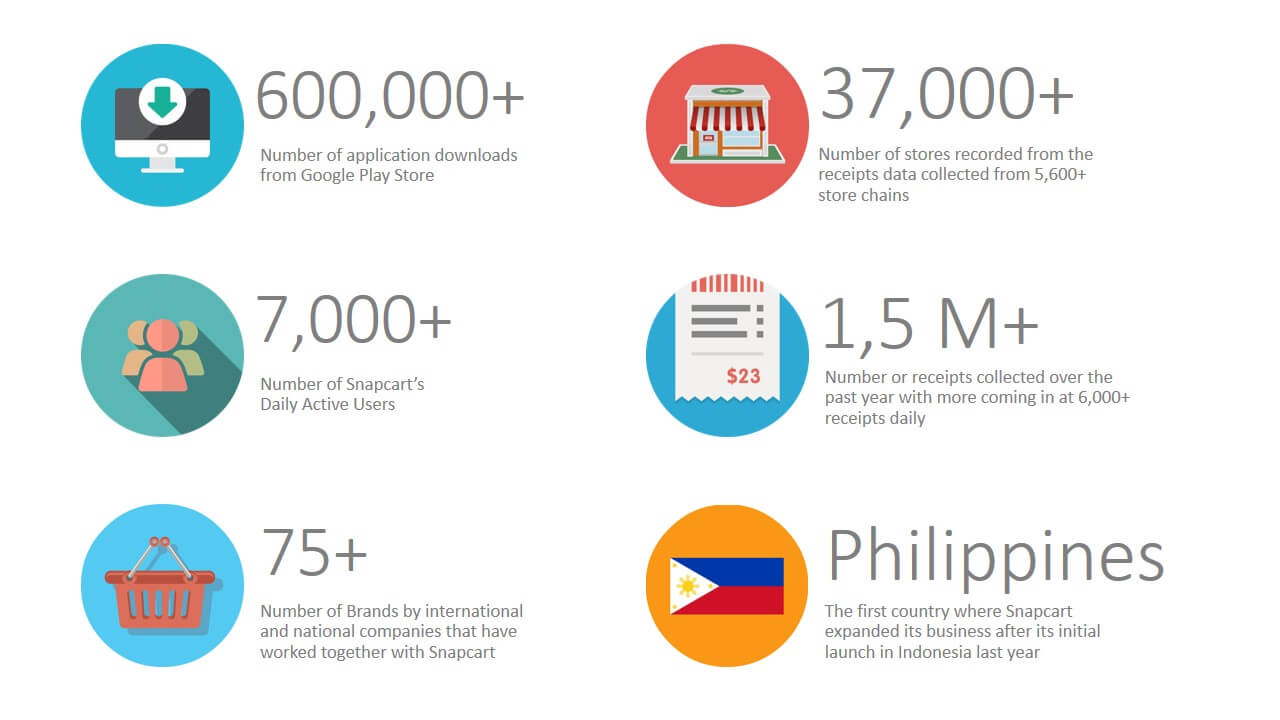 When it comes to accolades, Snapcart is never really the one to be short of it. Since its launch in September last year, the company has successfully managed to snatch a top 25 position in the prestigious Disrupt 100 list; the inaugural Accenture Consumer Innovation Award (ACIA); and a winner for Campaign Innovate Competition. The Disrupt 100 list is possibly one of the most prestigious list for startups to be included in, and Snapcart was ranked 22 in the list and was the only Indonesian company to within the Retail category. The list itself is sourced from 1 million startups around the globe which then compiled down to 100 by panes of judges, which includes global brands like AstraZeneca, KPMG, IBM, Silicon Valley Bank, Microsoft Ventures, MassChallenge and WAYRA, as well as entrepreneur like Emma Sinclair, Tom Goodwin and Bill Liao.
As for the ACIA, Snapcart was one of the four winners of the award as well as the only winner from the Asia-Pacific region. The ACIA was presented at the Millennial 20/20 Summit in London back in April, and the company was given ACIA's "Give ME Omni-Personalization" Award. This particular accolade was given to Snapcart as it provides real-time analytics solutions and marketing engagement tools–Snapcart's mobile application–to give brands an in-depth understanding of, and personalized engagement directly with, their valued shoppers' segments. The panel of judges for this particular award include representatives from UK's and other multinational companies and corporations like Argos, Balderton Capital, Dixons Carphone, PepsiCo, Specsavers, Tesco, and Fjord.


Another accolade that Snapcart has managed to have under its belt was as a winner of Campaign Innovate Competition. This competition was the first of its kind from the highly-respected Asia-Pacific media and marketing publication, Campaign. The competition itself was intended to get the best new startups in Asia in front of the brands that need them most where the winner was meticulously picked by board of experts and professionals from companies like Unilever, Nest, Tune Labs, and many more. Snapcart was able to reach the top of this competition due to the company's ability to fill in a significant gap in the market. "Snapcart provides information to marketers that's not usually available and provides utility to consumers in an easy-to-use and interesting way," said Guy Hearn, chief innovatons officer for OMG Asia-Pacific.  "While shopper marketing isn't new, there has always been too much friction when it comes to data gathering. Snapcart puts this effort on the individual consumers and then rewards them for this effort while they collect tons of very useful purchase and consumer-behaviour data. Many FMCG brands do not know who their end customers are because the retailers protect this information. But this solution builds a bridge betweenFMCG brands and the end consumer. It will also scale very well across the region if not globally and solves for a direct business need," pointed out Ken Mandel, newly appointed head of global client relations at Starcom Mediavest Group.
What's next?
That's the kind of question that Snapcart always asks itself. There are so many things that are currently in the pipeline and each one of them is even more ambitious than before. One of Snapcart's main goals is to provide the realest shoppers' samples and data across Asia and, possibly, beyond. Starting with the closest one to be released is Snapcart's answer to the demands of its existence in Apple's devices. Very soon, the mobile app will be available for all iPhone users and this will definitely cover more groups of shoppers and therefore brings the company closer to one of its goals.
Talking about goals, the Indonesia-based big data analytics company is also setting its sights on further expansions across the Southeast Asian regions within the next two to three years.  Countries like Malaysia, Thailand, and Vietnam are some of the nations Snapcart has on its mind to strengthen its stance within the industry of market research. Another major projects lining up in Snapcart's pipeline is to provide more verticals in its data collection. The company is looking towards more variables by providing its mobile app users more benefits for uploading not only their grocery shopping receipts but also receipts for all kinds of purchases. From department store receipts where consumers are more likely to buy household goods and fashion goods, to automotive and even restaurant receipts. This plan is, of course, still on the works, however Snapcart is never really the one to back down from its well-thought-of plans.
So cheers to a more prosperous years to come, and we are looking forward to helping you business to reach its optimum performance!